Creative Anniversary Gifts and Ideas
Creative anniversary gifts and ideas for when you need a bit of romantic inspiration! Don't stress... we've got some fabulous and unique ideas on this page we think they'll love!
On this page we've collected some of our most popular printable anniversary gift ideas. They are super easy to personalize at home (or at work... so they don't find out!), and it's not just something random you've picked up in the store.
"Remember When..." Poster
Our "Remember When" printable poster allows you to reminisce over all things you and your partner have done together. It reminds you of all those fun times you've shared and how special your relationship is.
We take care of the design and formatting, so all you have to do is personalize and print. Your partner will feel so special that you've made something just for them!
Click here to personalize and print your poster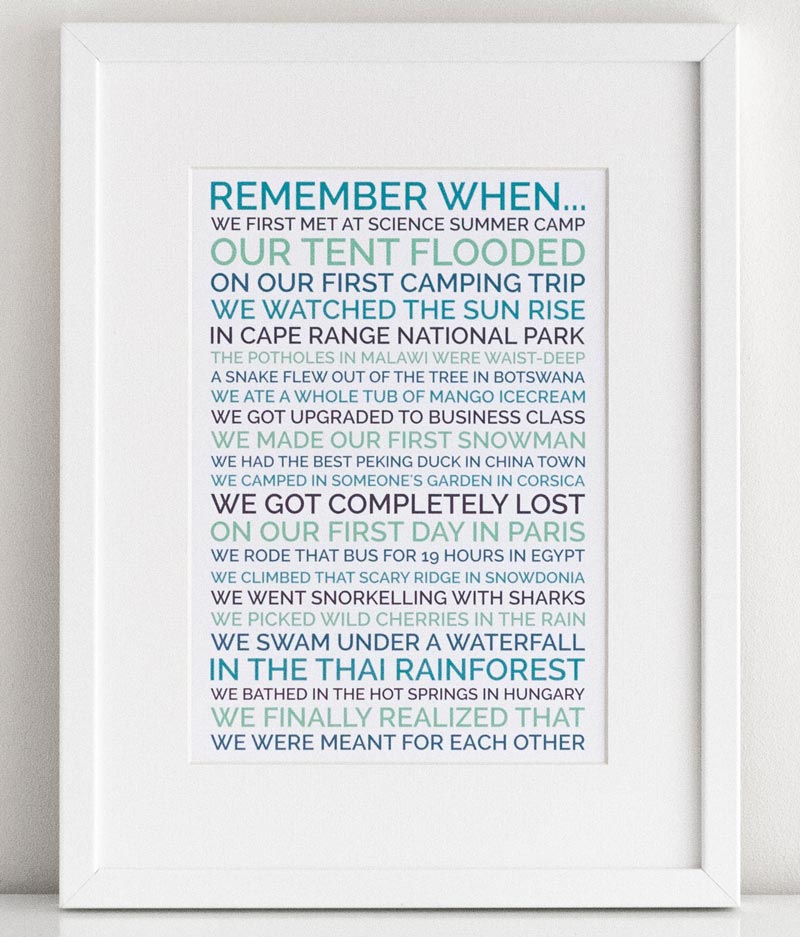 Anniversary Poster
Our anniversary poster allows you to celebrate your years of marriage and all it's many highlights - children, pets, houses, vacations...
You can make this for your husband or wife, but it is also a creative anniversary gift you can make for your parents when they are celebrating a special anniversary.
As our anniversary poster is still in development, when you click on the link you'll be directed to the "remember when" poster maker, but you can just edit the text in the box to be this style of poster.
Click here to personalize and print your poster
"Things we Love" Poster
Make a personalised poster of all the things you love doing together!
These posters are very quick to make and have lots of fabulous color palettes to choose from. It's such a simple idea and a great way to celebrate your relationship and why you like hanging out so much!
Click here to personalize and print your poster
Printable Romantic Coupons
Anniversaries are such a wonderful time to be romantic! These printable love coupons are a gift that keep giving, and with editable text you can tailor them perfectly to your partner.
They are a fabulous last minute gift idea too, for those of you who've left it a little late...
Click here to personalize and print your romantic coupons
"Year Married" Poster
Create your own personalized poster with facts from the year you were married! It's a lovely way to reminisce over what was happening "back in the day..."
Click here to personalize and print a 30th anniversary poster
Click here to personalize and print a 40th anniversary poster
Click here to personalize and print a 50th anniversary poster
As this anniversary poster concept is still in development, you will be directed to birthday posters celebrating that year. All you have to do is edit the text-box to make it an anniversary poster. Have fun reminiscing!
Wife/Husband Definition Poster
Personalize and print out your own definition poster where you can define just why your wife or husband is so fabulous.
My husband actually came up with this poster design and made me a birthday poster this year with a definition of all the things he loved about me - it is adorable and made me feel so special!
Click here to personalize and print your poster
Creative Anniversary Money Origami
For many reasons sometimes it's easier to give cash for an anniversary gift... but cash can also be romantic!
A couple of decorative hearts folded in a card is an unexpected nice suprise, and shows that you've taken time to prepare their gift. Do give it a try, it's not as complicated as it looks, promise!
Learn how to fold cash into decorative hearts, flowers, and more with our step-by-step money origami instructions.
Printable Anniversary Card
This printable card is so fun because you can personalize it for the number of days you've been together! We originally came up with it as a Valentine's card idea, but it's perfect to accompany creative anniversary gifts too!
It's so quick to calculate how many days you've been together, and easy to download and print your free card at home.
Click here to personalize your anniversary card.
Anniversary Quotes and Messages
We're writing some anniversary-specific quotes and messages pages for you with fabulous message ideas to write in your anniversary cards... but they're not quite ready yet...
Until they are, do check out our Valentine card sayings and cute boyfriend quotes pages for some fabulously romantic anniversary message ideas.
Other people also like...
We hope you enjoyed these creative anniversary gifts and ideas, and that you've found something special you can make this year.
Do check out our homemade Valentine gifts page for more craft-based romantic gift ideas, and there are plenty of general gifts and quotes on our homemade boyfriend gifts page too.
Sponsored links:
Comments
Have your say about what you just read! Leave me a comment in the box below.