First Anniversary Gift Ideas
Looking for a very special first anniversary gift? We've got plenty of ideas and inspiration, whether you want to embrace the traditional first anniversary "paper" gift, or just find a really sweet and thoughtful gift.
It's a year since you got married, can you believe it? After all the organising your big day is over and you've been enjoying married life over the past year. Perhaps you've had an amazing honeymoon somewhere nice, maybe you've bought a house, or you've had a baby. In any case, it's probably been a busy year!
So, how can you mark your one year anniversary? It's a lovely opportunity to reflect on your first year together and the memories you've made. We've got some fabulous personalized poster prints which will help you do this like our "Remember When..." personalized poster.
Or look ahead and think of the things you want to achieve together in your marriage. Book a trip, create some fun coupons to "cash" in over the coming year.
1 Year Anniversary "Traditional" Gifts
The tradition is to give a "paper-themed" gift for the 1 year wedding anniversary (Reference). I guess they know that you don't have much money in the early years of marriage!
The "modern" gift list for each year of marriage says clocks are the gift to give as a one year anniversary gift.
There are also several "Anniversary Flowers by year" lists. For these, Carnations or Pansies are the flowers of choice.
And the American Gem Trade Assocation states "gold jewelry" as the gift to give for your first wedding anniversary gift.
So, it's confusing! What should you give her for a first anniversary gift? Or him? On this page you'll find a range of unique, creative, sentimental, and lovely gift ideas, whether you want to stick with tradition or not. I really hope you find something you like for this significant anniversary!
Our first anniversary gift collection includes...
On this page you'll find a collection of great 1 year anniversary gifts. Scroll down to see the whole collection of ideas, or click on these "quick links" to see a particular category:
More 1st Anniversary Gift Ideas
Anniversary Wishes, Quotes, and Messages
"Remember When..." Poster
Our "Remember When" printable poster allows you to reminisce over all things you and your partner have done together in your first year of marriage. Think of all the fun, crazy, silly, special things you loved about the year together, and collate them in this fabulous poster. It's such a personal, thoughtful first anniversary gift, and will be a memento of your first year of married life for years to come.
We take care of the design and formatting, so all you have to do is personalize and print. Your partner will feel so special that you've made something just for them!
Click here to personalize and print your poster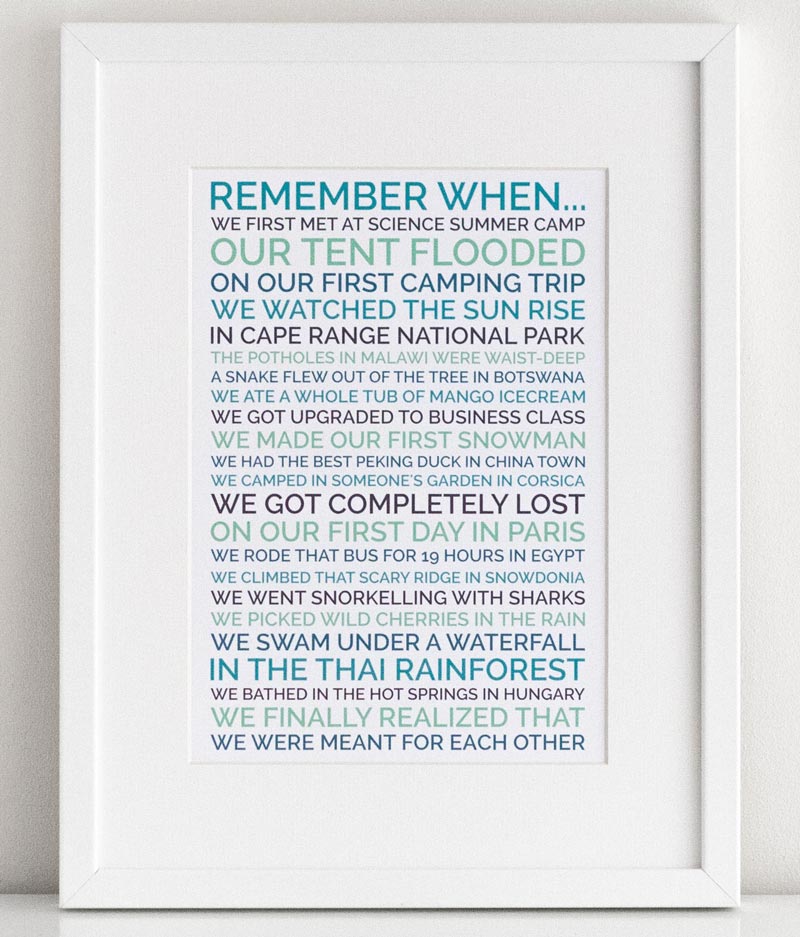 "Foxy Couple" Personalized Poster
This super cute printable foxes poster celebrates all that's great about being part of a fabulous team together.
Whether "Foxy Couple", "Dashing Couple", or "A wheelie lovely couple since 2012" suits your style best, you can edit the top and bottom text to personalize this creative anniversary gift so it's perfect for you.
Click here to see all the examples and make your own poster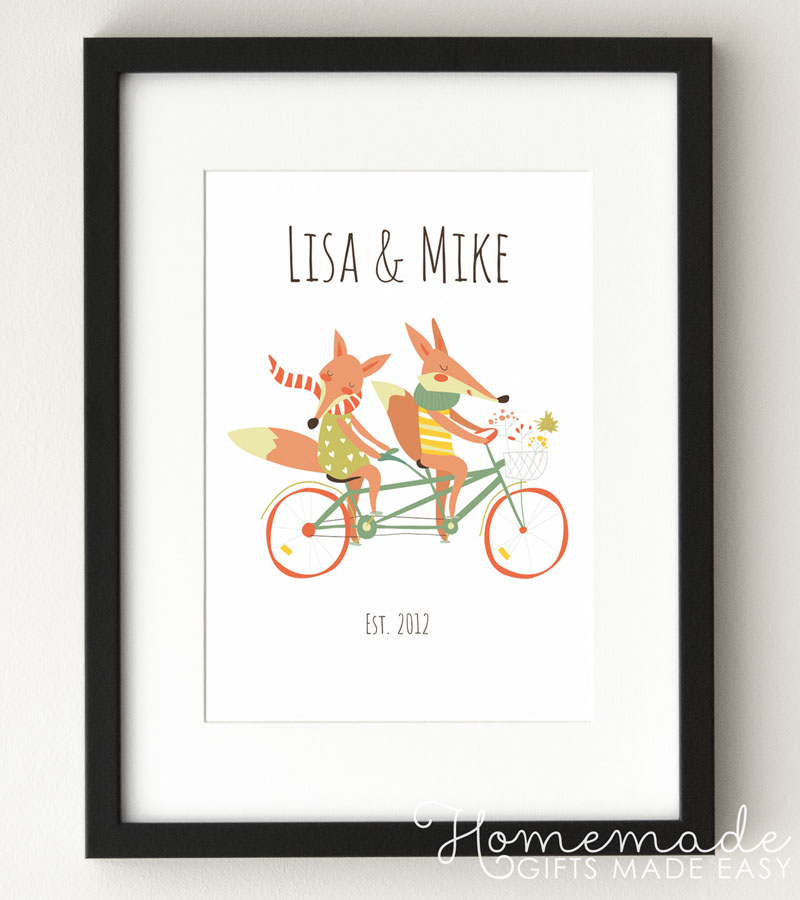 "Things we Love" Poster
Make a personalised poster of all the things you love doing together!
These posters are very quick to make and have lots of fabulous color palettes to choose from. It's such a simple idea and a great way to celebrate your relationship and why you like hanging out so much!
Click here to personalize and print your poster
"Perfect Pairs" Poster
Create your own personalized poster listing your relationship alongside all the other "pairs" of things you like or admire. From food pairs to characters from fiction, it's a lot of fun to think up the pairs that mean to most to you and a unique first anniversary gift idea.
Click here to make your own personalized perfect pairs poster.
Romantic Definition Poster
Personalize and print out your own definition poster where you can define just why your wife or husband is so fabulous.
Or you could make a poster defining what "love" or "home" means for the two of you. I think this is a particularly creative first anniversary gift as it's so unique to you both.
My husband actually came up with this poster design and made me a birthday poster this year with a definition of all the things he loved about me - it is adorable and made me feel so special!
Click here to personalize and print your poster
Printable Romantic Coupons
Anniversaries are such a wonderful time to be romantic! These printable paper love coupons are a gift that keep giving, and with editable text you can tailor them perfectly to your partner.
They are a fabulous last minute "paper"-themed first anniversary gift idea too, for those of you who've left it a little late...
Click here to personalize and print your romantic coupons
Anniversary Origami
A fun way to celebrate your one year anniversary could be to give your other half some beautifully folded money and tell them you're taking them out for a day of fun - whether that's to the mall, or to a bar dancing, or out to dinner, whatever suits their style. It's a thoughtful way to give a gift where the receiver can still choose the actual gift themselves.
These designs are not difficult to do, and have video and step-by-step photo instructions.
I personally love the dollar bill ring design for part of a first anniversary gift.
More First Anniversary Gift Ideas...
Looking for more 1 year anniversary gift ideas? Aside from a bunch of flowers and a nice dinner out, here are some more gift ideas to inspire you.
"Paper Airplane" Jewelry
Another loosely "paper"-themed first anniversary gift idea is to buy your partner a pendant shaped like a paper airplane. You can find paper airplane cufflinks, pendants, and key chains on Amazon, or look at your local jewelry store.
Botanical Print
A traditional 1 year anniversary flower is the Carnation, given as a symbol of commitment and joy for the coming year (see references here and here). So why not buy your partner a beautiful bunch of carnations, or a carnation plant for the garden if they're a keen gardener.
If you want a gift that lasts the year, you could buy a framed carnation botanical print, or you could buy a greeting card with a beautiful carnation illustration on it.
Photo-book
Make a photo-book from your first year of marriage. You could start with a favorite photo or two from your wedding day, and then include photos from your honeymoon, of your house together, any special trips you've done, just hanging out at home. Include your first Christmas together as a married couple, any birthdays photos etc. Try to make it include something from each month of the year so it reflects your first year together. It will make a lovely memento for your partner, and be wonderful to look back on in future years too.
There are so many online services that you can use to design and print your book. Or you can do a scrapbook and include written notes and other tickets/mementos from the year too. This idea takes a bit of time to make, but it is a great one for those of you who are organised to do it in time!
Ticket "Art"
If you've done a lot of travelling in your first year together and you are the type of person who keeps all the entry tickets, train tickets, information brochures etc, collate them together and frame them into a piece of art about your first year together. It will be such a fun talking point and a great memento of the year you've had together.
Wall Map Art
If you want to embrace the paper anniversary gift theme, you could buy a big paper wall map of the world and mark it with places you have been, or places you want to travel together. This really suits the intrepid couple who is always looking for the next place to visit!
Another idea is to choose places that are significant to you on a map and turn them into art. The place you got married, or where you met or proposed could all be locations to choose. Trace around a location of sentimental value using a heart or house shape and frame it.
Don't want to make it yourself? Then you can order Personalized Map Art Prints off Amazon.
Tickets
If you're looking for a fun paper anniversary gift idea, book tickets! It's a gift of time together and will make more special memories in your married life.
Whether it's airplane tickets or train tickets for a day trip or weekend away, or tickets to a match or theatre show for an afternoon out together. It's always exciting getting tickets to something or somewhere!
Message in a Bottle
Write them a love note and poke it into a bottle and seal it with a cork. Romantic, timeless, and sweet.
Anniversary Wishes, Quotes, and Poems
We have a lovely collection of Anniversary Wishes, Messages, and Greetings to help you wish your partner or a special couple a very Happy Anniversary.
Our collection of Wedding Anniversary Quotes and Sayings can help you express your love and thanks on such a special occasion. Grouped into categories so it's easier to find the perfect quote, they're great for writing in a card or including in an anniversary speech.
We also have a collection of Wedding Anniversary Poems and Verses, which are a really romantic way to express your love on your anniversary. From short verses and poems, to longer poems, you'll find something poetic to express your feelings about this special day.
Other people also like...
We hope you enjoyed these unique first anniversary gift ideas for your one year anniversary, and that you've found something special you can make for your husband or wife.
Do check out our homemade Valentine gifts page for more craft-based romantic gift ideas, and there are plenty of general gifts and quotes on our homemade boyfriend gifts page too.
Sponsored links:
Comments
Have your say about what you just read! Leave me a comment in the box below.