First Anniversary Gift Ideas
15 of the best first anniversary gift ideas to help you choose a wonderful gift for your husband or wife on this special anniversary, including traditional paper anniversary gifts.
1 Year Anniversary "Traditional" Gifts
The tradition is to give a paper gift for the first anniversary gift. I guess they know that you don't have much money in the early years of marriage!
The modern gift list for each year of marriage says clocks are the gift to give for a one year anniversary gift.
There are also several "Anniversary Flowers by year" lists. For these, Carnations or Pansies are the flowers of choice.
And the American Gem Trade Assocation says gold jewelry is the gift to give for your first wedding anniversary gift (really!).
So are you feeling a bit confused? What should you give her for a first anniversary gift? Or him? On this page you'll find a range of unique, creative, sentimental, and lovely gift ideas, whether you want to stick with tradition or not. I really hope you find something you like for this significant anniversary!
1. "Paper Airplane" Jewelry
A playful "paper"-themed first anniversary gift idea is to buy your partner a pendant shaped like a paper airplane. You can find paper airplane cufflinks, pendants, and earrings on Amazon, or look at your local jewelry store.
2. Book Lamp
These unusual book lamps are a fun paper anniversary gift for the avid reader, or anyone who likes to receive quirky gifts.
3. Gold Infinity Necklace
The American Gem Trade Assocation says gold jewelry is the gift to give for your first wedding anniversary gift (really!).
If you want to keep to tradition and buy a piece of gold jewelry, then a beautiful gift for your wife would be an gold infinity pendant, reminding them every time they wear it that you want to be with them forever.
4. Tickets
If you're looking for a fun paper anniversary gift idea, book some tickets to something (or somewhere!). It's a gift of time together and will make more special memories in your married life.
Whether it's airplane tickets or train tickets for a day trip or weekend away, or tickets to a match or theatre show for an afternoon out together. It's always exciting getting tickets to something or somewhere!
5. "Remember When..." Poster
Our "Remember When" printable poster allows you to reminisce over all things you and your partner have done together in your first year of marriage.
Think of all the fun, crazy, silly, special things you loved about the year together, and collate them in this fabulous poster. It's such a personal, thoughtful paper-themed first anniversary gift, and will be a memento of your first year of married life for years to come.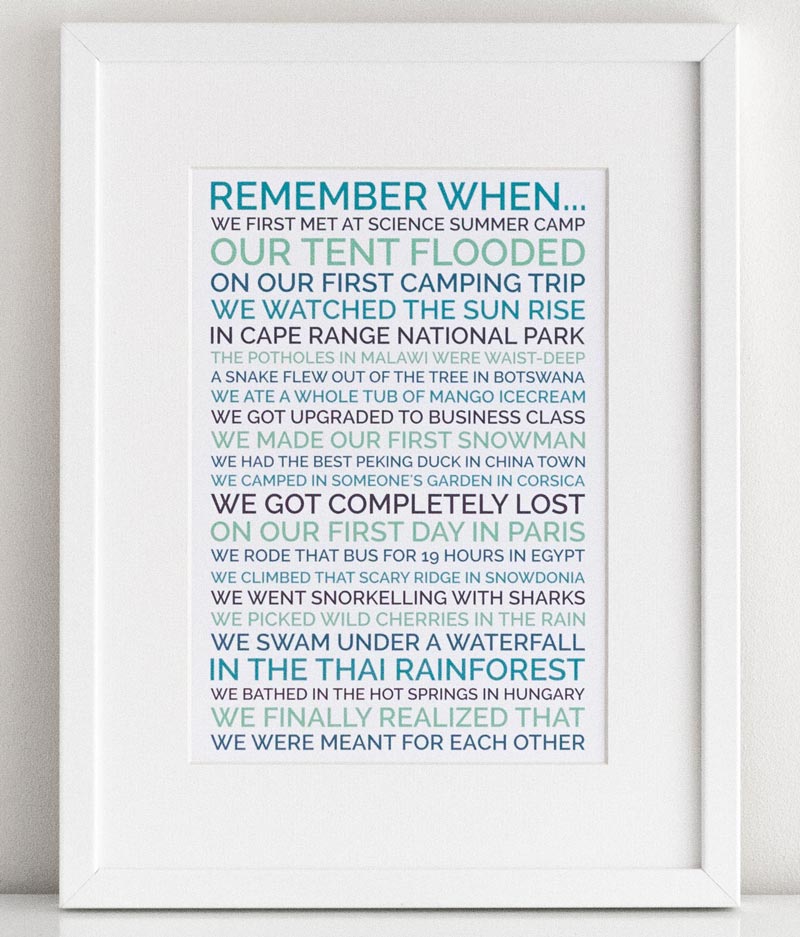 6. Smart Watch
The "modern" gift list says that you should give a clock as a first anniversary gift. But I think an even more modern gift would be a smart watch. Super practical, stylish, and you can send cute messages to each other on them!
7. Wall Map Art
If you want to embrace the paper anniversary gift theme, you could buy a big paper wall map of the world and mark it with places you have been, or places you want to travel together. This really suits the intrepid couple who is always looking for the next place to visit!
Don't want to make it yourself? Then you can order Personalized Map Art Prints off Amazon.
8. Paper Coupons
Anniversaries are such a wonderful time to be romantic! These printable paper love coupons are a gift that keep giving, and with editable text you can tailor them perfectly to your partner.
They are a fabulous last minute "paper"-themed first anniversary gift idea too, for those of you who've left it a little late...
9. Paper Star Lantern
These beautifully decorated intricate paper star lanterns make a lovely first anniversary gift for someone who enjoys spending time in their reading nook or den.
We also have some DIY paper star instructions if you want to make your own from scratch.
10. House Sketch from Photo
Commision a custom ink sketch or watercolor painting of your first home together, or another location that has sentimental value to you both. You can find many artists offering this service on Etsy. It's a beautiful first anniversary gift that keeps to the paper-theme.
For example, an intricate custom ink sketch from AgataAmazingArt, and a beautiful custom watercolor from Soboleva art.
11. Photo-book
A photo-book of the first year of your marriage makes a wonderful paper anniversary gift. It's a lovely memento for your partner and you to look through and reflect on all the things you've done together!
You could start with a favorite photo or two from your wedding day, and then include photos from your honeymoon, of your house together, any special trips you've done, just hanging out at home. Try to include key events over the years - holidays, children, pets, houses, cars.
There are so many online services that you can use to design and print your book, like Snapfish or Shutterfly.
Or you can do a scrapbook and include written notes and other tickets/mementos from the year too. This idea takes a bit of time to make, but it is a great one for those of you who are organised to do it in time!
12. Carnations
The traditional 1 year anniversary flower is the Carnation, given as a symbol of commitment and joy for the coming year.
You could buy your partner a beautiful bunch of carnations on your anniversary, or pick up a packet of carnation seeds that you can plant together, creating a beautiful garden of flowers to enjoy year-round.
13. Paper rose
If you want a small, symbolic first anniversary gift, then a simple paper rose could be just the thing.
Order one online, or fold your own with our DIY paper rose instructions.
14. Folded book art
A folded book is a beautiful and unique first anniversary gift idea. You could choose to have a special sentiment like love or hope, or your initials, or the date of your marriage.
15. Anniversary Origami
An "easy" first year anniversary gift could be to give your other half some beautifully folded money and tell them you're taking them out for a day of fun - whether that's to the mall, or to a bar dancing, or out to dinner, whatever suits their style.
Anniversary Wishes, Quotes, and Poems
Looking for the perfect words to say "happy first anniversary"?
We hope you found a great first anniversary gift idea from our collection of ideas, and we wish you all the best for your future years together. May they be happy, healthy, and full of fun and laughter.
Sponsored links:
Comments
Have your say about what you just read! Leave me a comment in the box below.