Homemade Birthday Gifts to Make
Want to make homemade birthday gifts? Check out the ideas on this page for birthday presents, gag-gifts and more. And it doesn't have to be difficult, and we've got plenty of great tutorials and ideas, including our beautiful printable gifts you can personalize and print in just minutes.
Making a homemade birthday gift shows the recipient that you really care, because you've taken the time to create something especially for them.
Have a browse below and I hope you'll find a homemade birthday present to make that's just right for the person you have in mind.
Personalized Birthday Poster
Use our poster-generator to create a unique gift that you can print at home.
A "likes poster" is more than a just a gift, it's a compliment, because it shows how well you know a person and all the quirky things they like.
Making your poster is easy - our poster generator takes care of all the formatting for you.
Occasion Birthdays
Our personalized posters are a fantastic and unique way to celebrate milestone birthdays for friends and family. Our occasion birthday posters are filled with highlights from the year of birth that you can personalize further. We make the formatting easy and you can just print and frame.
It's fun, unique, and a special way to celebrate!
And take a look at our collection of Fifty 50th Birthday Ideas for plenty of gift-giving inspiration for this significant birthday.
Birthday Gifts for Girls / Women
For girls, deliciously scented bath gifts are always a winner. Jewelry is a great idea too!
Want to see more? Take a peek at my complete bath and body recipe collection and my gifts for women page.
Birthday Gifts for Guys
My favorite of these ideas is the key-chain lanyard - my husband uses one all the time. Make one for your guy, and he'll think of you every time he reaches for his keys :-)
General Homemade Birthday Gift Ideas
Here's a few ideas that are great for guys or gals, just adapt the designs accordingly:
Last Minute Birthday Gifts
So you've left it to the last moment to find a birthday gift... what should you do? Money origami to the rescue! Fold cash into a creative gift in 5 minutes!
Want to see more? Check out my complete money origami collection .
Funny Gag Gifts
Does the birthday boy or girl have a good sense of humor? If so, then a gag gift could be just the thing...
For more gag gift ideas, see my complete homemade gag gifts collection .
Gift Wrapping Ideas
You want your gift to look its best, right? Check out these ideas for creative and beautiful ways to wrap your gift. Did you know that in Japan people often wrap gifts in colored cloth instead of paper?
Looking for more ideas? See my complete gift wrapping page .
Birthday Cards
Printable Birthday Cards Gallery 1
Download one of our free printable Happy Birthday cards in high quality PDF format - perfect for when you need a card in a hurry! 10 cute designs to choose from, including sweet birds, vintage, cupcakes, and more!
Printable Birthday Cards Gallery 2
And here are 10 new designs on our free printable Birthday cards page!
Book Print Dress Card Template
Use our free template to make gorgeous dress cards from the pages of Jane Austen's Pride and Prejudice and compliment your homemade birthday gifts with a beautiful card. Click here for your dress card template .
Origami Dress Card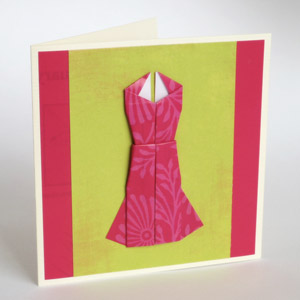 Any easy-to-make homemade card with an origami evening dress. The perfect birthday card for a party girl! Click here for origami card instructions .
Origami Dahlia Card
If you're looking for easy homemade card ideas then I'm sure you'll like this origami flower card design! Just download the free printable template and follow my step by step instructions.
Card Message Ideas
Do you need some inspiration for what to write in the birthday card? Check out my...
30th Birthday Wishes, Messages, and Quotes for Cards
40th Birthday Sayings, Messages, and Quotes for Cards
50th Birthday Wishes and Messages for Cards
50th Birthday Quotes and Sayings for Cards
50th Birthday Poems for Cards
60th Birthday Wishes, Quotes, and Messages for Cards
101 of the Best Happy Birthday Wishes
I have more message ideas for other big-year birthdays coming soon!
Other People Also Like...
Looking for more unique homemade gift ideas? Check out our quick and easy printable gifts. So easy to personalize and print at home!
Printable coupons, "Likes" posters, "Year You Were Born" birthday posters, retirement posters, personalized newspapers... we have so many great ideas to help you celebrate most occasions.
Find what you hoped for?
How did you go? I hope you found a homemade birthday gift that was just right! If you have any comments or suggestions or just want to say hi, please contact me with this handy form .
Sponsored links:
Comments
Have your say about what you just read! Leave me a comment in the box below.