Click large image to zoom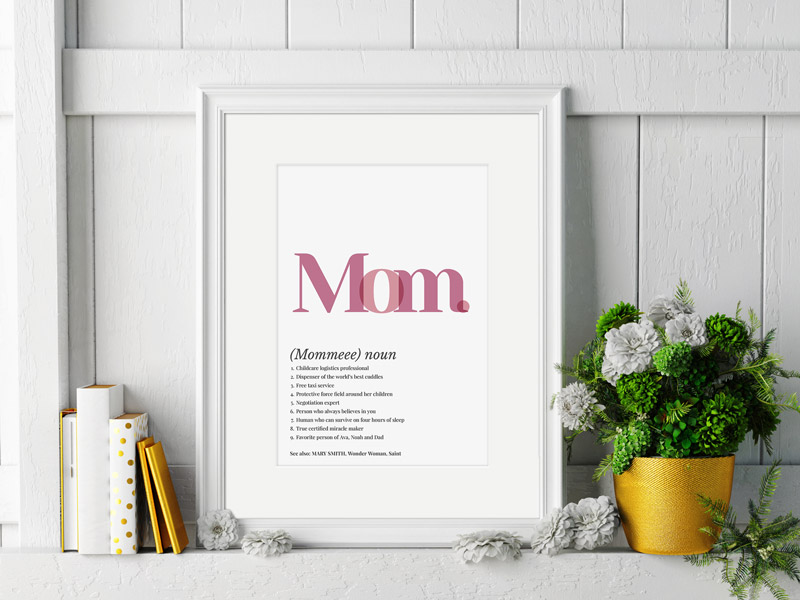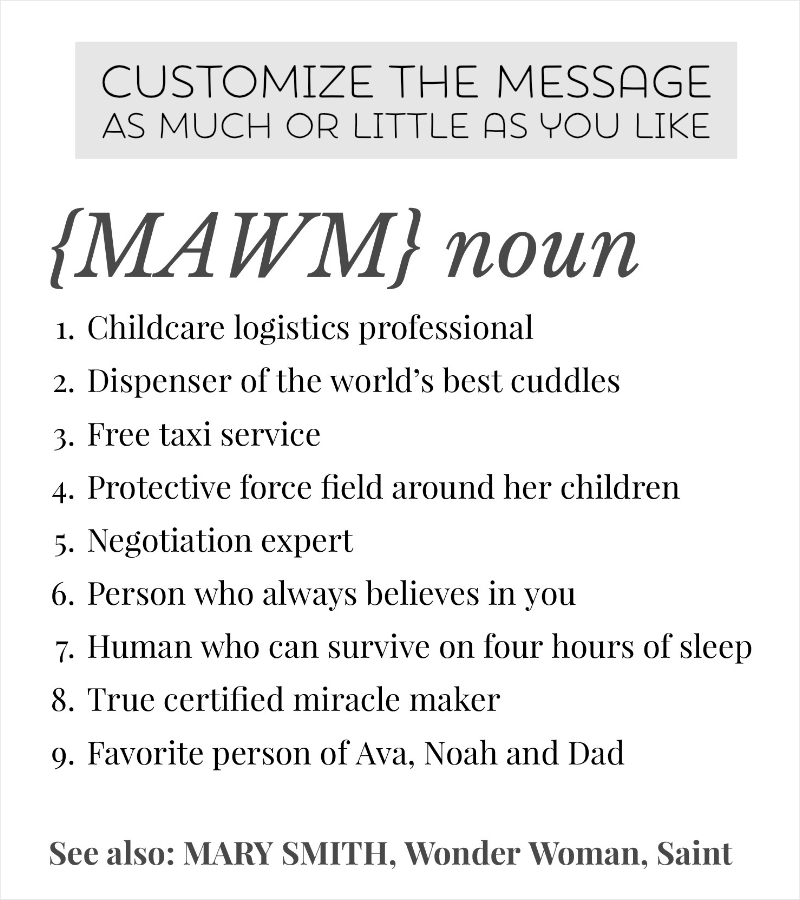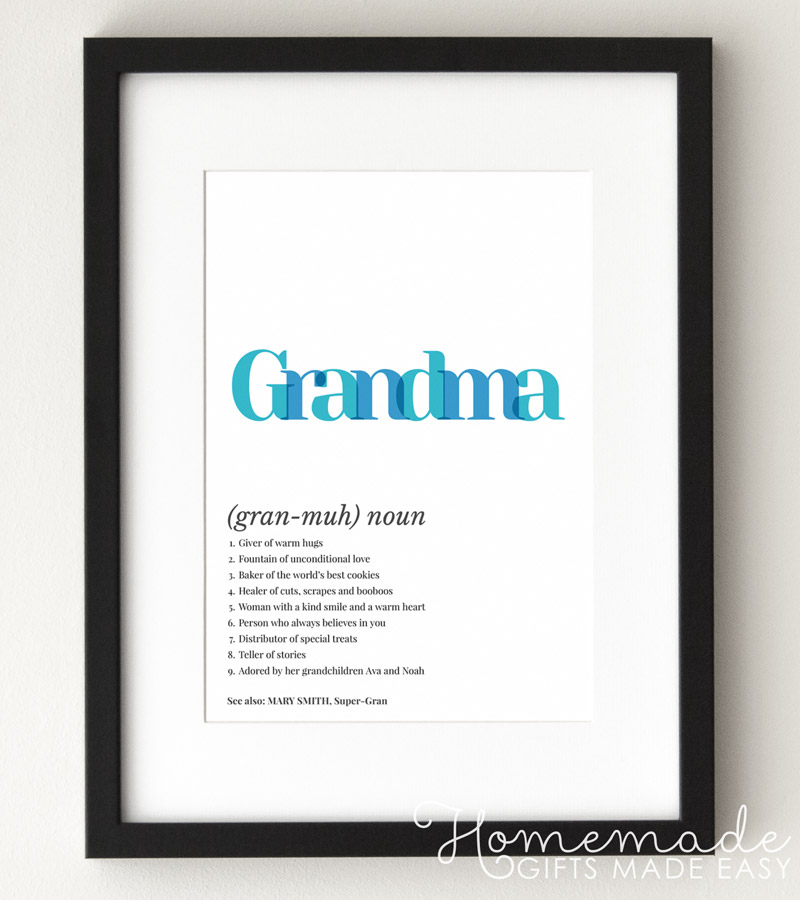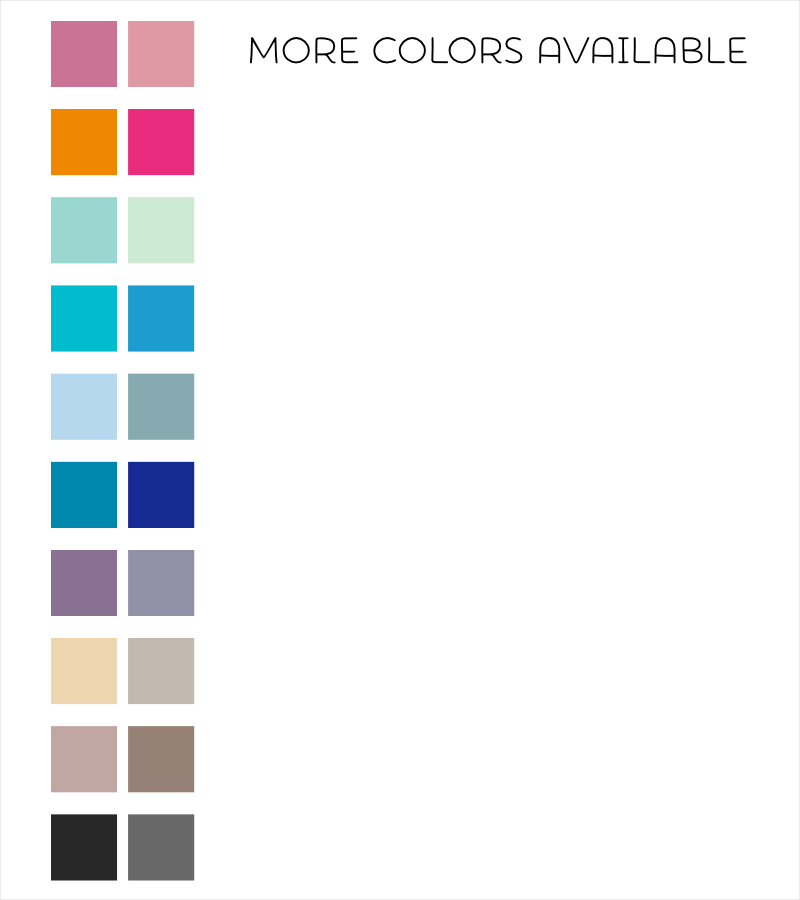 Personalized "Mom" Definition Art Poster
Instant download to print at home
$14.70
---
Create a personalized poster that celebrates all the brilliant things about your mom!
Print it, frame it, and you've got a heartfelt gift she'll love.
You can customize...
The color
The name: 'Mom', 'Mommy', etc
Mom's name in the 'see also' section at the bottom
As much or little of the definition text as you like
Got a question? See our FAQ.
Ready to design your poster?
Tips:
Stuck for ideas? See our examples for inspiration.
Not sure what print size to choose? Don't worry, because after purchase you can still choose to download in different sizes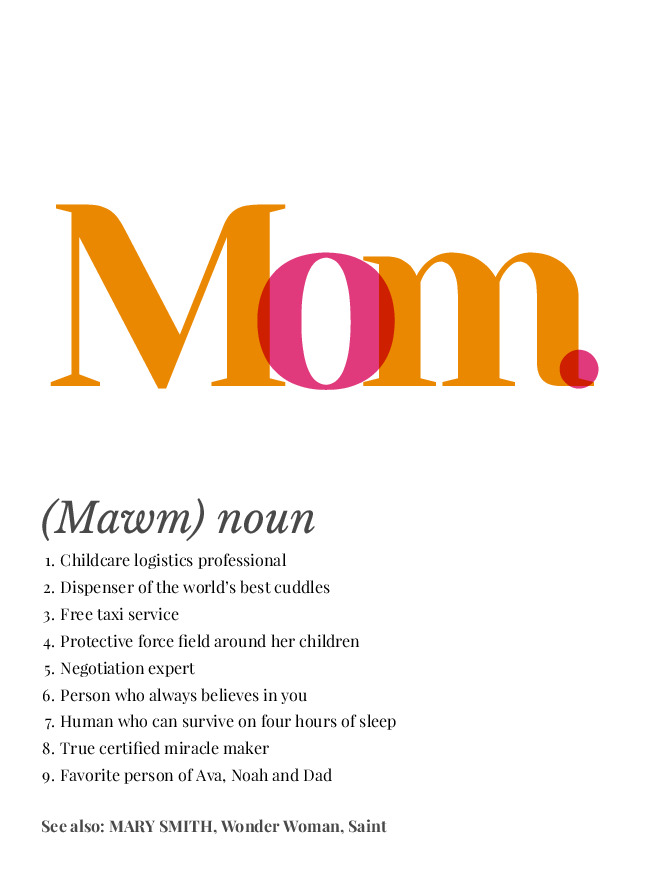 Loading...

Questions and Answers
I have no idea what to write in my poster. Can you help?
Sure - check out my poster examples for inspiration.
How do I print and frame my poster so that it looks as nice as in your photos?
It's actually pretty easy. See my specific printing and framing tips.
Is my printer good enough?
Almost certainly. The trick is to use good quality paper. See my printing tips.
What if I buy it but then it looks bad when I print it?
I'll give you 100% of your money back immediately, no questions asked. Just email me.
Can I print a different size other than the ones you offer?
Sure! Take your downloaded file to a print shop and they'll be able to print it in whatever size you ask them to.
What if I give this gift to someone but they don't like it?
I'll give you 100% of your money back immediately, no questions asked. Just email me. Seriously.
What's your guarantee or returns policy?
Our "love it" guarantee: If the recipient doesn't LOVE their poster, email me and I'll refund every penny immediately, no questions asked, no matter how long it was since you purchased.
Example Poster Wording
Click here to return to poster maker
Heart-warming mom definition ideas
Fountain of unconditional love
Protective force field surrounding a child
Person who always knows what to say, or when to just bring out the chocolate
Baker of the world's best cookies
Giver of the world's best hugs
Person with a heart the size of the state of Georgia
Philosophical sounding board
Funny mom definition ideas...
Toughest and most rewarding job on earth
Skilled professional with expertise in finance, medicine, negotiation, and the culinary arts
One person who does the work of 20 - for free.
Person with eyes in the back of their head
Lie detector
Like a dad, only smarter and harder working
The true boss of any home
Person capable of getting 27 hours of work done in a 24 hour day
Superhero dressed in disguise
Definitions for a mom with a baby or toddler
CEO of bum sanitation and maintenance
Healer of cuts, scrapes, booboos, and imaginary injuries
Destroyer of boogers
Special type of human who can survive on 4 hours of sleep
Person who's favorite time of day is bed time
Grandma (gran-muh) definition
Giver of warm hugs
Fountain of unconditional love
Baker of the world's best cookies
Healer of cuts, scrapes and booboos
Woman with a kind smile and a warm heart
Person who always believes in you
Distributor of special treats
Teller of stories
Adored by her grandchildren Ava and Noah
Default definition (pre-filled in poster maker)
Childcare logistics professional
Dispenser of the world's best cuddles
Free taxi service
Protective force field around her children
Negotiation expert
Person who always believes in you
Human who can survive on four hours of sleep
True certified miracle maker
Favorite person of Ava, Noah and Dad
Mom Heading and Pronunciations
Mommy: /mom-ee/ noun.
Mother: /muh-ther/ noun.
Mum: /muhm/ noun.
Mummy: /mum-ee/ noun.
Mom: /MOOOOMMMM!/ noun.
Mom: /mawm/ noun.
Click here to return to poster maker
Printing Your Poster
Is my printer good enough?
Most home inkjet printers these days are excellent quality, even the cheaper ones. The key to getting really good quality prints is to use the right paper...
What kind of paper should I use?
I recommend using matte photo paper. The vibrancy of the colors and crispness of text you get when using photo paper are leagues ahead of what you get using regular office paper. Ideally you should use the same brand of photo paper as your printer, or else stick to a well-known brand like Canon, HP, or Epson.
If you're giving an unframed print as a gift, then it's important for the paper to feel thick and high quality. It's worth getting the best quality matte paper that you can afford, like "Canon Luster Photo Paper" or "Canon Semi Gloss".
If you're giving a framed print as a gift, then the thickness of the paper is less important so long as the colors are vibrant. In that case a thinner photo paper like "Canon Matte Photo Paper" would be a good option - that's the paper I personally use most of the time.
Can I just print it at Kinkos instead?
Yes! That's a good option too, and many of our customer choose to do this.
Framing Your Poster
What type of frame
Personally I like "matted" frames, which are ones that have a white border around the poster. I think they look great, and they also make your gift feel bigger and more substantial. If you ever visit an high-end photography gallery you'll notice that this is the type of frame that they use, simply because they look fantastic.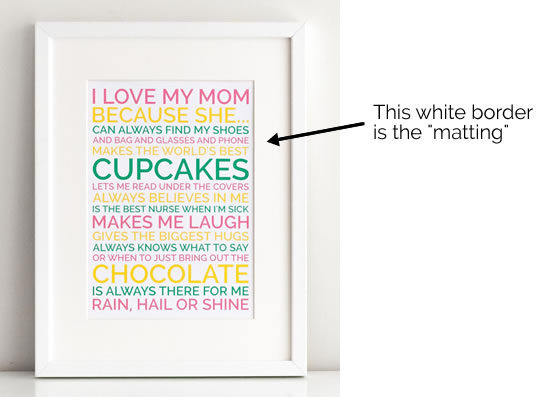 Where to buy a frame
In the USA, you can get a great-looking frame for about $14. I recommend
8 x 10" photo frames from Amazon
8 x 10" photo frame from Walmart
In the UK, the best place I've found to get frames is Hobbycraft. You can get a 30 x 40 cm frame (to hold an A4 poster) for about £10.
More fun gift ideas for Mom
Enjoyed this unique personalized poster gift for your mom? Here are some other gifts you might like...