Happy Thanksgiving Messages & Quotes for 2023
Last updated: January 12, 2023
Send these Happy Thanksgiving wishes to your friends, family, and co-workers to let them know how much you appreciate them. You'll find beautifully written wishes, blessings, and inspirational quotes that you use in cards, group chats, or on social media.
Thanksgiving is a time to reflect on everything that we're grateful for; all that sustains, nourishes, and supports us. For many, the winter holidays are a whirlwind of good food, family gatherings, and even a little well-meaning chaos. Thanksgiving brings us homes decorated with warm autumnal accents and hearty food, but this holiday also offers an amazing opportunity to spend time with the people who make our lives special.
Maybe your celebration resembles a traditional feast of turkey and cider, or perhaps you're embracing something a little different. Whatever our menu, this cozy holiday is a day to express gratitude for the presence of our friends and loved ones in our lives.
At its heart, the most important part of the holiday is always about the people. Recent years have made it more difficult to celebrate Thanksgiving in person. This has allowed many of us to create new traditions, such as smaller gatherings and more local "Friendsgiving" dinners.
Since we can't always have everyone we love at the table, Thanksgiving wishes and messages are more important than ever to reach friends and family. A thanksgiving card lets your loved ones and colleagues know that you're still thinking of them and that you're thankful for their presence in your life.
Scroll down the page to see all our Thanksgiving messages and quotes, or use these links to jump to a particular section.
Everyone | Family | Friends | Funny | Coworker/Boss | Quotes | Religious/Biblical | Coronavirus/Hard times
Happy Thanksgiving Wishes for Everyone
It's time to enjoy fall vibes, including delicious food, spiced pies, willed ciders, and cozy gatherings. Likewise, Thanksgiving messages have a way of warming the heart and spreading the cheer of a family gathering.
Thanksgiving is the perfect time to be thankful for all the amazing gifts we have been blessed with. I hope your holiday is full of love and joy.
May your Thanksgiving be full of peace, love, and joy.
Happy turkey day! I wish you the best time with your family and friends, as the holiday fills your home with warmth and laughter. Enjoy the feasting!
Sending along warm wishes for a holiday spent surrounded by the people who make life worth living!
Just a little gratitude can unlock the great fullness of love. Wishing you a wonderful holiday full of love and plenty.
Hoping you have a Thanksgiving holiday full of laughter, cheer, and satisfied tummies!
Wishing you a happy and blessed Thanksgiving!
Cheers to a bountiful harvest of blessings, good health, and happy memories.
May you enjoy a grand feast and the loving company of your family. Happy Thanksgiving!
Happy Thanksgiving! May the autumn glow and delicious harvest of the season bring you happiness and prosperity!
May your life be full of both Thanks and Giving!
Although our houses may be far apart, our hearts remain as close as ever. Wishing you a season of wonder and abundance for the holidays. Happy Thanksgiving!
Wishing you the bright company of good friends, the joy of a happy family, and the loving wonder of the holiday season.
May all my friends and family have a happy Thanksgiving holiday. I am so grateful for each and every one of you.
This Thanksgiving, let go of any holiday stress that you may be harboring and embrace the freeing spirit of gratitude and holiday cheer!
We are so grateful for you and your family! Sending you all our love and best wishes for a very happy Thanksgiving!
Have a most blessed Thanksgiving Day!
But cards aren't everything. These short messages for everyone are also good for sending social media posts and emails too!
Eat, Drink, and be Thankful!
Let us give thanks with grateful hearts.
Happy Fall Y'all!
Happy Turkey Day!
It's Turkey Time!
Thankful, Grateful, Blessed.
To do: Eat, drink, nap. Repeat.
Enjoy the feasting! Happy Thanksgiving!
Happy Thanksgiving Messages for Family
Thanksgiving is a time for gathering the family and uniting despite past differences. The holiday offers us a way to let our family members know how much we care about them. But in case you can't get home for the holiday, send them a message of love and thanksgiving to let them know how much they matter to you.
Sending you warmest wishes from our home to yours for a loving and happy Thanksgiving. May this day be a wonderful reminder of the best and most important things in life.
Thanksgiving always brings back childhood memories of mouth-watering food, family games, and delicious pie. Although I can't make it this year, I'll still be there in spirit. Happy Thanksgiving, I miss you.
Thank you for being my greatest blessing!
Among all the wonderful things in this world, I'm grateful to be a part of such a wonderful, supportive, and loving family!
I want to thank you for all the times that you have been there for me. You are so special and important to my life. I hope you have a memorable Thanksgiving!
Sometimes, I may take you for granted, and things might have been tense lately. But, I want you to know that I appreciate you very much and I'm grateful to have you in my life. Happy Thanksgiving!
This Thanksgiving, we're wishing you a home full of food, good company, and plenty of cheer to go around.
Sending autumnal greetings to you and your family, and wishing you a holiday season full of peace, gratitude, and plenty.
Thanksgiving offers us a special time to think of and remember all those amazing people who enrich our lives. Thank you for being such an amazing part of my life.
Happy Thanksgiving Messages for Friends
How often do you get a chance to tell your close friends how much they mean to you? Thanksgiving marks the ideal occasion to let a friend know that they're in your thoughts. Sending messages of gratitude to your close friends is a kind way of letting someone know how much they mean to you.
It's been a long year, but finally we're all together again! So glad to spend this special day with you. Let's raise our glasses and give thanks.
While I'm giving thanks for all the things I'm grateful for in my life, I want you to know that you're among them. I hope you have a wonderful holiday!
As the fall season chills the air and fills our homes with the aroma of pumpkin spice, I want you to know how grateful I am to have you in my life.
This Friendsgiving, let's enjoy the laughter of friends, mouth-watering aromas and cheer that we'll remember for years to come.
There's nothing better than having a friend who sticks with you in your good times and your rough ones. This Thanksgiving, you're my guest of honor.
Happy Thanksgiving! Let's not get too busy this holiday season to spend some time together (even if it is on Zoom!).
The gift of close friends is the best of all. Thanks for being there to share so many wonderful memories!
You're my personal hero. All my life, you've taught me how to be a better person. I hope you enjoy a warm and lovely Thanksgiving.
We're not usually sappy like this, but since it's the time of year for thanking people... I want to say that having you as a friend has made my life more meaningful. Thanks for being my partner in crime! Happy Thanksgiving!
As the year begins to run down, let us look back and be thankful for all the fun and happy memories we made throughout the year. Happy Thanksgiving, and I'm looking forward to another year full of memories.
This year, I'm grateful for so many things, but you're at the top of my list.
Funny Thanksgiving Quotes & Wishes
The best way to diffuse the tension of a family gathering is to get everyone laughing. Turkey puns, dad jokes, and whimsical decorations bring good humor to the Thanksgiving potlatch. And let's not forget the physical discomforts of too much feasting. Let these funny Thanksgiving messages create the opportunity for laughter and blowing off some steam.
"An optimist is a person who starts a new diet on Thanksgiving Day."
~ Anonymous
"This Thanksgiving, cherish the time spent with your family as a reminder of why you moved very far away from your family."
~ Anonymous
I only have pies for you!
There's at least one thing I'm sure to be grateful for this holiday season. I'm just glad I wasn't born a turkey! Happy Thanksgiving and may your feast be abundant!
"Vegetables are a must on a diet. I suggest carrot cake, zucchini bread, and pumpkin pie."
~ Jim Davis
The turkey is in the oven, the cider is spiked with rum, now let the family gossip begin. Happy Thanksgiving!
Don't bother counting calories today, just your blessings. Wishing you a very happy Thanksgiving!
May your stuffing be tasty,
May your turkey plump,
May your potatoes and gravy have nary a lump.
May your yams be delicious,
And your pies take the prize,
And may your Thanksgiving dinner stay off your thighs!
Keep calm and pass the gravy.
Cheers to Thanksgiving! May your pants be stretchy, your glasses ever-brimming, and your family avoid talking politics.
"You can tell you ate too much for Thanksgiving when you have to let your bathrobe out."
~ Jay Leno
"Thanksgiving, man. Not a good day to be my pants."
~ Kevin James
Time to gobble 'til you wobble.
Happy Thanksgiving Messages for a Boss or Co-worker
The workplace is full of people who could use a little appreciation, whether they're a favorite co-worker, client, or your boss. Our colleagues support our successes and often make our lives easier, despite the ups and downs of work. If you're wondering how to say Happy Thanksgiving in an email with both professionalism and sincerity, check out our messages below.
I'm lucky to have a colleague like you who helps to build this workplace into a thriving community. Enjoy your holiday to the fullest!
Wishing you a restful and relaxing holiday!
I appreciate the way you are always able to motivate me and keep me going. You've been a real gift to work with. Wishing you a joyful Thanksgiving.
Thank you for all that you have done and given. We count you among our blessings and send our warmest wishes to you and your family this Thanksgiving
I'm thankful for all that you do. Have an amazing holiday!
I couldn't be more thankful to have a selfless teammate like you. Have a wonderful holiday with your friends and family.
I'm so glad to work with someone like you. Happy Thanksgiving!
I'm very fortunate to have the opportunity to work with someone of your expertise and understanding. Thank you for sharing your wisdom with me throughout this year. I hope you have a wonderful and restful Thanksgiving!
Every morning, I'm grateful for your positive energy and calm guidance. Happy Thanksgiving!
As we celebrate Thanksgiving, I wanted to let you know that I'm forever grateful for all the support and inspiration you have given me. Wishing a lovely and restful holiday to such an amazing mentor and boss. Happy Thanksgiving!
Happy Thanksgiving to our amazing team. This [business/organization/shop] wouldn't be the same without you. We are grateful for your continued work and dedication, which is the root of our success. We wish you a restful and enjoyable holiday!
Inspirational Happy Thanksgiving Quotes
Thanksgiving gives us the chance to gather around a beautiful meal, spend some quality time together, and count all the things we're grateful for. These quotations fit nicely into a greeting card or text message and offer powerful inspiration for the season.
"Let us be thankful to the people who bring us happiness; they are the charming gardeners who make our souls blossom. "
~ Marcel Proust, from Pleasures and Days
"Forever on Thanksgiving Day the heart will find the pathway home."
~ Wilbur D. Nesbit
"Even in the trials of life, if we have eyes to see them, we can find good things everywhere we look."
~ Joanna Gaines
"Silent gratitude isn't much use to anyone."
~ G.B. Stern
"Thanksgiving is one of my favorite days of the year because it reminds us to give thanks and to count our blessings. Suddenly, so many things become so little when we realize how blessed and lucky we are."
~ Joyce Giraud
"As we grow older and realize more clearly the limitations of human happiness, we come to see that the only real and abiding pleasure in life is to give pleasure to other people."
~ P.G. Wodehouse, Something New
"Gratitude is the memory of the heart."
~ Jean-Baptiste Massieu
"After a good dinner, one can forgive anybody, even one's own relations."
~ Oscar Wilde, A Woman of No Importance
"To say thank you is in recognition of humanity."
~ Toni Mont
"None is more impoverished than the one who has no gratitude. Gratitude is a currency that we can mint for ourselves, and spend without fear of bankruptcy."
~ Fred De Witt Van Amburgh
"Two kinds of gratitude: The sudden kind we feel for what we take; the larger kind we feel for what we give."
~ Edwin Arlington Robinson
"As we express our gratitude, we must never forget that the highest appreciation is not to utter words, but to live by them."
~ John F. Kennedy
"There is a calmness to a life lived in gratitude, a quiet joy."
~ Ralph H. Blum
"Gratitude turns what we have into enough."
~ Anonymous
"Thanksgiving Day is a jewel, to set in the hearts of honest men; but be careful that you do not take the day, and leave out the gratitude."
~ E.P. Powell
"We have so much to be thankful for. One day a year hardly seems adequate..."
~ Anonymous
"Gratitude can transform common days into Thanksgivings, turn routine jobs into joy, and change ordinary opportunities into blessings."
~ William Arthur Ward
"If you are really thankful, what do you do? You share."
~ W. Clement Stone
"Thanksgiving, after all, is a word of action."
~ W.J Cameron
"Stress cannot exist in the presence of a pie."
~ David Mamet's, from Boston Marriage
"The thankful receiver bears a plentiful harvest."
~ William Blake
"Kindness is always fashionable and always welcome."
~ Amelia Barr
"I would maintain that thanks are the highest form of thought; and that gratitude is happiness doubled by wonder."
~ G.K. Chesterton
"Not what we say about our blessings, but how we use them, is the true measure of our Thanksgiving."
~ W.T. Purkiser
"Appreciation can change a day, even change a life. Your willingness to put it into words is all that is necessary."
~ Margaret Cousins
"Reflect upon your present blessings - of which every man has many - not on your past misfortunes, of which all men have some."
~ Charles Dickens
"Grumbling and gratitude are, for the child of God, in conflict. Be grateful and you won't grumble. Grumble and you won't be grateful."
~ Billy Graham
"We can only be said to be alive in those moments when our hearts are conscious of our treasures."
~ Thorton Wilder
"When eating fruit, remember the one who planted the tree."
~ Vietnamese Proverb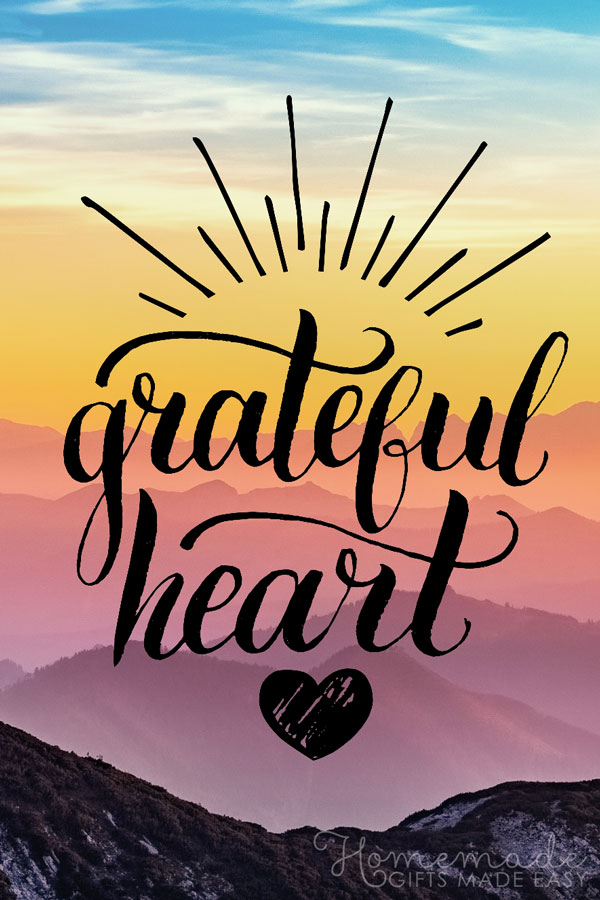 Religious Happy Thanksgiving Blessings & Bible Quotes
Thanksgiving traditionally revolves around harvest and feasting. It provides us the chance for shared appreciation for the food prepared and prosperity in life. These blessings and Thanksgiving bible quotes offer a religious perspective on the holiday. They work just as well in person, at a gathering, or sent with kindness to loved ones.
May you enjoy blessings in abundance, and may your good fortune remain with you all through the year.
I always thank my God for you because of his grace given you in Christ Jesus.
1 Corinthians 1:4
On this Thanksgiving Day, let us take a moment to count our numerous blessings. We are sincerely grateful for life and creation, the beauty of the world, the smiles and laughter of our family and friends, and the opportunity to live and thrive.
The LORD bless you and keep you; the LORD make his face shine on you and be gracious to you; the LORD turn his face toward you and give you peace.
Numbers 6:24-26
May the presence of your good friends and loving family nourish your soul this holiday, as you give thanks for all that you are given, as well as all that you are able to give of your own.
Trust in the LORD with all your heart and lean not on your own understanding; in all your ways submit to him, and he will make your paths straight.
Proverbs 3:5-6
May you enjoy the bounty of Thanksgiving, the joy of the holidays, and great health as the New Year approaches.
I thank my God every time I remember you. In all my prayers for all of you, I always pray with joy.
Philippians 1:3-4
"Dear Lord; we beg but one boon more: Peace in the hearts of all men living, peace in the whole world this Thanksgiving."
~ Joseph Auslander
Let the peace of Christ rule in your hearts, since as members of one body you were called to peace. And be thankful.
Colossians 3:15
This Thanksgiving, may you be able to look back with humility and gratitude at all you have done and learned. This reflection will give you the strength to overcome obstacles in your path. With warmth and appreciation, Happy Thanksgiving.
Rejoice always, pray continually, give thanks in all circumstances; for this is God's will for you in Christ Jesus.
1 Thessalonians 5:16-18
Let them give thanks to the Lord for his unfailing love and his wonderful deeds for mankind, for he satisfies the thirsty and fills the hungry with good things.
Psalm 107:8-9
This Thanksgiving, let us take time to consider the lessons we have learned throughout the year. Let us think of how we can spread happiness, and look back on our favorite memories and all the wonderful people who have graced our lives. Have a happy Thanksgiving Day, from one grateful heart to another.
Do not be anxious about anything, but in every situation, by prayer and petition, with thanksgiving, present your requests to God. And the peace of God, which transcends all understanding, will guard your hearts and your minds in Christ Jesus.
Philippians 4:6-7
May your feast be plentiful and your blessings abundant.
I will give thanks to you, LORD, with all my heart; I will tell of all your wonderful deeds.
Psalm 9:1
This Fall, let's make time to evaluate what we have and how we live, as we work toward helping others with our giving and charity.
Enter his gates with thanksgiving and his courts with praise; give thanks to him and praise his name. For the LORD is good and his love endures forever; his faithfulness continues through all generations.
Psalm 100:4-5
When you have eaten and are satisfied, praise the Lord your God for the good land he has given you.
Deuteronomy 8:10
Click here for more Thanksgiving Bible Verses and Scriptures.
Happy Thanksgiving Messages for Coronavirus Pandemic 2023
The past few years have been challenging illness, loss, uncertain employment, and isolation due to COVID-19 and the global pandemic. For many, this has caused long-term changes in how we travel, gather, and celebrate holidays. These greeting card messages can help you cross distances to extend your gratitude to those you can't join this Thanksgiving.
Happy Thanksgiving! We may be apart today, but you're always in our hearts. Take care and stay safe in these uncertain times. We miss you!
This card is packed full of virus-free hugs and kisses just for you! May you have a blessed and happy Thanksgiving.
We hope you can gather together this year and celebrate Thanksgiving with your family. We all have so much to be thankful for!
Sending all our love to your family this Thanksgiving. We know that this past year has been challenging, and we pray that the coming months bring more certain times for your family. With our sights on better days ahead.
We are so grateful for all the sacrifices that you have made this year to support and serve others. May this Thanksgiving be a time for you to rest and reflect on all that you have achieved. Wishing you a joyful and blessed day.
Gratitude offers us a direct connection with the powers above. Today, let us remember that no matter how turbulent and difficult our lives may feel, we can always find something to be thankful for.
Happy Thanksgiving to you and your family. We're so sorry you've been ill and hope you are feeling stronger and better every day. May this holiday season be a time of rest as you recover, and may the coming months bring you renewed health and happiness.
We want you to know that you are in our thoughts and prayers every day as we remember [name] and miss him terribly. We know this Thanksgiving will be very difficult, and we wish we could gather around you in person to support you more. We are sending all our love from afar, and if there is anything you need, please let us know.
Happy Thanksgiving Image Collection
If you're looking for Happy Thanksgiving images to share on social media or send as a text message, take a look at our collection of Happy Thanksgiving images here.
Funny Thanksgiving Jokes for Kids
Share these hilarious Thanksgiving jokes with your friends and family around the dinner table! From funny turkey jokes and corny pumpkin jokes to roll-your-eyes bad dad jokes about all things Thanksgiving, there's something for everyone. Click here to go to our hilarious Thanksgiving Jokes collection!
Thanksgiving Coloring Pages for Kids & Adults
I hope you enjoyed these Happy Thanksgiving wishes, messages, and quotes! To keep the kids busy and entertained while you prepare for the holidays, check out our Thanksgiving coloring pages for a huge range of fun pictures to color in!
More thanksgiving messages
If you're looking for more ways to say "Happy Thanksgiving", then take a look at our other pages:
Thanksgiving Messages to Teams & Employees
Thankful Quotes
Thanksgiving Prayers
Thanksgiving Bible Verses
Scriptures taken from the Holy Bible, New International Version®, NIV®. Copyright © 1973, 1978, 1984, 2011 by Biblica, Inc.™ Used by permission of Zondervan. All rights reserved worldwide. www.zondervan.com The "NIV" and "New International Version" are trademarks registered in the United States Patent and Trademark Office by Biblica, Inc.™