Funny Newspaper Generator with Your Own Picture - Fake News Generator
Use this free online newspaper generator to create your own spoof newspaper articles. Just upload a photo and add your own text. Our fake news generator is super easy to use!
Here's an example of what your funny newspaper article will look like:
The actual page will be full US letter size, and you can download it as a high quality pdf to print on your home printer. You can upload your own photo to use, and type your article (or copy one of our example funny articles from further down the page). Your article can be as long or short as you like, and the rest of the page will be filled with one of our made up articles.
Ideas for how to use our online fake news generator.
Kids Birthday, e.g. "Johnny Smith Turns 5 Today!"
50th/60th Birthday, e.g. "Joe Bloggs Turns 50, Officially Old"
Mothers Day, e.g. "Mary Robinson voted Mom of the Year"
Christmas, e.g. "Daniel Adams too Naughty, Not Getting Gifts from Santa this Year"
The possibilities are as boundless as your imagination!
Try the Online Newspaper Generator
Instructions
Fill in the blanks (see our examples below if you're stuck for inspiration)

Click "make it"

Download a high quality pdf of your article! To download, just hover your mouse over the bottom of the article and look for the download icon.
FAQ
How do I change the date? Try out our new premium newspaper generator that lets you change the date. It also lets you use a much larger picture, and write multiple articles.
Can't see or download your article? Make sure you have the Free Adobe PDF Reader installed on your computer.
Questions or comments? If you have any questions or comments about our fake news generator, or just want to say high, then please contact me with this handy form
Example Funny Newspaper Articles
Not sure what to write? Here are some example funny newspaper articles to get your creative juices flowing.
Christmas Gag Article
Newspaper name: The Polar Paper
Headline: Santa Names "World's Naughtiest Boy"
Author: Rood Olph
Article text: In a first ever statement of this kind, Santa Clause has stated that he is imposing a lifetime Christmas present embargo on Darren P Smith, after stating that he was "simply appalled" with the behaviour of Darren Smith over the last year.
One of Santa's inner circle of elves told the Polar Paper: "I've never seen Santa this irate before. He was shouting with rage so much that his cheeks turned purple and his beard was covered in little flecks of spittle. Darren Smith must have done some pretty naughty things to make him this furious. I mean, a lifetime ban on Christmas presents - it's unheard of!".
Considerable speculation has circulated regarding precisely what it is that Darren Smith did to arouse Santa's wrath, but no clear answers have emerged.
50th Birthday Gag Article
Newspaper name: The Grey Times
Headline: Katie Nicholson Officially `Old'
Author: Hal E. Tosis
Article text: Local resident Katie Nicholson turned 50 today and officially joins the ranks of the wrinkly oldies.
When asked how she felt, Ms Nicholson said "Oh, it's not so bad turning 50. Sure my joints ache, my hair is greying, and I suffer from hot flashes, but I'm so forgetful these days that I hardly remember to notice the discomfort. In fact, my memory's so bad that I probably won't even remember having this conversation with you. Who are you again, by the way?".
Residents have been celebrating Ms Nicholson's birthday, for more reasons than one - her birthday is expected to provide a small boost to the city's economy, as she will soon be looking to purchase new spectacles, arthritis cream, extra-strength wrinkle lotion, and a zimmer frame.
Premium Newspaper Article Generator
Want to change the date , use a larger picture , or write multiple articles ? Please try our premium newspaper page generator !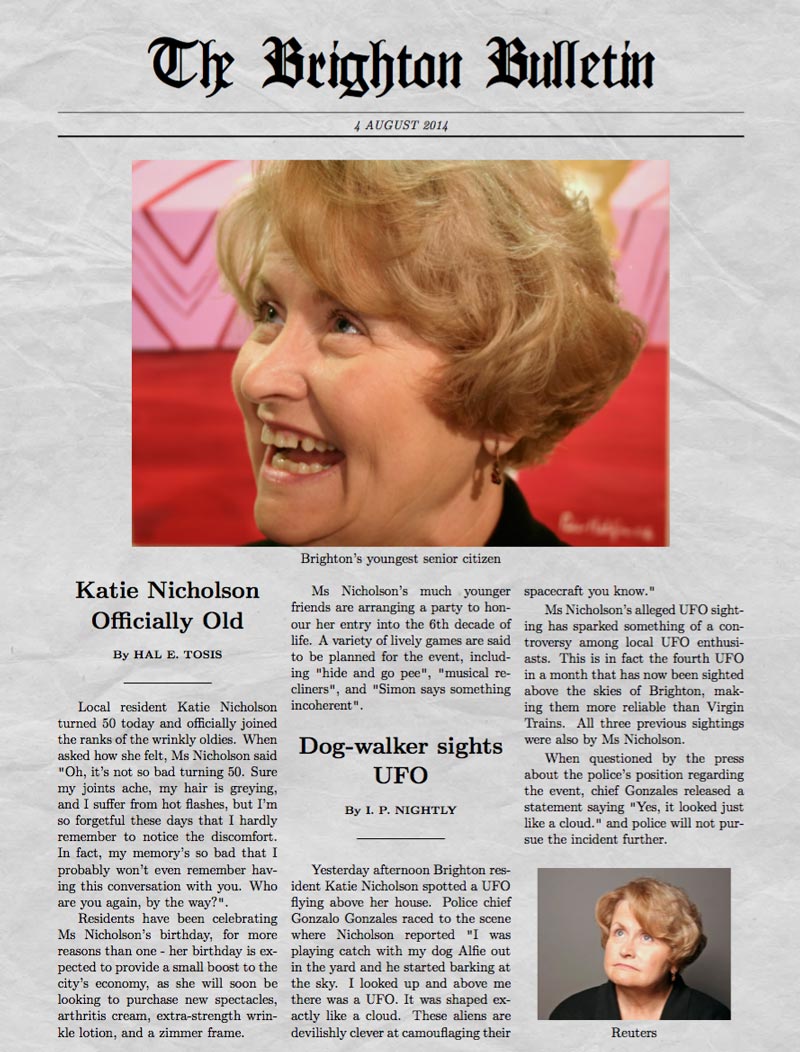 What Next?
If you enjoyed our free online newspaper generator, then you might also like: