Homemade Gag Gifts
Funny homemade gag gifts and ideas for all those occasions where you want to sprinkle a little bit of laughter and fun!

On this page you'll find our gag gift ideas for a range of events from birthday gag gifts, retirement gag gifts, Christmas gag gifts, and more! Just click on the menu below, or scroll down the page to read them all.

Funny Birthday gifts
60th / 50th / 40th / 30th

Types of Gag Gifts
Newspaper / Retirement / Over The Hill / Christmas / Printable / Certificates / General
Funny Newspaper Generator
Imagine your friend's surprise when they see themselves featured in a realistic-looking newspaper article!
Creating the spoof article is easy - just upload a photo into our newspaper generator and write some text. Or, choose from some example articles and slot your friend's name in.
Click here to make a funny newspaper.
Funny Homemade 60th Birthday Gag Gifts
Is someone you know scared about hitting the big *Six-Zero*? Tell them not to worry. Statistics show that the more birthdays you have, the longer you live! Our ideas include funny warning signs, anti-aging pills, year you were born poster, and lots more funny birthday pranks.
Click here for funny 60th birthday gag gift ideas.
This page includes lots of card messages ideas too, with our 60th birthday jokes, 60th birthday quotes, 60th birthday wishes and messages, and funny 60th birthday poems.
Funny Homemade 50th Birthday Gag Gifts
You'll find some fabulous 50th birthday homemade gag gifts in our collection, including funny definition posters, year you were born facts, warning and caution signs, and plenty of other silly ideas!
Click here for our funny 50th birthday gag gift ideas.
There is also lots of ideas for card messages with our 50th birthday jokes, 50th birthday quotes, 50th birthday wishes and messages, and happy 50th birthday poems.
Funny Homemade 40th Birthday Gag Gifts
Forty is a funny age. Not really young, not really old. Just... chronologically gifted!
We've collected plenty of funny pranks and ideas for helping to celebrate this milestone. From ideas for how to make a 40th birthday survival kit, to warning/caution signs, to year you were born posters you can personalize, you'll find something fun!
Check out our funny 40th birthday gag gifts here.
This page includes our collection of 40th birthday jokes, 40th birthday sayings, and 40th birthday quotes, great for birthday card messages.
Funny Homemade 30th Birthday Gag Gifts
Thirty. The prime of your life, or the beginning of the end? The end of your hair, your party days, and your youth! Don't let someone feel gloomy about turning 30 - cheer them up with one of these homemade gag gifts!
Click here to see our collection of funny 30th birthday gag gifts.
Including funny 30th birthday wishes and 30th birthday quotes for writing card messages.
Funny Retirement Gag Gifts
Send someone off to retirement with a good laugh! Recognize their achievements with the "Old Codger Merit Award" or help them adapt to their new life with some retired business cards and a retirement activity decision cube. Lots of printable gift ideas and pranks to enjoy!
Click here for Funny Retirement Gag Gifts .
Including our collection of Retirement Wishes and Retirement Quotes for writing farewell card messages.
Over The Hill Birthday Gag Gifts
A collection of "over the hill" birthday gag gift ideas and funny birthday sayings to help celebrate the half-way point of life! Including survival kit ideas, cake ideas, printables, sayings, and more.
Click here for Over The Hill Birthday Gifts .
Homemade Christmas Gag Gifts
Do your part to stop the insidious trend of people taking Christmas *far too seriously* with our funny Xmas gag gift ideas, including Christmas survival kit ideas, Christmas Poop gag gift labels, and "snowman in a box" kit ideas.
Many people feel stressed out at Christmas time - why not lighten things up with one of these Christmas homemade gag gift ideas. Ho Ho Ho...He He He...
Click here to see our collection of funny homemade Christmas Gag Gifts.
Printable Gag Gifts Collection
With much thought, deliberation, and giggling, my husband I put together a collection of printable gag gifts for you to enjoy. You'll find funny door hangers, funny warning signs, silly business cards and more...
Click here to see printable gag gifts collection.
Free Gag Certificates
Funny certificates are great for office parties, school-leaver parties, or other occasions when you'd like to humorously embarrass someone. They're easy to make with our editable Microsoft Word certificate templates.
Click here to see our printable Gag Certificates
General Gag/Prank/Silly Gifts
A collection of "all rounder" homemade gag gifts to make for any occasion. Includes classic gag gift ideas like "organic natural bubble bath" (baked beans) and "expert jigsaw puzzle" (sawdust), plus many more.
Click here to see our All Occasion gag gift ideas.
Silly Fridge Magnets
Easy step-by-step instructions for how to make novelty personalized fridge magnets with mix-n-match body parts. The possibilities with this gift idea are endless!
All you need to do is come up with some silly photos of the recipient, yourself, family members, friends, characters from your favourite movie, comic series, TV program, etc etc.
Click here for Personalized Fridge Magnets tutorial.
Grass Heads Tutorial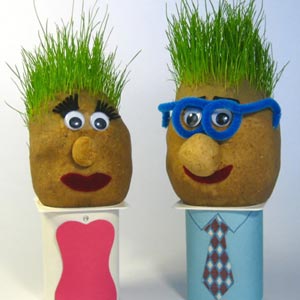 Not just for kids... every adult who sees one of these cute grass head creatures can't help but laugh or smile. Very easy to make, and starts growing hair in just a week.
Click here for our grass heads tutorial.
I hope you enjoyed these homemade gag gifts. If you're looking for more unique homemade gift ideas do take a look at out our easy printable gifts you can personalize and print at home.