Printable Gag Gifts to Download
Looking for free printable gag gifts? You've come to the right place!
These printables are the product of many silly evenings that my husband and I spent throwing around ideas and playing with our word processors and graphics programs.
We sacrificed at least a week's worth of social life to bring you these printable gag gifts. Well, maybe a week's worth of evening TV ;-) I hope you like them!
For more good gag gift ideas, make sure you also check out my homemade gag gifts page. If enjoyed these ideas and want to say thanks , or if you'd like to share printable gag gift ideas (or any gag gift ideas) of your own then I'd love to hear from you.
---
Newspaper Generator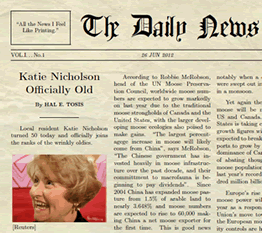 Create a spoof newspaper article featuring your friend or relative!
Our newspaper generator is easy to use - just upload a photo and write some article text (or use one of our demo articles).
---
Gag Certificates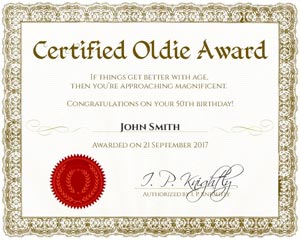 Silly certificates are perfect for birthday parties, end of year work parties, and in fact pretty much any sort of gathering at which you want to publicly embarrass someone :-)
Use our free online certificate maker to make your silly award in a snap. Or check out my collection of MS Word gag certificate templates.
---
Free Printable Door Hangers
Click on any of the thumbnails below to download a full-size pdf of the printable door hanger design. Once you've printed it, glue it onto a piece of card and cut around the outline. Cereal box cardboard is about the right stiffness, but any sort of cardboard should do.
Depending on the size of door-knob, you can leave the top of the hanger as a loop rather than a hook. It will be stronger if you leave it as a loop. You could also make double-sided door hangers with two different designs. Perfect for loved ones with multiple personality disorders (kidding).
For those of you with a creative streak, you can also download this blank Microsoft Word template , and design your own printable door hangers . Have fun with it! If you come up with some good designs, let me know! You could post them up here and share (or inflict) your sense of humour :-) I'll give you full credit.
By the way, to view and print the full size door hangers, or any of the pdf printable gag gifts on this page, you'll need to have Adobe Acrobat Reader (free) installed on your computer.
| | | |
| --- | --- | --- |
| | | |
| "Do not disturb. I'm disturbed enough already" | "Do not disturb. I'm solving an emergency" | "Do not disturb. Hangover in progress" |
| | | |
| --- | --- | --- |
| | | |
| "Out of my mind. Back in 5 minutes" | "Out to lunch. If not back by 5, out for dinner also" | "Do not disturb the Princess" |
| | | |
| --- | --- | --- |
| | | |
| "Do not disturb. Officially retired, and I deserve my naps" | "Keep Out! Diva in preparation" | "All people enrich this office. Some by their arrival. And some by their departure." |
| | | |
| --- | --- | --- |
| | | |
| "Maid service requested" Can you imagine your wife's or mother's expression if you leave this on your door? | "Major nap in progress. Put it in a memo." Hang this one on your bosses door | "Quiet! Teenager napping. Disturb at your own risk!" |
---
Decision Dice
Let's face it, making decisions is tough. At least, I think it is. Or maybe it isn't. I'm not sure. I need to think about it some more. Ask me again tomorrow.
Anyway, if you know someone who has difficulty making decisions, help them out with one of these handy decision cubes. All they need to do is roll the die and it will tell them what to do next. Click on a thumbnail to download a full-size pdf, and follow these instructions to assemble the cube .
It could be that my cubes are too tame for you. This is a family friendly site, after all. If you're itching for something more... extreme , then why not download this blank decision cube template (Microsoft Word Format) and design your own extreme decision cube . Just don't let your mum see it.
Office Decision Cube : Has all sorts of high-productivity advice, like "surf the web", "play trash-can basketball", "look busy as the boss walks past", "take a coffee break", "chat by the water cooler". Oh, and the sixth side says "Stop procrastinating. Deal with the work that's piling up".


Senior's Decision Cube : This cube suggests relaxing activities like "take a nap", "drink tea". It also features some senior-citizen sports, like "go fishing", "play golf", "look for missing spectacles", and "visit grandkids".

If you don't think that looking for missing spectacles counts as a sport, then you should meet some of my relatives. They've turned it into an endurance sport.



---
Gag Eye Chart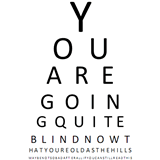 Click the thumbnail to download a full-size pdf.
This was originally an idea for a retirement gag gift... but I guess this printable gag gift is pretty appropriate for anyone who squints a lot when they read the paper. I just dread the day when my eyes are bad enough that someone gives this to me ;-)
By the way, if you want to customise the text, try our eye chart maker.
---
Funny Warning Signs
A little while ago my husband discovered an online warning sign generator , and had some fun making silly signs. You can have a go making your own, or you can click on any of the thumbnails below to download a full-size printable sign.
Click here for more funny signs
---
"While you were napping" Memo Pad
Perfect for that sleepy-head senior-citizen friend, colleague, or parent of yours. This one's a bit hard to explain, so download the pdf memo pad in
large format
or
small format
and see for yourself. If you'd like to make your own customised memo pad, you can do so with this
Microsoft Word template
.
---
Silly Business Cards
These bring printable gag gifts to a new dimension of silliness. Download my Microsoft Word Silly Businss Card Template, and have a bit of fun!
The picture here is an example of business card for a recent retiree, but you can make gag business cards for anyone, and obviously business people are great candidates.
If the victim... ahem, I mean your friend, already has their own business cards, then get hold of one to use as a style guide. Sneak your modified silly cards in among their regular cards, and sit back to enjoy the show next time they hand one out. Just make sure you don't ruin any million dollar business deals ;-)
---
Silly Word Searches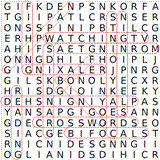 Did you know that there are free online services out there that will make a word search with your own choice of words? It's a fab way to make up a printable gag gift, and you can tailor it to the occasion with the choice of words.
For instance, here are some word searches I put together for retiring men or women (pdf format). If you want to cheat and look at the solutions, here they are for the men version and women version .
Yes, I know it's extremely sexist of me to play on gender stereotypes, but lighten up please, this is after all a page about gag gifts.
Go ahead and put together your own word search - here's a word search generator that you can use. Have fun!
---
Looking for more ideas?
What? More? I've given you a whole humongous page of printable gag gifts and you still want more? Are you serious? Okay, then check out my homemade gag gifts page for more ideas, but I can't promise that their printable. Also, do let me know if you'd like to share some of your own ideas for printable gag gifts.
More printable ideas...