Funny Retirement Gag Gifts that are Free or Cheap to Make
Is someone you know retiring or recently retired? Retirement gag gifts are a great way to send them off with a good laugh!
To get you started, here are some of my favourite ideas for gag retirement gifts, along with some ideas for funny messages that you could write in an accompanying card.
Feel free to get creative and adapt the ideas on this page as much as you like. After all, the best retirement gag gift could be one that you have personalised. Think about the retiree's hobbies and personality, and see if you can come up with a gag gift that makes a gentle (or perhaps not so gentle!) dig at one of their quirks :-)
And we have a new collection of Retirement quotes and Retirement wishes to help you find the words to wish them a happy retirement, so do check them out too!
---
Personalized Poster Retirement Gift
Make a personalized poster to celebrate their retirement! It's a fun, unique gift they can treasure for years. Plus it's dead-easy to make, using our online poster-generator.
Click here to personalize and print your poster
---
Old Codger Merit Award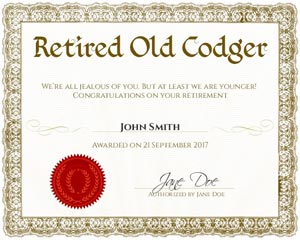 "We're all envious of you retiring, but at least we're younger! Congratulations on your retirement"
Give them some recognition for making it this far with an "Old Codger" merit award. Making the award is simple with our free online certificate template. Just customize the text and download, with no special software required.
Or, if you have Microsoft Word on your computer, download the Old Codger Merit Award or the Certified Oldie Award in Microsoft word format.
---
Toilet Seat Photo Frame
When someone at your office retires...
Buy a cheap toilet seat.
Print a big photo of the person who's retiring.
Put the photo under the bottom toilet seat, so it's framed in the seat and you'll see it when you lift the lid.
On the lid of the seat write "Retirement" with a Sharpie marker
On the seat itself, write "When you've got to go, you've got to go!"
Everyone in the office can sign the lid
This retirement gag gift was shared by reader Kristen from Bloomington MN
---
Retirement Activity Decision Cube
"Now that you're retired, you'll have so much time on your hands that you won't know what to do with yourself. So, just roll this handy die to help you decide what to do next".
The options are play golf, go fishing, look for missing spectacles, drink tea, take a nap, play with grandkids. Download the decision cube template here and assemble with these simple instructions .
If you'd like to write your own text on the decision cube, you can download this Microsoft Word template .
---
Gag Eye Chart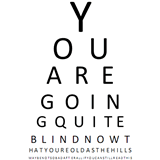 "As you get older, it's important to get your eyes checked regularly. Now you can do it in the comfort of your own home. If you ever need reassurance that you're eyes are still in top condition, just use this handy eye chart."
You can download a full-size pdf of the eye chart, or you can make a customized eye chart using our online eye chart maker tool.
This retirement gag gift idea also works well as a 50th or 60th (or older) birthday gag gift.
---
Caution, Senior Moment in Progress!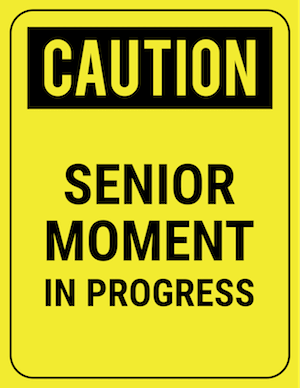 "As a senior, you are a gold mine of wisdom. You have a lifetime of accumulated knowledge. The trouble is, you just can't remember any of it."
Download the full-size printable sign , or see my other funny signs.
To be completely fair, I think that even some juniors have senior moments. The other day I got my car keys out to open the fridge door :-P And I haven't hit 30 yet!
---
Warning, retired!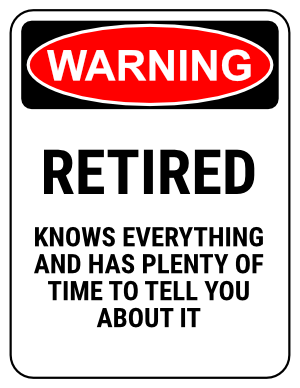 "Warning. Retired - knows everything and has plenty of time to tell you about it"
Download the full-size printable sign , or see my other funny signs.
---
"While you were napping" Message Pad
"While you were napping, Mrs Harper called to say that [your rocking chair has been repaired / she found your dentures / your prescription is ready / ...]"
Is the retiree a bit of a sleepy-head? Then this is a fitting gift. Download the pdf memo pad in large format or small format , or download the Microsoft Word document and customise it to your heart's content.
---
Old-School Hearing Aid
"New fangled technology is okay, but old-school technologies have their benefits. Fred, Sally, and I chipped in to buy you this old-school hearing aid. It's strong as a rock, hard to lose, never runs out of batteries, and one size fits all. You should get good use out of it."
(Actual gift is an old traffic cone to be used as an ear-horn. Or, just make a cone out of a big piece of card)
---
Retirement Word Search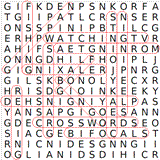 "Now that you're retired, here are some of the things that you can look forward to". Download pdfs of the men's retirement word search or the women's retirement word search . Hidden words include things like golf, knitting, napping, watching tv, creaky joints, and bifocals.
For the full list of words, see the men's solution or women's solution . You could also have a go at making your own word search , using the retirees favourite activities!
---
Retired Business Cards
"Now that you're retired, it's important to maintain your professional image and update your business cards. So, I took the liberty of making you some new ones."

Use this Microsoft Word template and come up with your own silly designs, or do a google search for "business card maker" (without quotes) to find services that will let you design business cards online.



---
Retirement Gag Gifts Basket
Put together a little retirement gag gift basket with these items
Marbles - for when you lose yours
Magnifying glass - to help you see the fine print now that your eyesight isn't what it used to be
Balloon - to hold the hot air you're full of
Paperclip - because sometimes it's hard to hold it all together as you get older
Mints - so that you can remember all the things you're "mint" to do
---
Expert Jigsaw Puzzle
"I figured that puzzle-solving would be a fun activity for you now that you'll have all this spare time. The guy in the store assured me that this expert jigsaw puzzle is guaranteed to keep you busy for hours and hours". Actual present is a bag of sawdust . Make sure you wrap it to look like a real puzzle.
---
Weekly Schedule Retirement Gag Gift
Make them a weekly schedule to plan they're extremely busy lives. Something along the lines of:
| Day | Activity |
| --- | --- |
| Monday | Brush teeth |
| Tuesday | Play golf |
| Wednesday | Read the newspaper |
| Thursday | Gardening |
| Friday | Look for missing spectacles |
| Saturday | Watch sports on TV |
| Sunday | Take a nap. It's been a busy week! |
---
Retirement Badges
Make the retiree a badge or shirt with one of these funny labels:
I'm not retired - golfing is a full-time job
I'm not retired - knitting is a full-time job
I'm retired but I work part time as a pain in the butt
Retired but working part time spoiling my grandkids
Life is short. Smile while you still have teeth
Quit yer yappin and give me my damn discount
Retired and Happy, Spending my Kids Inheritance
Senior Citizen (unsolicited advice dispenser)
Retirement is what you do between doctor appointments
I'm retired. Your Not. Nah nah nah nah.
Retirement: the pay sucks, but the hours are really good
65 is the new... what was I saying?
---
Looking for more ideas?
I hope my list of retirement gag gifts gave you some good ideas! For extra inspiration, make sure you also check out my homemade gag gifts page - some of the ideas there can also be adapted as retirement gag gifts.
Looking for a gift to buy? Check out my article on the best retirement gift ideas.
Check out our collection of retirement quotes to help you find the words to wish the lucky person a happy retirement.
Have some of your own ideas for fun retirement gag gifts? Share them here - you can also see ideas that other readers have shared :-)
Happy Gifting!