Homemade Fathers Day Gifts & Crafts
Looking for homemade Fathers day gifts to make? Check out the easy craft ideas on this page and find the perfect gift for your Dad!
*NEW* Free Printable Father's Day Coupons for Dad
Free printable father's day coupons to download in high-quality PDF format. Simply print and assemble at home to make a sweet homemade father's day gift that's practical too!
Click here to go to Printable Father's Day Coupons.
"Dad Likes" poster
Use our poster generator to make a personalized poster of all the things your dad likes.
It's a beautiful gift that he'll really appreciate, because it shows how well you know him. It's also a chance to have a gentle dig at your dad about some of his quirks, like his inability to let anyone else in the house hold the TV remote :-)
Click here to generate your personalized "Dad Likes" poster
Dad Definition Poster
What does your dad mean to you? Let him know with this fun and quirky homemade fathers day gift.
Click here to generate your personalized "Dad Definition" poster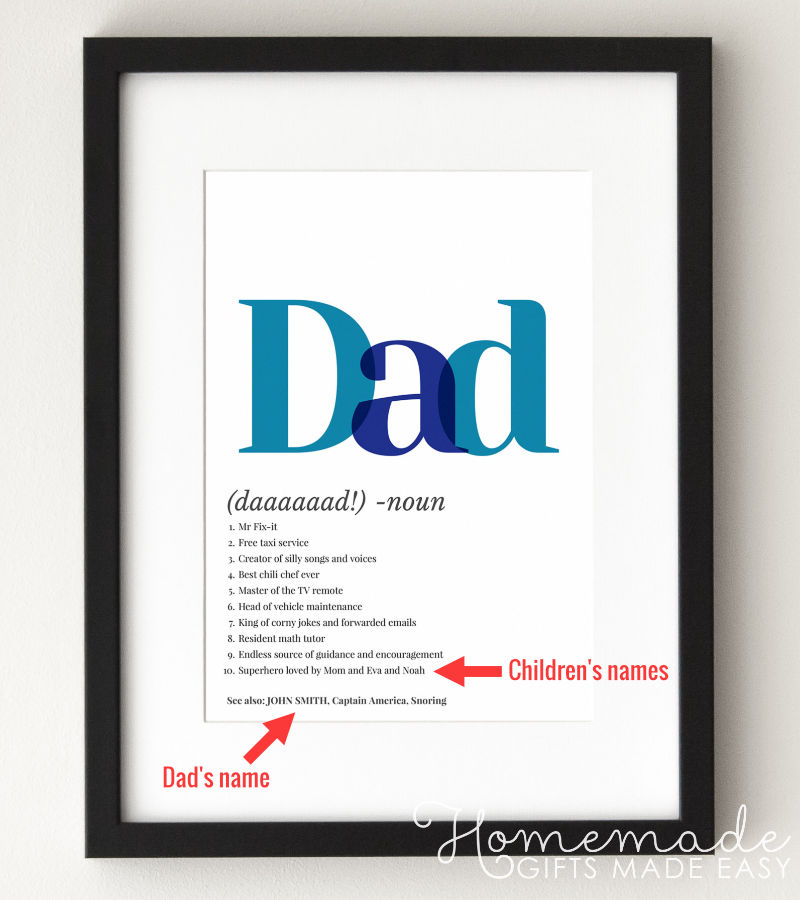 Fathers Day Coupons
Put a big smile your dad's face with these vintage-style father's day coupons
Click here to personalize and print your Fathers Day Coupons
Paracord Bracelet Tutorial
Easy step by step tutorial for making a cool 2 color paracord bracelet (survival bracelet). These are very popular with outdoor-types, and are really practical as well as looking great. Make one in your Dad's favorite sports team colors!
Paracord Lanyard Tutorial
Make your Dad this neat paracord lanyard and he'll think of you every time he reaches for his keys!
I promise you'll be able to make this even if you've never touched a rope before. I've included step by step instructions for everything you need to know.
*Free* Certificate Template
Make your own funny father's day certificate for your Dad with our free certificate template. Personalize, download, and print, for an instant homemade fathers day gift that he'll love!
Grass Heads
Make a grass head for your Dad to keep on his desk. You can make your whole family out of grass heads to remind your Dad how special you all are! Very easy to make, and starts growing hair in just a week.
Happy Father's Day Coloring Pages
Looking for father's Day coloring pages? Take a look at this cute collection of high-quality PDFs you can download and print at home for free! There are so many choices - super hero dad, fishing with dad, neck ties, award trophies, simple pictures for toddlers and preschoolers, and intricate doodles for older children and teens to color in!
*New* Printable Father's Day Cards
Free printable Father's Day cards in high quality PDF format that you can print and fold at home to give to your dad. They're really handy when you can't get to the store, and your Dad gets a special card made just for him!
Click here for Printable Father's Day Cards page.
Father's Day Cards to Make - Simple Shirt Card
Follow these super easy step-by-step instructions to make a fun shirt-card for your Dad.
This card will only take a few minutes to make, and you can have lots of fun choosing the paper to make it from!
What should I write in my card?
Stuck for what to write in your card to your dad? Check out my hand-picked selection of the best:
Happy Fathers Day Messages, Quotes and Poems
Happy Fathers day quotes
Happy Fathers day messages and wishes
Happy Fathers day poems
Bible Verses about Fathers
The perfect accompaniment to your homemade fathers day gift!
Things I love about you, Dad
Here's a sweet homemade Father's Day gift to make for your dad thanks to Brooks from Georgia for sharing her idea!
In your dad's travel coffee mug, briefcase, or something else he's bound to take with him for the day, put in small pieces of paper each with one thing written on it that you love about him or love doing with him, e.g.
Fishing with you on Saturdays
Playing war in the backyard
Going to Dunkin' Donuts for coffee and chocolate milk on Sunday mornings
When you come home for work
When you help me with my homework
Watching sports together
Going to Jalapenos for boys Mexican dinner night
When you bought me that awesome Lego set for Christmas last year
When you taught me how to ride a dirt-bike
...etc
Eye Chart Poster with Father's Day Quote
Want to make a homemade fathers day gift that's really eye-catching and unique? How about making your dad a custom eye chart with a Father's day message...
Make a personalized eye chart gift for my dad
"Anyone can be a father but it takes a real man to be a daddy"