Bible Verses About Fathers for your Dad
Last updated: January 11, 2023
Enjoy these beautiful Bible verses about fathers, ranging from scriptures about parenting and family life to inspiring verses to provide encouragement and support for dads. There are also blessings and short prayers you could share with your dad on Father's Day.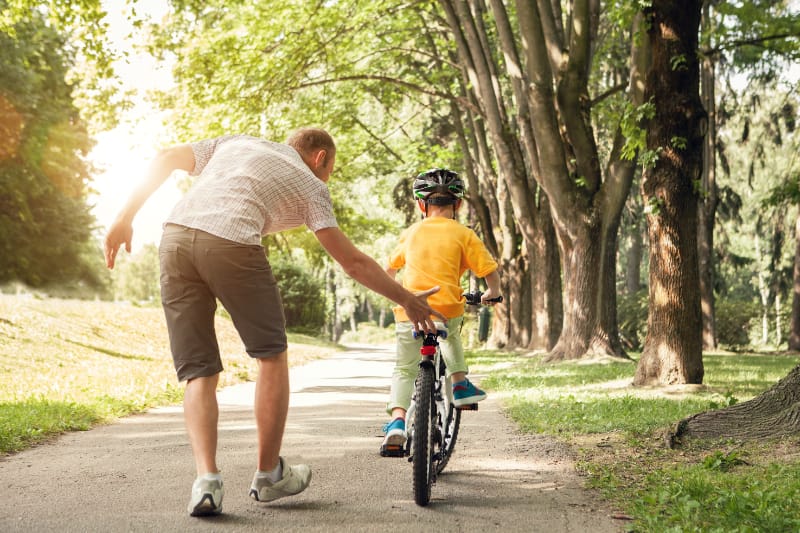 Fathers play a very important role in a Christian family. They are called upon to lead by example in faith, to be loving and compassionate fathers, and to teach their children wrong from right. On this page, you'll find some beautiful biblical quotes about fatherhood to share with your father or to give encouragement to a dad.
Use the links below to jump to a particular section, or scroll down the page to read all the Bible verses about fathers and blessings for your dad.
Scripture about Fathers | Role of a Father | Fathers Love | Encouragement for Fathers | Blessings for your Dad
Bible Verses about Fathers
These Bible verses about being a good father and scripture about fathers and parenting can guide and inspire fathers. These first Bible quotes describe the qualities of a father and encourage us to honor and respect our fathers.
There you saw how the Lord your God carried you, as a father carries his son, all the way you went until you reached this place. Deuteronomy 1:31
For you know that we dealt with each of you as a father deals with his own children, encouraging, comforting and urging you to live lives worthy of God, who calls you into his kingdom and glory. 1 Thessalonians 2:11-12
Listen to your father, who gave you life, and do not despise your mother when she is old. Buy the truth and do not sell it - wisdom, instruction and insight as well. The father of a righteous child has great joy; a man who fathers a wise son rejoices in him. May your father and mother rejoice; may she who gave you birth be joyful! Proverbs 23:22-25
Honor your father and your mother, so that you may live long in the land the Lord your God is giving you. Exodus 20:12
Whoever fears the Lord has a secure fortress, and for their children it will be a refuge. Proverbs 14:26
The following Bible verses about fathers celebrate the gift of children and the joy they bring to a father.
Children are a heritage from the Lord, offspring a reward from him. Like arrows in the hands of a warrior are children born in one's youth. Blessed is the man whose quiver is full of them. Psalm 127:3-5
I have no greater joy than to hear that my children are walking in the truth. 3 John 1:4
Children's children are a crown to the aged, and parents are the pride of their children. Proverbs 17:6
Bible Verses about Fathers | Responsibility & Wisdom
Throughout the Bible, there are passages of scripture about fathers, the role a father plays in raising his children, and his responsibilities to his family. The Bible asks fathers to raise their children with wisdom and to instruct them in God's word.
These commandments that I give you today are to be on your hearts. Impress them on your children. Talk about them when you sit at home and when you walk along the road, when you lie down and when you get up. Deuteronomy 6:6-7
Start children off on the way they should go, and even when they are old they will not turn from it. Proverbs 22:6
The righteous lead blameless lives; blessed are their children after them. Proverbs 20:7
But as for me and my household, we will serve the Lord. Joshua 24:15
These next Bible verses are written to children, advising them to listen to, honor, and respect their parents. The verses show us how important a father's role is in raising his children and how he is responsible for teaching them about God and his commandments.
Listen, my son, to your father's instruction and do not forsake your mother's teaching. They are a garland to grace your head and a chain to adorn your neck. Proverbs 1:8-9
Listen, my son, accept what I say, and the years of your life will be many. I instruct you in the way of wisdom and lead you along straight paths. When you walk, your steps will not be hampered; when you run, you will not stumble. Hold on to instruction, do not let it go; guard it well, for it is your life. Proverbs 4:10-13
My son, keep your father's command and do not forsake your mother's teaching. Bind them always on your heart; fasten them around your neck. When you walk, they will guide you; when you sleep, they will watch over you; when you awake, they will speak to you. Proverbs 6:20-22
Listen to advice and accept discipline, and at the end you will be counted among the wise. Proverbs 19:20
Children, obey your parents in the Lord, for this is right. "Honor your father and mother" - which is the first commandment with a promise - "so that it may go well with you and that you may enjoy long life on the earth." Ephesians 6:1-3
Honor your father and your mother, as the Lord your God has commanded you, so that you may live long and that it may go well with you in the land the Lord your God is giving you. Deuteronomy 5:16
Listen, my sons, to a father's instruction; pay attention and gain understanding. I give you sound learning, so do not forsake my teaching. Proverbs 4:1-2
The Bible calls upon fathers to teach their children right from wrong. We all make mistakes, it is a part of growing up. By raising our children with structure and boundaries we provide them with security and a framework for how to live a good life. This discipline and teaching comes from a place of love.
My son, do not despise the Lord's discipline, and do not resent his rebuke, because the Lord disciplines those he loves, as a father the son he delights in. Proverbs 3:11-12
Whoever spares the rod hates their children, but the one who loves their children is careful to discipline them. Proverbs 13:24
Fathers, do not embitter your children, or they will become discouraged. Colossians 3:21
Fathers, do not exasperate your children; instead, bring them up in the training and instruction of the Lord. Ephesians 6:4
Bible Verses about Fathers' Love
The following Bible verses for fathers describe the importance of love and how it sustains our relationships, including those with our children.
As a father has compassion on his children, so the Lord has compassion on those who fear him; Psalm 103:13
So he got up and went to his father. But while he was still a long way off, his father saw him and was filled with compassion for him; he ran to his son, threw his arms around him and kissed him. Luke 15:20
Above all, love each other deeply, because love covers over a multitude of sins. 1 Peter 4:8
Love is patient, love is kind. It does not envy, it does not boast, it is not proud. It does not dishonor others, it is not self-seeking, it is not easily angered, it keeps no record of wrongs. Love does not delight in evil but rejoices with the truth. It always protects, always trusts, always hopes, always perseveres. 1 Corinthians 13:4-7
And now these three remain: faith, hope and love. But the greatest of these is love. 1 Corinthians 13:13
And over all these virtues put on love, which binds them all together in perfect unity. Colossians 3:14
Bible Verses to Encourage Fathers
Share one of these encouraging Bible quotes with a new dad or a friend going through a difficult time in their parenting journey. These scriptures are a wonderful source of inspiration for fathers who might be struggling or need comfort. They also make lovely Father's Day verses to use in a card message to a new dad.
Do not be anxious about anything, but in every situation, by prayer and petition, with thanksgiving, present your requests to God. And the peace of God, which transcends all understanding, will guard your hearts and your minds in Christ Jesus. Philippians 4:6-7
Come to me, all you who are weary and burdened, and I will give you rest. Matthew 11:28
I can do all things through him who strengthens me. Philippians 4:13
I sought the LORD, and he answered me; he delivered me from all my fears. Psalm 34:4
Be strong and courageous. Do not be afraid; do not be discouraged, for the Lord your God will be with you wherever you go. Joshua 1:9
Cast your cares on the LORD and he will sustain you; he will never let the righteous be shaken. Psalm 55:22
For I am the Lord your God who takes hold of your right hand and says to you, Do not fear; I will help you. Isaiah 41:13
but those who hope in the LORD will renew their strength. They will soar on wings like eagles; they will run and not grow weary, they will walk and not be faint. Isaiah 40:31
For the Spirit God gave us does not make us timid, but gives us power, love and self-discipline. 2 Timothy 1:7
Trust in the LORD with all your heart and lean not on your own understanding; in all your ways submit to him, and he will make your paths straight. Proverbs 3:5-6
Blessings for your Dad from the Bible
Express gratitude to your father for raising you and guiding you in life with one of these beautiful Bible prayers and blessings for your dad. Use these Father's Day scriptures to write in a card message or note.
The LORD bless you and keep you; the LORD make his face shine on you and be gracious to you; the LORD turn his face toward you and give you peace. Numbers 6:24-26
May the God of hope fill you with all joy and peace as you trust in him, so that you may overflow with hope by the power of the Holy Spirit. Romans 15:13
May He give you the desire of your heart and make all your plans succeed. Psalm 20:4
I thank my God every time I remember you. In all my prayers for all of you, I always pray with joy Philippians 1:3-4
I always thank my God for you because of his grace given you in Christ Jesus. 1 Corinthians 1:4
But blessed is the one who trusts in the Lord, whose confidence is in him. Jeremiah 17:7
Free Printable Father's Day Cards
If you've found a Bible verse about fathers that you'd like to put in a card for Father's Day, take a look at our lovely range of free printable Father's Day cards! They're really handy when you can't get to the store, and your Dad gets a special card made just for him!
Click here for Printable Father's Day Cards page.
Free Printable Father's Day Coupons Gift for Dad
Free printable Father's Day coupons to download in high-quality PDF format. Simply print and assemble at home to make a sweet homemade Father's Day gift that's practical too!
Click here to go to Printable Father's Day Coupons.
More Happy Father's Day Ideas
I hope you enjoyed our reading our selection of Bible verses about fathers and Father's Day scriptures and that you found one that was just right for your dad! If you're looking for other ways to show your dad how much you love him, here are some other pages I think you'll enjoy:
Father's Day Messages
Father's Day Quotes
Happy Father's Day Poems
Happy Father's Day Collection
"Dad Definition" poster
"Dad Likes" poster generator
Scriptures taken from the Holy Bible, New International Version®, NIV®. Copyright © 1973, 1978, 1984, 2011 by Biblica, Inc.™ Used by permission of Zondervan. All rights reserved worldwide. www.zondervan.com The "NIV" and "New International Version" are trademarks registered in the United States Patent and Trademark Office by Biblica, Inc.™