Personalized Dad Gift
Generate a Poster of Things Your Dad Likes
So, you want to make "personalized Dad gift" for father's day (or his birthday), and you want it to be something really nice that he'll actually like?
Maybe some of the other personalized gifts you've seen were a little tacky, and you're wondering if there's something better. Well, read on and see if this fits the bill...
Here's what I'm going to show you how to make:
My dad is one of those impossible-to-shop-for people who already has everything and doesn't need anything, so I wanted to get him something a little different, and this was PERFECT. He loved it!" Lizz, Chicago
Don't you think it's neat? It's a personalized poster gift (approx 12 x 16 inches framed) of all the things your dad likes. It's a great way to capture your dad's personality and quirks in an artistic way. What better compliment could you give your dad than to show how well you know him?
I think these posters look really stylish, and actually they're fairly inexpensive to make. Here's one I framed in a $15 white frame I got from a hobby store.
I made this for my dad, and he loved it! It was way better than buying a tie or something. The only problem is that I don't know how I'm going to find a gift as good as this for father's day next year..." Rachel, Idaho
This style of poster is called "subway art" and I'll show you how making your own printable subway art can be fun and easy.
Making Your Poster
Making a poster for your dad is going to be really easy
Make list of things your dad likes. See my examples section for inspiration
Use my poster maker to make your poster. It will take care of all the formatting for you.
Download and print your poster at home
Frame it and give it to your dad!
Make your word poster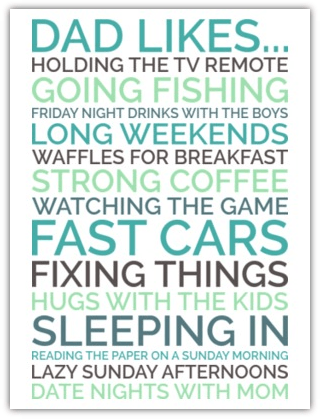 Please wait while generator loads...

I LOVE LOVE LOVE this app -- I made a poster for my husband and another for a friend who has a birthday coming up! Thank you for such a useful tool to make VERY thoughtful, personal gifts!" Andrea, Arizona
Questions and Answers
I have no idea what to write in my poster. Can you help?
Sure - check out my poster examples for inspiration.
How do I print and frame my poster so that it looks as nice as in your photos?
It's actually pretty easy. See my specific printing and framing tips. Here's what a past customer had to say:
I hate it when things don't turn out as good as what they look like in the photo, but this actually turned out better than I expected and my husband loved it! Vicki, Missouri
Is my printer good enough?
Almost certainly. The trick is to use good quality paper. See my printing tips.
What if I buy it but then it looks bad when I print it?
I'll give you 100% of your money back immediately, no questions asked. Just email me.
What are the print size options?
8 × 10 inches is a popular size for photo prints, so it's a good choice if you want to print your poster at a photo print shop. Also it's usually easy to find 8 x 10" photo frames.
8.5 × 11 is a common printer paper size in the USA, so it's a good choice if you live in the USA and you want to print your poster at home.
A4 is 210 × 297 millimeters or 8.27 × 11.69 inches. It's a popular printer paper size in most countries other than the USA.
After you purchase you can download your poster in all 3 sizes for no extra cost.
Can I print a different size other than the ones you offer?
Sure! Take your downloaded file to a print shop and they'll be able to print it in whatever size you ask them to.
What if I give it to them but they don't like it?
I'll give you 100% of your money back immediately, no questions asked. Just email me. Seriously.
What's your guarantee or returns policy?
Our "love it" guarantee: If the recipient doesn't LOVE their poster, email me and I'll refund every penny immediately, no questions asked, no matter how long it was since you purchased.
Why should I pay for this when I could just make it myself?
If you've got the skills, go for it! Just don't underestimate how many hours it will take (hint: probably 2 hrs, and even then it might not look quite right). Just to give you an idea: when I created this poster-maker it took me 2 hours just to find the perfect font, and then about 1hr to create each of the color palettes. But then again maybe I'm just a perfectionist.
Example poster wordings
Stuck for words?
Copy and paste any of these example poster wordings as a starting point for your own poster, then tweak them to make the perfect personalized gift for your dad.
Dad couldn't live without...
His iPad, iPhone
And various other shiny gadgets
Sleeping in once a week
His shed
And all the tools in it
His shelf full of mystery crime fiction
Classic jazz
Pretending he's good at tennis
Cold beer
Cheesy 80's music
His worn but comfy jeans
Watching rugby on the telly
Hot BBQ sauce
Drinks with his old school buddies
Mom and the kids

Dad likes...
Growing his own chili peppers
Sports cars
Driving on the open road
Power tools
Playing the X-Box
A glass of fine red wine
Choc chip cookies
Solving the world's problems over dinner
Hugs with Mom
His iPhone
Sleeping in on Saturday
Classic Rock n Roll
Giving career advice to his kids and their friends
Crispy red apples
A cold beer after tennis

Dad loves...
Being a taxi for his daughters
Imported Beers
Extra gravy on his potatoes
Extra jalapenos on his pizza
Gin and tonic
Pretending he's good at golf
Reading the Cartoons in the Paper
Fixing things
Singing in the shower
Sharing his political views
Computer games
football, football, and more football on TV
Expensive watches
Expensive wines
Finding bargains at garage sales
Mom and the kids

Need some more inspiration?
Still not sure what to write in your "Dad Likes" poster? Here are some more ideas to get your creative juices flowing and help you really personalize this gift for your dad.
What's the first thing your dad does when he gets home from work?
E.g. turns on the TV, raids the fridge for a snack, has a nap, goes for a jog
What music does your dad like listening to?
E.g. ancient stuff from the 70s
What are your dad's favorite foods and drinks?
E.g. Coffee, Merlot, T-Bone steaks
Who does your dad like spending time with?
E.g. his old school buddies, his golf mates, you, your mom
What does your dad do in his spare time on the weekend?
E.g. sleeps in, plays golf, fixes things in the basement
What does your dad do that your mom wishes he didn't do?
E.g. eats too quickly, burps in public, checks his email 100 times a day on his phone, hogs the TV remote, watches violent movies, plays computer games even though he's 50 years old
What's your dad really good at?
E.g. cooking a great BBQ, home renovations
What does your dad think he's good at even though he isn't really?
E.g. playing golf, singing (in the shower!), predicting who's going to win the game, solving the world's political problems from his armchair
Printing Your Poster
Is my printer good enough?
Most home inkjet printers these days are excellent quality, even the cheaper ones. The key to getting really good quality prints is to use the right paper...
What kind of paper should I use?
I recommend using matte photo paper. The vibrancy of the colors and crispness of text you get when using photo paper are leagues ahead of what you get using regular office paper. Ideally you should use the same brand of photo paper as your printer, or else stick to a well-known brand like Canon, HP, or Epson.
If you're giving an unframed print as a gift, then it's important for the paper to feel thick and high quality. It's worth getting the best quality matte paper that you can afford, like "Canon Luster Photo Paper" or "Canon Semi Gloss".
If you're giving a framed print as a gift, then the thickness of the paper is less important so long as the colors are vibrant. In that case a thinner photo paper like "Canon Matte Photo Paper" would be a good option - that's the paper I personally use most of the time.
Can I just print it at Kinkos instead?
Yes! That's a good option too, and many of our customer choose to do this.
Framing Your Poster
What type of frame
Personally I like "matted" frames, which are ones that have a white border around the poster. I think they look great, and they also make your gift feel bigger and more substantial. If you ever visit an high-end photography gallery you'll notice that this is the type of frame that they use, simply because they look fantastic.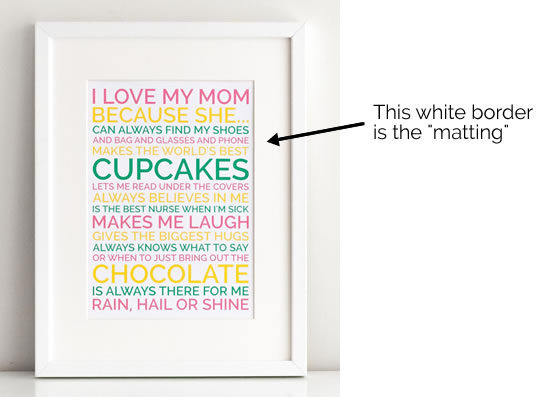 Where to buy a frame
In the USA, you can get a great-looking frame for about $14. I recommend
8 x 10" photo frames from Amazon
8 x 10" photo frame from Walmart
In the UK, the best place I've found to get frames is Hobbycraft. You can get a 30 x 40 cm frame (to hold an A4 poster) for about £10.
Other Gift Ideas for Dad