Name Tracing Generator - Make Free Name-Tracing Worksheets
Last updated: August 8, 2023
Looking for a name tracing generator to make custom name tracing worksheets and boost your child's handwriting skills? You're in the right place, and you'll love our easy-to-use worksheet maker! Name tracing serves as a crucial stepping stone in a child's early writing journey, fostering not just name recognition but also muscle strength, pencil grip, and letter formation. Beyond this, it paves the way for your child to confidently label their artwork and elevate their word recognition skills.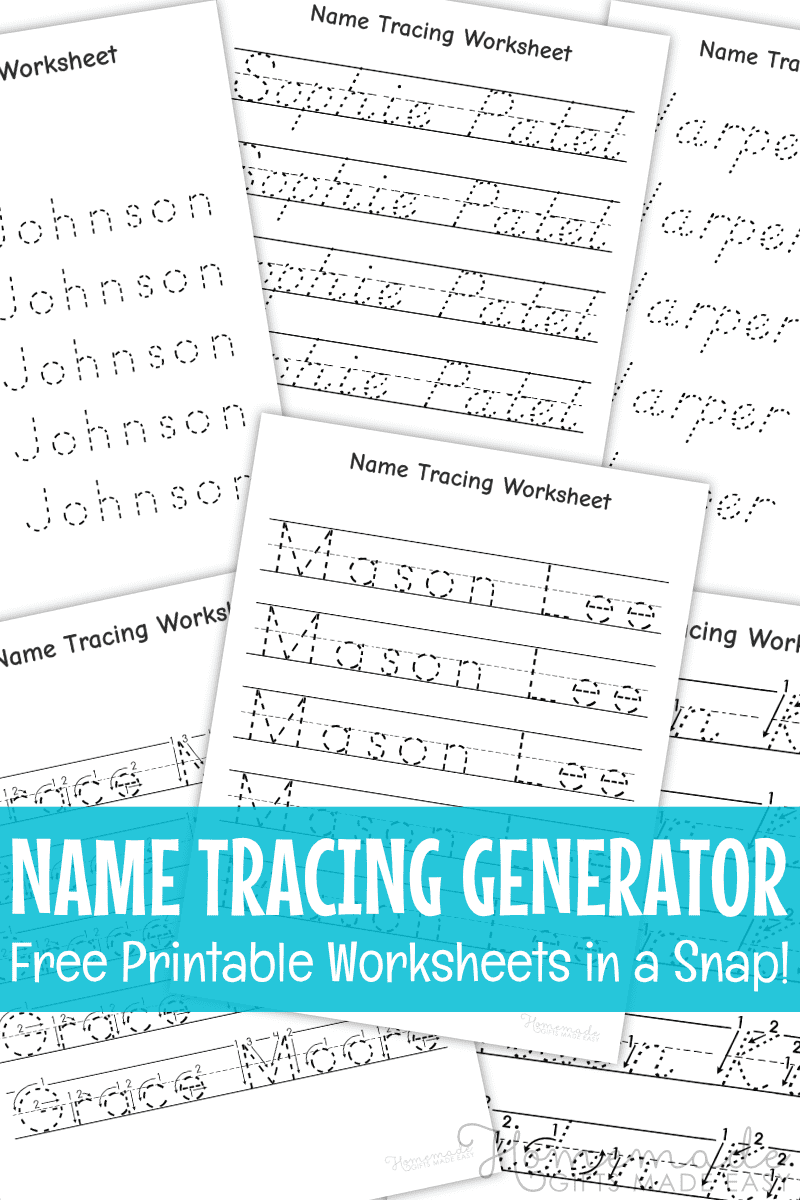 Why should you use our generator? Because it's quick and user-friendly! We offer instant previews, so you always know what your custom worksheet will look like before you hit 'download'. No surprises, no waiting. And when you're ready, download your creation as a PDF with a single click. Hand it to your child and watch as they enjoy and benefit from their name tracing practice, refining their handwriting with each stroke.
Name Tracing Generator
Use the Name Tracing Generator below to create a personalized name-tracing worksheet. Just enter your child's name, choose the number of repetitions, and select the perfect tracing font. To respect your privacy, we don't store any of the information you enter.
Please wait a few seconds while the generator loads...

Choosing a Name Tracing Worksheet Font
Our Name Tracing Generator lets you choose from two great fonts: "Print" and "Slant". The Print font, drawing inspiration from the Zaner-Bloser handwriting method, offers a clear and straightforward design, perfect for beginners. On the other hand, the Slant font, based on the D'Nealian handwriting method, provides a more flowing, cursive-like style that readies young writers for their transition into cursive writing.
Both Print (Zaner-Bloser) and Slant (D'Nealian) handwriting styles are widely used in American schools, but the choice often depends on the curriculum decisions of individual school districts, schools, or even teachers. Check with your child's teacher to see which style is the closest match to the handwriting method used in their class.
Each font in our Name Tracing Generator is available in three distinctive styles: dotted, dotted with lines, and dotted with lines and arrows. The 'dotted' style is simple and ideal for tracing, while 'dotted with lines' adds the traditional writing lines for better letter placement. The third, 'dotted with lines and arrows', takes it a step further by indicating the order and direction of strokes.
Name Tracing Generator Tips
If your little one is just starting name tracing practice, we suggest keeping the repetitions low and the letters nice and large on the name tracing worksheets you make. You want them to feel that the task is fun and achievable! As their confidence grows, you can opt for smaller letters and increase the number of repetitions. Start with their first name and gradually introduce their middle and last names. You can even include the names of family members, friends, favorite toys, or TV characters to make it more fun!
More Educational Printables for Kids
Looking for more fun and educational activities? Check out our huge range of kids' printables: