Homemade Baby Gifts to Make
Last updated: November 17, 2023
Homemade baby gifts are such fun to make! Lately it seems many of my friends and family have had babies or are expecting little ones, and I have had to really start thinking a lot about homemade baby gift ideas.
On this page I've started a collection of instructionals on how to make baby gifts of all sorts, from practical to pretty, but in all cases easy! So have a browse below, and do check back for more inspired gift ideas over the coming months!
Personalized "Likes" Poster
Create a personalized poster of all the things that the toddler or baby likes. This is a really unique and thoughtful gift and you can pick a color scheme to match the nursery.
Generate My Personalized Likes Poster
Just type your message and our poster-generator will take care of the formatting for you!
Eye Chart Nursery Art
If you're looking for a unique way to decorate your baby's nursery then this could be just the ticket. Using our eye chart generator you can generate nursery rhyme-themed posters or make a personalized birth announcement.
It's a unique homemade baby gift that will be a talking point of the nursery!
Baby Hair Clip with Felt Flower
These baby hair clips make wonderful homemade baby gifts. I think baby girls look so gorgeous with flowers in their hair!
Free Applique Patterns and Instructions
On this page you'll find free applique patterns and designs so you can make a range of gorgeous homemade baby gift ideas for new arrivals, and it's easy to adapt for older kids too! With step-by-step instructions for how to applique a onesie, it really is a simple and inexpensive homemade baby gift to make!
Homemade Toddler Toys: Fishing Game
For a slightly older baby or toddler, why not make them this beautiful magnetic fishing game. Includes printable template and full instructions for how to make gorgeous fabric fishies and the magnetic worm on a rod to "catch" them with!
Homemade Toddler Toys: Sewn Fabric Fishing Game
Not into sewing? This smaller fishing game set is made with felt and a hot-glue gun. Simple to make and a fabulous stocking-filler!
Homemade Toddler Toys: Hot-glued Felt Fishing Game
How to Make a Tutu
Learn how to make a tutu the easy way using a loop of elastic and strips of tulle. A fabulously simple homemade baby or toddler gift idea that little Princesses are sure to love!
Homemade Flash Cards for Baby
Homemade flash cards make a lovely gift, especially if you personalize some of them by using your own photos of the baby and their family. I'll show you how to laminate your flash cards without any special equipment (although if you have a laminator, do use it!), so that they'll survive baby chewing on them :-)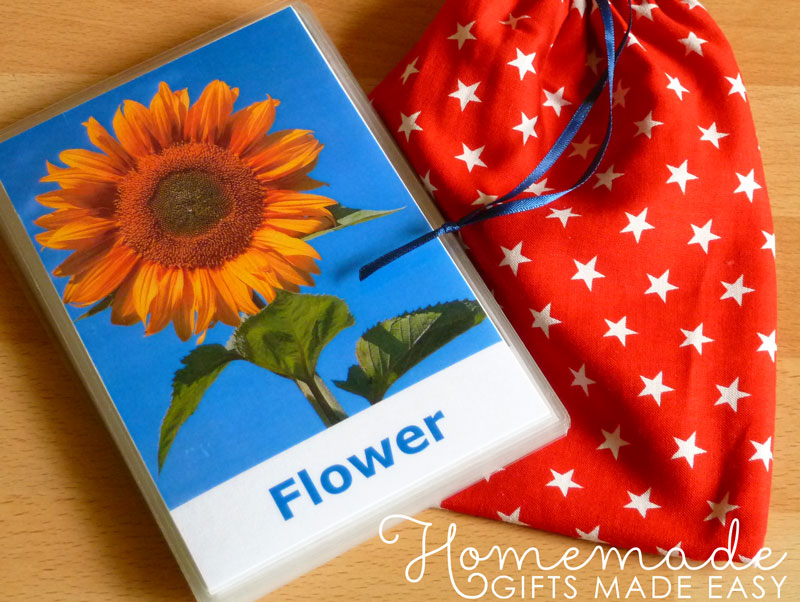 Diaper Wreath Instructions
Create a stylish and practical baby shower gift by rolling diapers and assembling them into a beautiful diaper wreath.
How to Make Diaper Cakes
Create a gorgeous three-tired cake out of diapers and muslin! Diaper cakes are easy to make, look fabulous, and are also really practical gifts that the new parents are sure to appreciate. Click here to see our diaper cake instructions.
Baby Sock Rose Bouquet
A baby sock rose bouquet is a beautiful and practical gift idea for a new Mom. Not only is it unique, it is useful too!
Watch my short video and learn how to make sock flowers for yourself. It only takes a few minutes per rose, and I am sure you will pick it up in no time!
How to Make a Mobile
This colorful felt star mobile makes a great baby gift! There's a free star template to trace around, and the whole project is really easy to hand sew.
Making Soft Blocks
This is a fun project you can sew by hand (no sewing machine required), and the finished soft toy blocks make a lovely gift for a little one.
Baby Diaper Card Template
Download this free printable diaper card template and fold your own handmade baby card! For a friend or relative with a newborn, this card is the perfect way to say congratulations.
Baby Card Ideas
Homemade baby card ideas for people in a rush! This simple cloth-diaper design is super cute, and really easy to make.
All you need is a scrap of fabric to make a mini cloth-diaper, and some card or pretty paper to glue your diaper on to.
Printable Baby Cards
Beautiful printable baby cards for you to download for free! Say congratulations to a friend, colleague, or family member who has just had a new baby girl or boy with one of our gorgeous free baby cards. They're a lovely way to let the new parents know you're thinking of them!
Newborn Baby Poems & Wishes
Not sure what to write in your card? Check out these newborn baby poems for inspiration! This collection of short newborn baby poems are the sweetest! A lovely way to welcome a little bundle of joy into the world!
If you're looking for more message ideas, take a look at our new baby wishes and baby shower messages. Use these sentiment examples to write a sweet greeting card message and welcome the new baby into the world!
No-sew Bunting
And if you are looking to make some homemade decorations for the nursery, here is a quick and easy no-sew method to make gorgeous decorative bunting There are some fabulously cute fabrics to purchase - I found some humpty dumpty fabric the other day that would work really well for this project!
'Mom' Definition Poster
Baby is getting a lot of attention but what about Mom? Celebrate Mom's contributions with this personalized 'dictionary definition' poster. It's easy to make using our online poster-maker!
Click here to personalize and print your poster
What's Next
I hope you enjoyed these tutorials! I am sure your friends and family will really appreciate the efforts you have gone to making a baby gift just for their little one, and I hope you've had lots of fun along the way too!