Baby Diaper Card Template

Isn't this diaper card the cutest? For a friend or relative who's just had a baby, this card is the perfect way to say congratulations. It would make a lovely accompaniment to a baby gift hamper or gift basket.
Best of all, it's one of the easiest baby shower cards to make. One of my sisters showed me how to make them, and now you can enjoy making them too because I've made a printable template that you can download further down this page.
Here's the template for the diaper fold card.
Click here to download the template (pdf format).
Print the template onto US letter or A4 sized paper, then trace it onto pretty paper (e.g. scrap-booking paper). I suppose you could print the template directly onto scrap-booking paper instead, provided that you don't mind having a few printed lines on the inside of your card. It's up to you. By the way, double-sided paper works really nicely, because you get the contrasting colors.
To make the card, cut around the outline, crease along the dashed lines, and cut along the solid lines. Then just fold in the sides, fold up the bottom, and tie a ribbon through the slits, like in the picture below. (It's really quite a simple handmade baby card, I'm sure you'd figure it out even without my description.)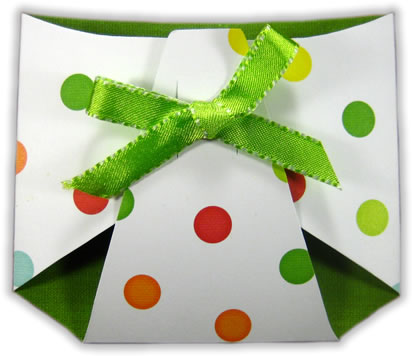 Don't you think it's neat? I thought it was so cute when my sister showed me.
You might also like...
Why not make a homemade baby gift to go along with your card?