How to Make Diaper Cakes

Want to know how to make diaper cakes? What a good idea! Diaper cakes are easy to make, look fabulous, and are also really practical gifts for new parents.
On this page you'll find simple step-by-step photo instructions for how to make a diaper cake with three tiers. I have chosen to hide most of my new baby gifts within the layers, so the overall effect is really simple and elegant.
How to Make a Diaper Cake: Materials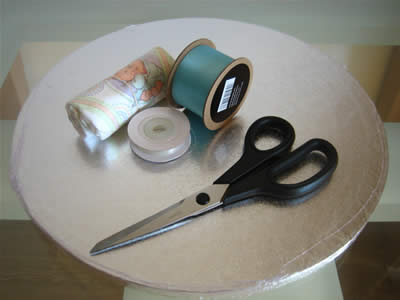 Essential:
A base for your cake. Purchase a cake tray, or cover a piece of cardboard in pretty wrapping paper. I used a 14" (35 cm) cake tray.
Diapers! How many you need depends upon the on the size of the cake you want to make. This cake has 100 diapers (53 + 32 + 15)
Rubber bands (the same number as diapers). If you don't have rubber bands, you can cut out lengths of wool and tie around each diaper.
Ribbon . I used 5m of 1.5" (4 cm) wide satin ribbon.
Elastic cord to hold each layer together. I used beading elastic, but you could use elasticated fabric sewing cord instead, or even an oversized rubber band.
Optional:
Muslin squares (27.5"/70cm), for "icing". I have used 5 muslin squares, folded into strips the height of each layer.
Masking tape - helps to hold the icing in place.
Various baby gifts - baby powder, wipes, sleep suits, soft toys, socks... what ever you think the parents will need or want!
Diaper Cake Directions
How to Make Diaper Cakes: Step 1
Roll the diapers into cylinders and secure with a rubber band. This doesn't take as long as you think it will - I actually found it really fun!

You can tuck in the edges of each diaper so that you get tidy looking cylinders - I made a video to show you how. (If the video doesn't display, you might need to download the free Adobe flash player .)



How to Make Diaper Cakes: Step 2
Assemble the base tier. It's easiest if you do this directly onto the cake-base.

If you can, get someone to help you with this step.

Cut a length of elastic to be a bit smaller in circumference than you want your tier to be. Tie the elastic ends together, to give you a super-large elastic band! This is what will hold the diapers in place.

Stand up as many diapers as you can on your cake base, and then surround with the elastic band. Now start packing in more diapers, and jostle them around to give a circular base.

If you want to pop in any gifts, just slot them into the layer and pack the nappies around them. You can see that I have added a packet of baby wipes to this layer, and they fit in so well as they are the same height as the diapers!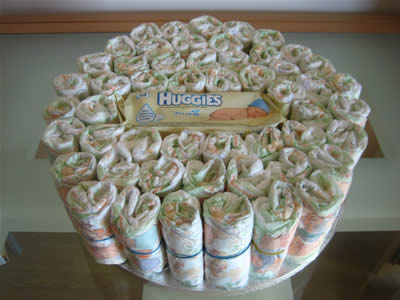 How to Make Diaper Cakes: Step 3
Assemble the second tier on top of the base layer.

Basically it is the same procedure as above, again securing the diapers in place with elastic.

Into this layer I have hidden three sleep suits (rolled up to be the same height as the diapers), and a bottle of baby power. The baby powder is taller than the diapers, but it will be hidden by the top tier.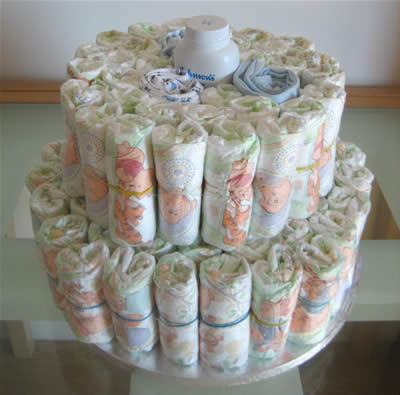 How to Make Diaper Cakes: Step 4
Assemble the top tier of your diaper cake.

Use the remaining diapers to make your top layer, and secure them in place using an elastic loop.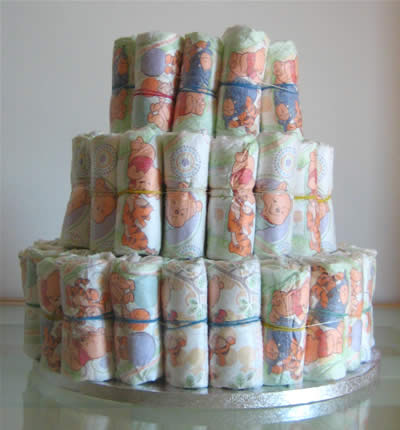 Isn't it starting to look great - well done! Now you get to decorate...
How to Make Diaper Cakes: Step 5
Here I will show you how to make a diaper cake look really elegant by wrapping around muslin squares and finishing it off with satin ribbon bows. This is a trick used by professional delivery services, and it's really simple to do :-)

To finish off the cake, wrap around muslin squares (that have been doubled over several times until they are the height of each tier). I used one muslin square around the top tier, and secured it with some masking tape, two around the middle tier, and three around the bottom tier. Just make sure to put the overlapping edges to the side or back, so it is nice and smooth at the front.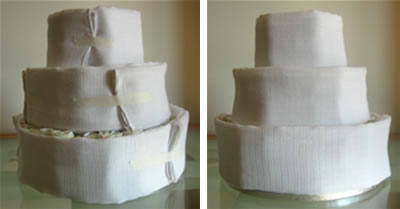 Now you can wrap each layer with a thick satin ribbon, tied off in beautiful big bows. So simple, and looks fabulous!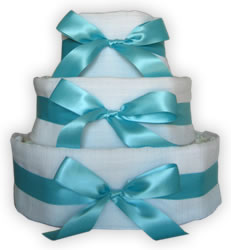 (See my ribbon bow tying instructions for tips on how to tie a pretty bow.)
For the finishing touches... a cute soft toy, or decorate with baby socks made into roses...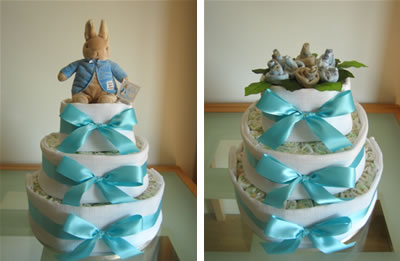 ... or just go to town and do something completely different!
Do a google image search for "diaper cakes" to get some inspiration - there are amazing creations out there!
Below is a diaper cake my friend Ange and I made together (with the help of our husbands!). We went for a bright and happy feel, and covered the cake with handmade paper butterflies using the instructions from how to fold dollar origami butterflies ! We made some soft toy blocks for the new baby too :-)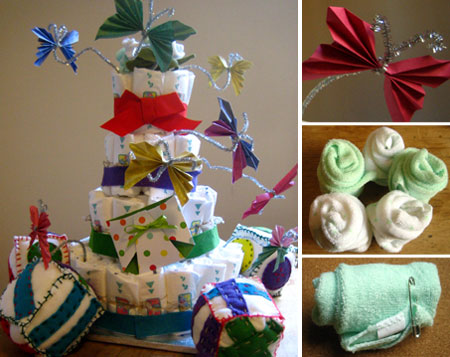 More baby craft ideas...
I hope you enjoyed my free diaper cake instructions! Here are some more homemade baby shower gift ideas you might enjoy...