Baby Card Ideas: Easy diaper cards!
Homemade baby card ideas for people in a rush!
This simple cloth-diaper design is super cute, and really easy to make.
All you need is a scrap of fabric to make a mini cloth-diaper, and some card or pretty paper to glue your diaper on to.
Baby Card Ideas - Diaper Card
Materials
For making this card you will need:
card stock
other coloured card
small triangle of material (I have used some scrap fleece)
needle and thread
paper glue
fabric glue
ribbon or other embellishment for your diaper
Optional: "Congratulations" stamp (I bought mine on Ebay for just a few dollars)
Step 1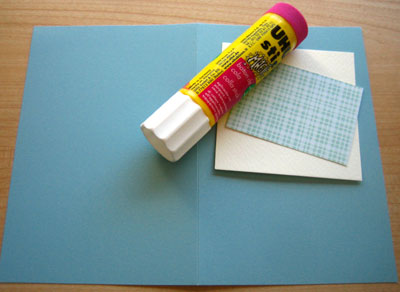 Firstly, glue on layers of decorative paper to frame the cloth diaper you will make.
I have chosen to use a blue card stock base for the card, and layered on some white card followed by blue checkered paper.
Step 2
Fold the cloth diaper to stick on the front of your card.
Fold the triangle piece of fabric to resemble a diaper, as shown in the pictures above.
Put a small stitch through the layers of fabric so that the diaper will keep its shape.
Glue or sew on an embellishment of some kind. Here I have tied a bow from thin blue ribbon, but you could also use jewels, sequins, or a mini safety-pin. What ever you have in your craft box :-)
Step 3
Assemble your cute diaper card!
Use a good quality craft glue to glue the back of the cloth diaper onto the front of your card.
(You can pop your card under a heavy book until the glue sets if you like).

Stamp or write your message of Congratulations on the front, and your card is ready!
You might also like...
If you are looking for another baby card idea, why not check out this super cute printable diaper card? The free printable template makes it so easy!
Plus, there are lots of ideas for what to write in your card on my newborn baby poems, new baby wishes, and baby shower messages pages.
... or click here for even more homemade baby gifts tutorials .