How to Make Flash Cards for a Baby or Toddler

Want to make flash cards for a baby or toddler? I'll show you how to make a cute set of colorful, waterproof, baby flash cards. You can even personalize them by using your own photos.
With my son turning one recently I was thinking hard about homemade gift ideas for his little friends. Mostly they are girls so I've been making lots of hair clips and pretty things, but our neighbor's little boy is just turning one and I wanted something different for him!
My son was given some store-bought flash cards for his birthday and loves looking through them, so I thought I'd make a set for my friend's son, and include more personal images too.
Below I'll show you how to make flash cards and laminate them (without a laminator!). Plus I'll show you how you can gather together your own photos and turn them into baby flash cards too using some free online photo-editing software. Of course, if you've got your own software you're more comfortable with then you can use that instead.
How to Make Flash Cards - Quick Overview
Making baby or toddler flash cards is really easy. Basically the steps are:
Gather materials . To make your flashcards resilient you'll cardstock and laminating pouches.
Choose pictures.
Add text to pictures and print them as 6x4". I'll show you how, using a free-online photo editor.
Glue pictures onto cardstock
Laminate your flash cards, using laminating pouches and an iron. Or just use a laminator, if you own one.
So lets get started! I'll walk you through the steps on the rest of this page.
1. Make Flash Cards - Gather Materials
To make flash cards you will need:
Images printed out 6x4" size - see next step for how to add text and print the right size
Card-stock, preferably in lots of colorful patterns!
Ruler, cutting board and blade
Glue
Laminating pouches to fit 6" x 4" (10 x 15 cm). Pouches 6.25x4.5" are fine too, and you can trim any excess.
Iron and board
Pillowcase (to protect cards when ironing)
Wooden chopping board (for hard surface to work on when ironing)
I used Fellowes brand laminating pouches with a 3 mil (80 micron) thickness, but I'm sure other brands are fine too.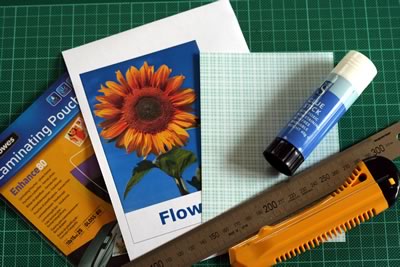 Don't use actual photo paper when you print out your cards, just use good quality paper. We tried to laminate store-printed photos and got loads of bubbles under the plastic surface. Our guess is that the surface of the photo is not as air-permeable as paper, and as we don't have the rollers of a laminator to squish out all the air in one direction we couldn't avoid bubbles. If you have a laminator machine then I'm sure it is fine to use photo paper!
2. How to Make Flash Cards - Choose Pictures
Here's a list of the images I had:
Mommy
Daddy
Park swings (which is a picture of my friend's son on the swings)
Banana
Apple
Grapes
Teddy
Bicycle
Umbrella
Ball
Flower
Cow
Sheep
Cat
Pig
Dog
Duck
Horse
Have fun thinking of your own and personalizing as many as you can with pictures of their pets, house, siblings, Grandma, Grandpa, Aunts, Uncles....!
3. Make Flash Cards - Add Text
This step is where you add the text to your images.
If you're a whizz with photoshop or other photo-editing software then you'll find it quite straight forward to make labeled flash cards from your digital images. All you need to do is make a 6"x4" template and add your particular image and a label at its base.
If you're new to photo editing, no problem! We have a quick video of how to make your own labeled 6"x4" flash cards using a free online photo editor.
To make your own photos into flash cards, you'll first need to download this blank flash card template . Right-click on the link, choose "save target as", and save it to your desktop. The template is literally just a blank white image, but you'll need it to make sure your flash card turns out the right size.
Next, watch this video which shows you how to use a free online photo editor ( iPiccy.com ) to add your photos and labels to the template.
4. Glue onto Card-stock
Once you've decided on your different cards and printed them out, you'll need to trim each one down to size. Decide which cardstock pattern you'd like for the back, and cut a 6 x 4 inch piece of that too.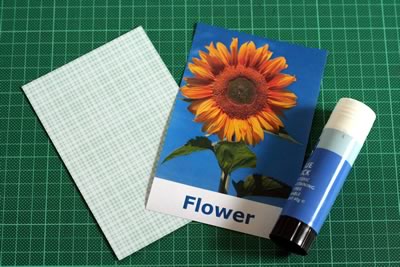 Glue the flash card onto the backing card.
5. Make Flash Cards: Laminate Using an Iron
Just so you know, this step can be a bit labor-intensive, so obviously if you have a laminator then use that! Since this was a one-off project I didn't want to buy one. You can also pay for laminating services at your local stationery store if that is more convenient or you've decided to make many cards. Otherwise, put on some good music or set up in front of the TV and I'm sure you'll be done in no time!
Turn on your iron to a medium heat to warm up, and make sure you turn off any steam settings as you'll want to just use a dry heat. You can always turn the heat up on your iron if you feel the laminating isn't going as quickly as you'd like, but start with a medium heat and see how you go.
On your ironing board, place a wooden chopping board and then cover this with a pillow case or other cotton material. The chopping board means you'll have a really hard surface to iron on to, and will reduce the chance of bubbles forming when you laminate the flash card.
First you'll want to put your flash card inside the pouch and arrange it so there is a margin of plastic all around the edge.

Now cover the card with the rest of the pillow slip (so your card is sandwiched between to layers of the pillow slip). Iron over the card, make sure you keep moving the iron gently back and forth over the surface.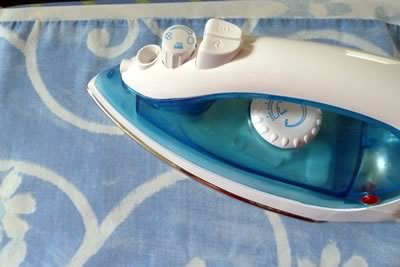 Once the plastic has adhered to the top surface of your card, you'll notice the plastic changes from matt and slightly cloudy to shiny and transparent. When this has happened, turn the card over and repeat on the other side.

The next thing to do is to make sure that the plastic has bonded to itself around the entire margin of the card so that it makes it completely water-tight. To do this I found it easiest to use the nose of the iron to really focus on the edges (which are easy to feel through the pillow cover). Just keep peeking under the pillow case to see your progress and continue until you're happy that it has completely adhered the whole way around.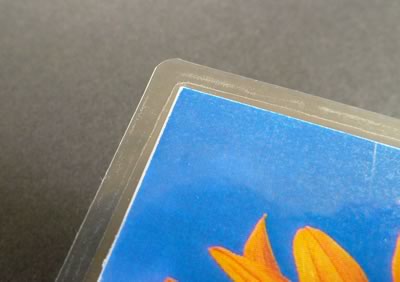 And now just do the others!
Once you're done you'll have a lovely set of laminated cards that should survive a baby sucking on the corners or any accidental submersions.

And here are their colorful backings.

Alternative: "Laminating" with Contact Paper
Another "laminating" option is to use clear plastic adhesive contact paper to make flash cards. Just cut two rectangles big enough to cover your cards and leaving plenty of margin so the layers can make a complete contact around the edges. Once you've covered both sides then trim neatly around to neaten the margin.
Using clear adhesive contact is a good method when making cards for older kids who don't chew/suck on everything! It isn't going to last quite as long as using laminating pouches, but is inexpensive and probably much faster too.
The Finished Flash Cards Gift
I decided to sew a simple draw-string bag to store the flash cards in out of cute fabric. The bag could have been a bit longer, but that was the piece of fabric I had and it seemed to work okay! You could equally use a small box, plastic container, or an envelope.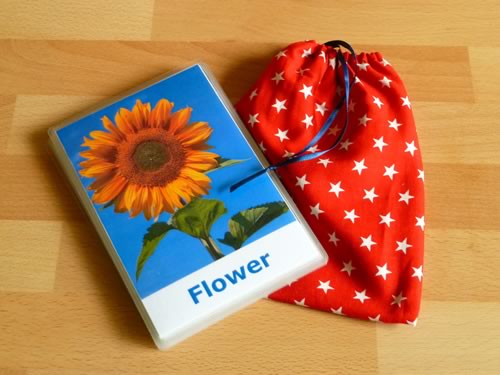 I hope you enjoyed learning how to make flash cards for a baby or toddler! If you have any questions or comments, or just want to say hi, then contact me with this handy form .
You might also like...
If you liked learning how to make flash cards, here are a few other homemade baby gift projects you might also enjoy: