Personalised Likes Poster Generator
Make your own "subway art" posters
Use our personalised Likes Poster generator to create a poster like this in just a few minutes:
Click here to make your poster
This style of art is called "subway art". Using our poster creator you can customize the text as much as you like, and choose from a range of gorgeous color palettes.
I LOVE LOVE LOVE this app! Thank you for such a useful tool to make VERY thoughtful, personal gifts! Andrea, Arizona
The gift for impossible people...
Sometimes my readers tell me about the "impossible to buy for" person in their family, who already has everything they need. Do you know someone like that? Perhaps you've even resorted to buying that person the same thing every year. A tie for your dad, or a bath-hamper for your sister. But don't you wish you could find something different and personal?
My dad is one of those impossible-to-shop-for people who already has everything and doesn't need anything... this was PERFECT. He loved it! Lizz, Chicago
Well, a personalized Likes Poster could be just the thing. It's more than a gift, really, it's a compliment , because it shows how well you understand that person (by knowing all the quirky things that they like!) and that you've put time into creating something for them.
But I don't have photoshop skills!
That's OK, you don't need any! We've made it really easy. You just type your text, choose the colors, and our "subway art" poster generator will take care of the rest. Type... Click... Tadaa! Personalised Likes Poster created!
I made this for my Mom's retirement party and people were like "that's so cool... did you make it?!" Rachel, Idaho
There are a bunch of tutorials on the web showing how to make posters like this using photoshop or other tools. If graphic design is you're thing, you should go for it and use one of those tutorials! But if you're not a photoshop-wiz then my likes poster generator is for you.
You'll be making stunning diy subway art in no time. Just be warned though: you'll soon have people asking how you made them, and people will assume that you are a photoshop guru.
What should I write on my personalised likes poster?
Think about the things that the person likes. The quirkier the better :-)
The fun thing about making your own printable subway art is that it's incredibly versatile, so you can pretty much write whatever you like. You could even use a poem, quote, or a list of a person's favorite places.
Make My Poster
Please wait while generator loads...

I hate it when things don't turn out as good as what they look like in the photo, but this actually turned out better than I expected and my husband loved it! Vicki, Missouri
Questions and Answers
I have no idea what to write in my poster. Can you help?
Sure - check out my poster examples for inspiration.
How do I print and frame my poster so that it looks as nice as in your photos?
It's actually pretty easy. See my specific printing and framing tips. Here's what a past customer had to say:
I hate it when things don't turn out as good as what they look like in the photo, but this actually turned out better than I expected and my husband loved it! Vicki, Missouri
Is my printer good enough?
Almost certainly. The trick is to use good quality paper. See my printing tips.
What if I buy it but then it looks bad when I print it?
I'll give you 100% of your money back immediately, no questions asked. Just email me.
What are the print size options?
8 × 10 inches is a popular size for photo prints, so it's a good choice if you want to print your poster at a photo print shop. Also it's usually easy to find 8 x 10" photo frames.
8.5 × 11 is a common printer paper size in the USA, so it's a good choice if you live in the USA and you want to print your poster at home.
A4 is 210 × 297 millimeters or 8.27 × 11.69 inches. It's a popular printer paper size in most countries other than the USA.
After you purchase you can download your poster in all 3 sizes for no extra cost.
Can I print a different size other than the ones you offer?
Sure! Take your downloaded file to a print shop and they'll be able to print it in whatever size you ask them to.
What if I give it to them but they don't like it?
I'll give you 100% of your money back immediately, no questions asked. Just email me. Seriously.
What's your guarantee or returns policy?
Our "love it" guarantee: If the recipient doesn't LOVE their poster, email me and I'll refund every penny immediately, no questions asked, no matter how long it was since you purchased.
Why should I pay for this when I could just make it myself?
If you've got the skills, go for it! Just don't underestimate how many hours it will take (hint: probably 2 hrs, and even then it might not look quite right). Just to give you an idea: when I created this poster-maker it took me 2 hours just to find the perfect font, and then about 1hr to create each of the color palettes. But then again maybe I'm just a perfectionist.
Example Wordings for the Personalised Likes Poster
Stuck for words?
Here are some examples to get your creative juices flowing. Once you start thinking of ideas you'll find they come in a flood and pretty soon you'll have loads of ideas for what to write on your personalised likes poster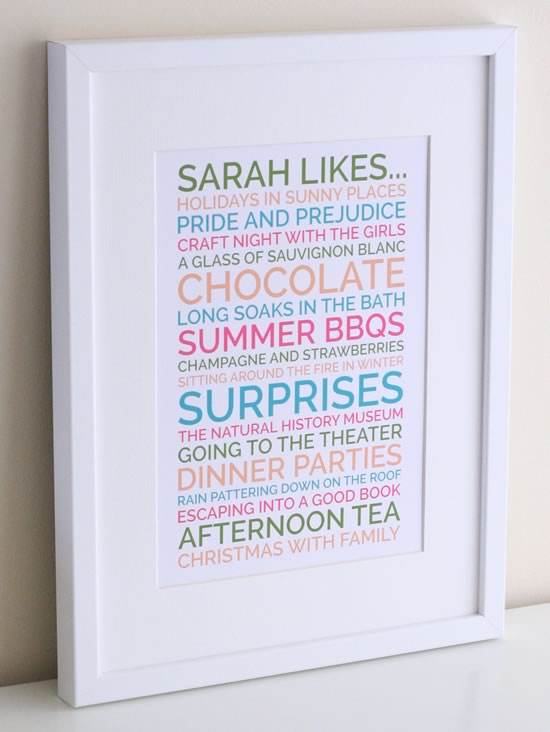 Girlfriend / sister / Mom
Sarah likes...
Holidays in sunny places
Pride and Prejudice
Craft night with the girls
A glass of sauvignon blanc
Chocolate
Long soaks in the bath
Summer BBQs
Champagne and strawberries
Sitting around the fire in winter
Surprises
The natural history museum
Going to the theater
Dinner parties
Rain pattering down on the roof
Escaping into a good book
Afternoon tea
Christmas with family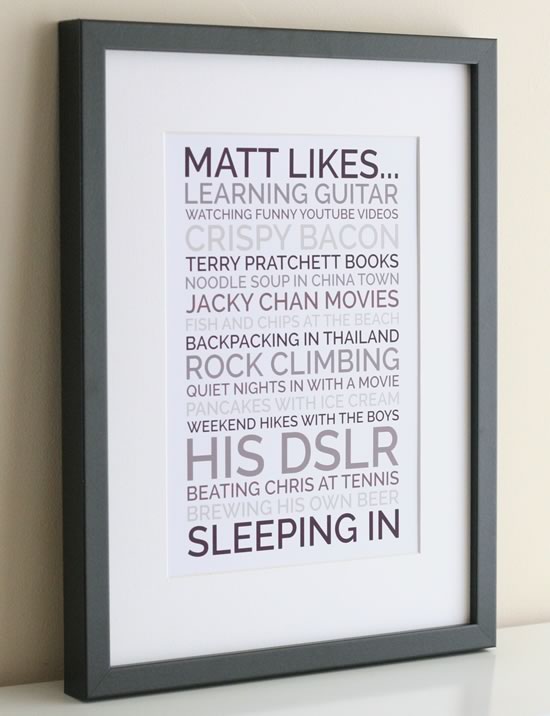 Boyfriend / Brother
Matt likes...
Learning guitar
Watching funny youtube videos
Crispy bacon
Terry Pratchett books
Noodle soup in China Town
Jacky Chan movies
Fish and chips at the beach
Backpacking in Thailand
Rock climbing
Quiet nights in with a movie
Pancakes with ice cream
Weekend hikes with the boys
His DSLR
Beating Chris at tennis
Brewing his own beer
Sleeping in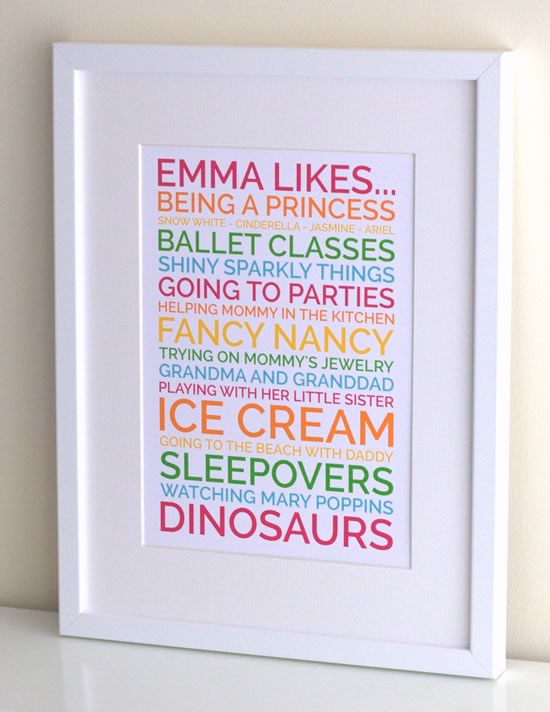 Little sister / friend's baby girl
Emma likes...
Being a princess
Snow White - Cinderella - Jasmine - Ariel
Ballet classes
Shiny sparkly things
Going to parties
Helping mommy in the kitchen
Fancy Nancy
Trying on mommy's jewelry
Grandma and Granddad
Playing with her little sister
Ice cream
Going to the beach with daddy
Sleepovers
Watching Mary Poppins
Dinosaurs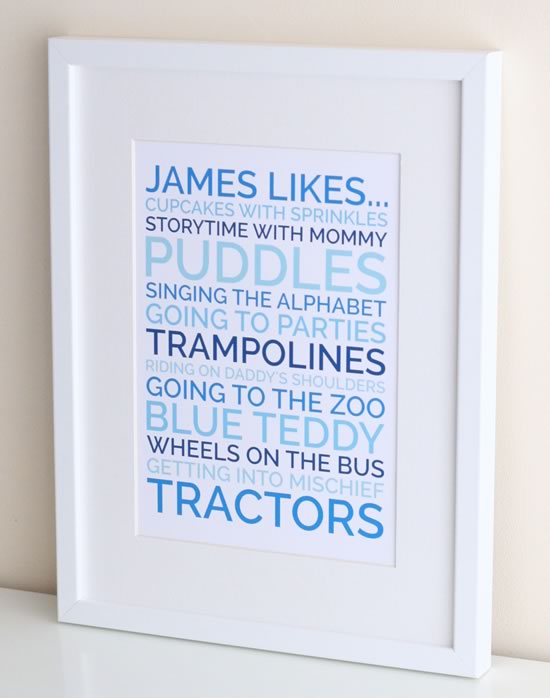 Little brother / friend's baby boy
James likes...
Cupcakes with sprinkles
Story time with Mommy
Puddles
Singing the alphabet
Going to parties
Trampolines
Riding on daddy's shoulders
Going to the zoo
Blue teddy
Wheels on the bus
Getting into mischief
Tractors
Need some more inspiration?
Here's how you can think up some fun things to write on your personalised likes poster. Think about the person that you'll be giving it to, and ask yourself...
What are their guilty pleasures?
E.g. eating Nutella straight from the jar, playing computer games at age 50, hogging the TV remote, sleeping in on Sundays, polishing their car even though it's already clean, touching up her toenails, flexing his biceps in the mirror, waking up early... not
What are they really good at?
E.g. playing pop songs on the guitar, cooking up a storm, animal photography
What do they think they're really good at but they're not?
E.g. singing in the shower, pretending to be good at golf, 'fixing' things around the house, setting up friends on dates, solving the world's political problems over dinner
What do they do that you wish they didn't do?
E.g. checking his email on his iPhone every 5 minutes, texting over breakfast, burping loudly at breakfast, doing up her hair for 2 hrs every morning, recreational shopping, popping into a clothing store 'for 5 minutes'
Who do they like spending time with?
E.g. their kids, their old school buddies, their hyperactive school friends
What are they like to eat?
E.g. hot sauce on everything, bacon, anything with peanuts or chocolate, trying to put 'all you can eat' restaurants out of business
What music do they like?
E.g. cheesy 80s music, music that sounds like someone screaming, sappy love songs, Abba
How do they do spend their spare time?
E.g. playing tennis, falling asleep on the sofa, curling up with a good book, having 2-hr soaks in the bath and emerging wrinkled
"Write drunk, edit sober"
That's a piece of advice from Ernest Hemingway, and trust me it's great advice. No, you don't have to actually get drunk, although you can if you want to.
Here's what it means: write down all your ideas first, and don't worry if you think they're not any good. Just write them all out without any censorship. That way you'll come up with loads of fun and silly things to write on your personalised likes poster.
Then once they're all written down, you can edit them and get rid of the ones you don't like, and all you'll have left is the good stuff.
Printing Your Poster
Is my printer good enough?
Most home inkjet printers these days are excellent quality, even the cheaper ones. The key to getting really good quality prints is to use the right paper...
What kind of paper should I use?
I recommend using matte photo paper. The vibrancy of the colors and crispness of text you get when using photo paper are leagues ahead of what you get using regular office paper. Ideally you should use the same brand of photo paper as your printer, or else stick to a well-known brand like Canon, HP, or Epson.
If you're giving an unframed print as a gift, then it's important for the paper to feel thick and high quality. It's worth getting the best quality matte paper that you can afford, like "Canon Luster Photo Paper" or "Canon Semi Gloss".
If you're giving a framed print as a gift, then the thickness of the paper is less important so long as the colors are vibrant. In that case a thinner photo paper like "Canon Matte Photo Paper" would be a good option - that's the paper I personally use most of the time.
Can I just print it at Kinkos instead?
Yes! That's a good option too, and many of our customer choose to do this.
Framing Your Poster
What type of frame
Personally I like "matted" frames, which are ones that have a white border around the poster. I think they look great, and they also make your gift feel bigger and more substantial. If you ever visit an high-end photography gallery you'll notice that this is the type of frame that they use, simply because they look fantastic.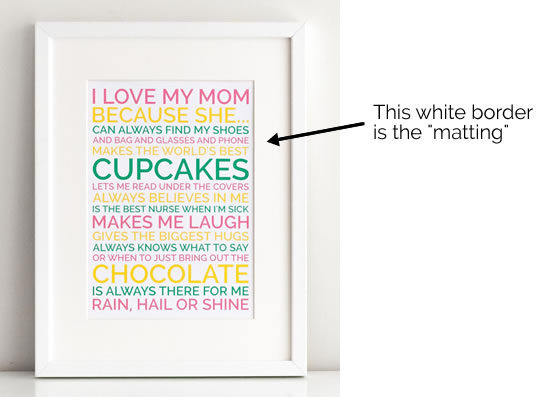 Where to buy a frame
In the USA, you can get a great-looking frame for about $14. I recommend
8 x 10" photo frames from Amazon
8 x 10" photo frame from Walmart
In the UK, the best place I've found to get frames is Hobbycraft. You can get a 30 x 40 cm frame (to hold an A4 poster) for about £10.
Posters for Other Occasions
Related Pages
Other personalised gift ideas: