A Unique 50th Birthday Gift
...that makes you look like a creative genius
(but only takes 15 minutes to make)
Create a unique 50th birthday poster gift and download it instantly to print at home or at Kinkos.
Boy, coming up with a good 50th birthday gift is kinda hard. Everything seems to be either boring or else unique but weird. What you want is something that's nice ... but at the same time unusual and memorable, right?
Our poster-maker helps you make a unique 50th birthday gift that's as special as they are and that they'll love. Say goodbye to hours of browsing boring gifts on Amazon and hello to a gift that will be the talk of the party.
Gorgeous word-art poster is formatted automatically
Choose from a range of designer color palettes
Customize the message as much or as little as you like
There are 10 specially designed colour palettes to choose from. This orange and fuchsia design is our most popular palette for women.
Made this for my mom - great gift, reasonable price, good idea. Thank you! Gary, New York
This monochromatic black and white palette is a good option for men or those who like a minimalist design.
I made one of your definition posters for my dad - it was easy to design and print and the final product looked great! Beth, Michigan
Make My Poster Now
Tips:
Stuck for ideas? See our examples for inspiration.
Not sure what print size to choose? Don't worry, because after purchase you can still choose to download in different sizes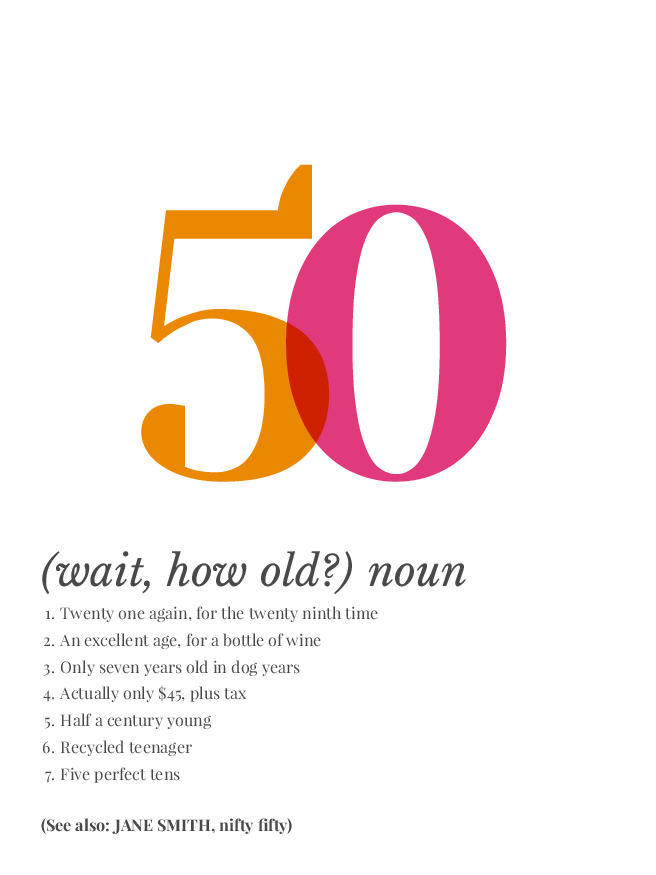 Loading...

Questions and Answers
I have no idea what to write in my poster. Can you help?
Sure - check out my poster examples for inspiration.
How do I print and frame my poster so that it looks as nice as in your photos?
It's actually pretty easy. See my specific printing and framing tips.
Is my printer good enough?
Almost certainly. The trick is to use good quality paper. See my printing tips.
What if I buy it but then it looks bad when I print it?
I'll give you 100% of your money back immediately, no questions asked. Just email me.
Can I print a different size other than the ones you offer?
Sure! Take your downloaded file to a print shop and they'll be able to print it in whatever size you ask them to.
What if I give this gift to someone but they don't like it?
I'll give you 100% of your money back immediately, no questions asked. Just email me. Seriously.
What's your guarantee or returns policy?
Our "love it" guarantee: If the recipient doesn't LOVE their poster, email me and I'll refund every penny immediately, no questions asked, no matter how long it was since you purchased.
Example 50 Definitions
Click here to return to poster maker
50 definition example 1
Only ten years old in Celsius
Half a century young
Prehistoric, but not extinct
Eighteen, with thirty two years of experience
When your back starts going out more than you do
An excellent age for a bottle of wine
The ultimate F-word
50 definition example 2
When you have more candles than cake
Over the hill, but not under it
One step closer to that senior citizen discount
When getting lucky means finding your car in the parking lot first time
Still quite young, for a tree
Only as old as you remember
5 perfect 10s
50 definition example 3
Recycled teenager
Still hot, but mostly in flashes
Twenty one again, for the twenty ninth time
When your skin eats more cream than you do
Only seven years old in dog years
When the kid you once babysat is now your lawyer
Matured like a fine wine
50 definition example 4
Only $49.95, plus tax
Able to set off sprinkler systems with hot flashes
When your favourite rock classics are now elevator music
Aged to perfection
When you trim your nose hair more than your head hair
50 definition example 5
Twenty one again, for the twenty ninth time
An excellent age, for a bottle of wine
Only seven years old in dog years
Actually only $45, plus tax
Half a century young
Recycled teenager
Five perfect tens
Click here to return to poster maker
Printing Your Poster
Is my printer good enough?
Most home inkjet printers these days are excellent quality, even the cheaper ones. The key to getting really good quality prints is to use the right paper...
What kind of paper should I use?
I recommend using matte photo paper. The vibrancy of the colors and crispness of text you get when using photo paper are leagues ahead of what you get using regular office paper. Ideally you should use the same brand of photo paper as your printer, or else stick to a well-known brand like Canon, HP, or Epson.
If you're giving an unframed print as a gift, then it's important for the paper to feel thick and high quality. It's worth getting the best quality matte paper that you can afford, like "Canon Luster Photo Paper" or "Canon Semi Gloss".
If you're giving a framed print as a gift, then the thickness of the paper is less important so long as the colors are vibrant. In that case a thinner photo paper like "Canon Matte Photo Paper" would be a good option - that's the paper I personally use most of the time.
Can I just print it at Kinkos instead?
Yes! That's a good option too, and many of our customer choose to do this.
Framing Your Poster
What type of frame
Personally I like "matted" frames, which are ones that have a white border around the poster. I think they look great, and they also make your gift feel bigger and more substantial. If you ever visit an high-end photography gallery you'll notice that this is the type of frame that they use, simply because they look fantastic.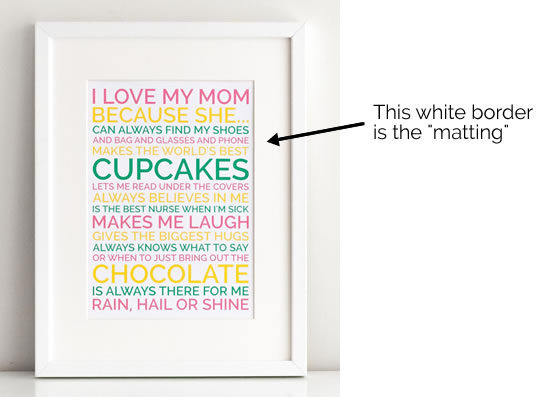 Where to buy a frame
In the USA, you can get a great-looking frame for about $14. I recommend
8 x 10" photo frames from Amazon
8 x 10" photo frame from Walmart
In the UK, the best place I've found to get frames is Hobbycraft. You can get a 30 x 40 cm frame (to hold an A4 poster) for about £10.
More fun gift ideas
Enjoyed this unique personalized poster gift? Here are some other gifts you might like...