In 15 Minutes, create a
Personalized 40th Birthday Gift that They'll Love
...even if you're not feeling creative
So, you're looking for a personalized 40th birthday gift. You want something unique, memorable, and creative. You want something thoughtful, tasteful, and one of a kind.
But most of all you want something that they'll really love.
Our 40th birthday poster-maker helps you create a beautiful, personalized gift. Say goodbye to gift-choosing anxiety and hello to a gift that I'm 99% sure they'll love (based on customer feedback). You get
A choice of 10 gorgeous designer palettes
A fun poster message that you can customize as much as you like
Instant download of your poster to print at home
I LOVE LOVE LOVE this app - I made a poster for my husband and another for a friend who has a birthday coming up! Thank you for such a useful tool to make VERY thoughtful, personal gifts!" Andrea, Arizona
Here's what your poster will look like once you've framed it. This color palette in shades of grey is a good choice when making a 40th birthday gift for a man or woman who likes crisp modern design.
I hate it when things don't turn out as good as what they look like in the photo, but this actually turned out better than I expected and my husband loved it Vicki, Missouri
This bold and colorful palette is a good choice when making a 40th birthday gift for anyone who likes a bit of color in their lives!
Everyone thought this was really cool and asked me how I made it! Rachel, Idaho
Make My Poster Now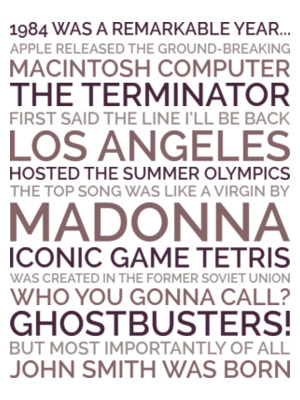 Please wait while generator loads...

Everyone loved the poster and it looked very professional in the frame I used. The birthday girl even teared up a bit as she read it! Pamela, Indiana
Questions and Answers
I have no idea what to write in my poster. Can you help?
Sure - check out my poster examples for inspiration.
How do I print and frame my poster so that it looks as nice as in your photos?
It's actually pretty easy. See my specific printing and framing tips. Here's what a past customer had to say:
I hate it when things don't turn out as good as what they look like in the photo, but this actually turned out better than I expected and my husband loved it! Vicki, Missouri
Is my printer good enough?
Almost certainly. The trick is to use good quality paper. See my printing tips.
What if I buy it but then it looks bad when I print it?
I'll give you 100% of your money back immediately, no questions asked. Just email me.
What are the print size options?
8 × 10 inches is a popular size for photo prints, so it's a good choice if you want to print your poster at a photo print shop. Also it's usually easy to find 8 x 10" photo frames.
8.5 × 11 is a common printer paper size in the USA, so it's a good choice if you live in the USA and you want to print your poster at home.
A4 is 210 × 297 millimeters or 8.27 × 11.69 inches. It's a popular printer paper size in most countries other than the USA.
After you purchase you can download your poster in all 3 sizes for no extra cost.
Can I print a different size other than the ones you offer?
Sure! Take your downloaded file to a print shop and they'll be able to print it in whatever size you ask them to.
What if I give it to them but they don't like it?
I'll give you 100% of your money back immediately, no questions asked. Just email me. Seriously.
What's your guarantee or returns policy?
Our "love it" guarantee: If the recipient doesn't LOVE their poster, email me and I'll refund every penny immediately, no questions asked, no matter how long it was since you purchased.
Why should I pay for this when I could just make it myself?
If you've got the skills, go for it! Just don't underestimate how many hours it will take (hint: probably 2 hrs, and even then it might not look quite right). Just to give you an idea: when I created this poster-maker it took me 2 hours just to find the perfect font, and then about 1hr to create each of the color palettes. But then again maybe I'm just a perfectionist.
Example Poster Wording
1982 Wording Example
Here's an example poster wording that you can use as a starting point for writing your own message. It's already pre-filled into the poster maker. I've repeated it here just so that you can read it more clearly.
1982 was a remarkable year...
E.T. The Extra-Terrestrial
was the highest grossing film of the year
Michael Jackson released
Thriller
EPCOT Center opened at
Walt Disney World
Commodore 64
home computer first launched
Philips and Sony co-developed the Compact Disc
Diet Coke
first introduced by Coca-Cola Company
Eye of the Tiger
by Survivor topped billboard charts
But most importantly of all
John Smith was born
Here are some more great events from 1982 that you could use to customize your poster:
Late Night with David Letterman debuted on NBC
The computer was Time magazine's Man of the Year
The San Francisco 49ers won Super Bowl XVI
Future King, Prince William, was born
The Best Film Oscar was awarded to Chariots of Fire
The Weather Channel first aired
Popular TV shows included Dallas, M*A*S*H, Dynasty, The Love Boat and The A-Team
The world got fit with the Jane Fonda Workout videotape
Paul Newman first bottled up his secret salad dressing recipe
Sony launched the first CD player
Swedish pop group ABBA made their final TV performance
Italy beat West Germany to win the FIFA World Cup
The Los Angeles Lakers won the NBA Finals
Michael Fagan broke into The Queen's Buckingham Palace bedroom
The first issue of USA Today was published
The Commodore 64 became the first popular home computer
Popular toys included Strawberry Shortcake, Smurfs, BMX Bikes & Trivial Pursuit
Want even more facts? Check out 1982 on The People History and 1982 on Wikipedia.
Printing Your Poster
Is my printer good enough?
Most home inkjet printers these days are excellent quality, even the cheaper ones. The key to getting really good quality prints is to use the right paper...
What kind of paper should I use?
I recommend using matte photo paper. The vibrancy of the colors and crispness of text you get when using photo paper are leagues ahead of what you get using regular office paper. Ideally you should use the same brand of photo paper as your printer, or else stick to a well-known brand like Canon, HP, or Epson.
If you're giving an unframed print as a gift, then it's important for the paper to feel thick and high quality. It's worth getting the best quality matte paper that you can afford, like "Canon Luster Photo Paper" or "Canon Semi Gloss".
If you're giving a framed print as a gift, then the thickness of the paper is less important so long as the colors are vibrant. In that case a thinner photo paper like "Canon Matte Photo Paper" would be a good option - that's the paper I personally use most of the time.
Can I just print it at Kinkos instead?
Yes! That's a good option too, and many of our customer choose to do this.
Framing Your Poster
What type of frame
Personally I like "matted" frames, which are ones that have a white border around the poster. I think they look great, and they also make your gift feel bigger and more substantial. If you ever visit an high-end photography gallery you'll notice that this is the type of frame that they use, simply because they look fantastic.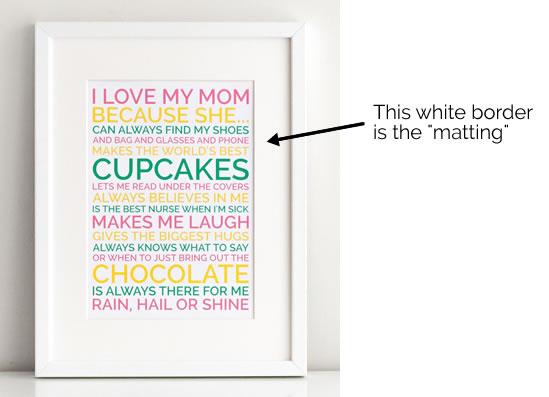 Where to buy a frame
In the USA, you can get a great-looking frame for about $14. I recommend
8 x 10" photo frames from Amazon
8 x 10" photo frame from Walmart
In the UK, the best place I've found to get frames is Hobbycraft. You can get a 30 x 40 cm frame (to hold an A4 poster) for about £10.
Posters for Other Occasions
Related Pages
Other personalised gift ideas: