In 15 Minutes, create a
Personalized 30th Birthday Poster Gift
...that they're going to love
Create a personalized poster that celebrates all the remarkable things that happened in 1988, including the birth of your friend who's turning 30!
Print it, frame it, and you've got an awesome and unique gift.
Here's what your poster will look like. This palette in shades of blue and green, but there are many to choose from so you can get it just right!
I wanted to write and let you know that my friend LOVED his birthday poster.....as did all his friends and family at the birthday party!" Jana, Virginia
This bold and colorful palette is a good choice when making a 30th birthday gift for anyone who loves bright and colorful decor.
Everyone thought this was really cool and asked me how I made it! Rachel, Idaho
Make My Poster Now
Is their birthday next year? Click here for next year's poster wording.
Please wait while generator loads...

Everyone loved the poster and it looked very professional in the frame I used. The birthday girl even teared up a bit as she read it! Pamela, Indiana
Questions and Answers
I have no idea what to write in my poster. Can you help?
Sure - check out my poster examples for inspiration.
How do I print and frame my poster so that it looks as nice as in your photos?
It's actually pretty easy. See my specific printing and framing tips. Here's what a past customer had to say:
I hate it when things don't turn out as good as what they look like in the photo, but this actually turned out better than I expected and my husband loved it! Vicki, Missouri
Is my printer good enough?
Almost certainly. The trick is to use good quality paper. See my printing tips.
What if I buy it but then it looks bad when I print it?
I'll give you 100% of your money back immediately, no questions asked. Just email me.
What are the print size options?
8 × 10 inches is a popular size for photo prints, so it's a good choice if you want to print your poster at a photo print shop. Also it's usually easy to find 8 x 10" photo frames.
8.5 × 11 is a common printer paper size in the USA, so it's a good choice if you live in the USA and you want to print your poster at home.
A4 is 210 × 297 millimeters or 8.27 × 11.69 inches. It's a popular printer paper size in most countries other than the USA.
After you purchase you can download your poster in all 3 sizes for no extra cost.
Can I print a different size other than the ones you offer?
Sure! Take your downloaded file to a print shop and they'll be able to print it in whatever size you ask them to.
What if I give it to them but they don't like it?
I'll give you 100% of your money back immediately, no questions asked. Just email me. Seriously.
What's your guarantee or returns policy?
Our "love it" guarantee: If the recipient doesn't LOVE their poster, email me and I'll refund every penny immediately, no questions asked, no matter how long it was since you purchased.
Why should I pay for this when I could just make it myself?
If you've got the skills, go for it! Just don't underestimate how many hours it will take (hint: probably 2 hrs, and even then it might not look quite right). Just to give you an idea: when I created this poster-maker it took me 2 hours just to find the perfect font, and then about 1hr to create each of the color palettes. But then again maybe I'm just a perfectionist.
Example Poster Wording
2019 wording example
Select and copy the poster wording below, then return to the poster maker.
1989 was a remarkable year...
The Simpsons
premiered on Fox Network
Intel released the
486 microprocessor
The first modern GPS satellite
was launched into orbit around the earth
Indiana Jones
& The Last Crusade
was the year's highest grossing film
Down came the
Berlin Wall
Nintendo launched the
Game Boy
But most importantly of all
John Smith was born
Here are some more great events from 1989 that you could use to customize your poster:
Microsoft Office was released
Toyota released the lexus
The Republic of Hungary was established
Seinfeld premiered
Madonna released the hit single Like a Prayer
Want even more facts? Check out 1989 on The People History and 1989 on Wikipedia.
2018 wording example
Here's an example poster wording that you can use as a starting point for writing your own message. It's already pre-filled into the poster maker. I've repeated it here just so that you can read it more clearly.
1988 was a remarkable year...
Steffi Graf
won the golden slam in tennis
Foxtrot comic appeared in newspapers
Stephen Hawking Published
A Brief History Of Time
Rain Man
was the top grossing film
First intercontinental Internet link
established between USA and Europe
Tim Berners-Lee discussed plans for
World Wide Web
Matilda
by Roald Dahl first published
The wonder years
first aired on the ABC
But most importantly of all
John Smith was born
Here are some more facts from 1988 that you could use to customize your poster
The Washington Redskins won the Superbowl
Los Angeles Dodgers won the World Series
Los Angeles Lakers won the NBA finals
The Phantom of the Opera opened on Broadway.
World Expo 88 opened in Brisbane, Australia
Australia celebrated its bicentennial
The Intergovernmental Panel on Climate Change (IPCC) was established.
The Morris Worm, the first copmuter worm distributed by the Internet, was launched from MIT
Popular films included: Rain Man, Who Framed Roger Rabbit, Coming to America, Big, Twins, Crocodile Dundee II, Die Hard, The Naked Gun: From the Files of the Police Squad!, Cocktail, Beetlejuice
Popular songs included: "A Groovy Kind of Love" by Phil Collins, "Don't Worry Be Happy" by Bobby McFerrin, "Always On My Mind" by The Pet Shop Boys, "Heaven is a Place on Earth" by Belinda Carlisle, "Take Me To Your Heart" by Rick Astley.
Looking for more facts to use? Check out these links
Printing Your Poster
Is my printer good enough?
Most home inkjet printers these days are excellent quality, even the cheaper ones. The key to getting really good quality prints is to use the right paper...
What kind of paper should I use?
I recommend using matte photo paper. The vibrancy of the colors and crispness of text you get when using photo paper are leagues ahead of what you get using regular office paper. Ideally you should use the same brand of photo paper as your printer, or else stick to a well-known brand like Canon, HP, or Epson.
If you're giving an unframed print as a gift, then it's important for the paper to feel thick and high quality. It's worth getting the best quality matte paper that you can afford, like "Canon Luster Photo Paper" or "Canon Semi Gloss".
If you're giving a framed print as a gift, then the thickness of the paper is less important so long as the colors are vibrant. In that case a thinner photo paper like "Canon Matte Photo Paper" would be a good option - that's the paper I personally use most of the time.
Can I just print it at Kinkos instead?
Yes! That's a good option too, and many of our customer choose to do this.
Framing Your Poster
What type of frame
Personally I like "matted" frames, which are are ones that have a white border around the poster. I think they look great, and they also make your gift feel bigger and more substantial. If you ever visit an high-end photography gallery you'll notice that this is the type of frame that they use, simply because they look fantastic.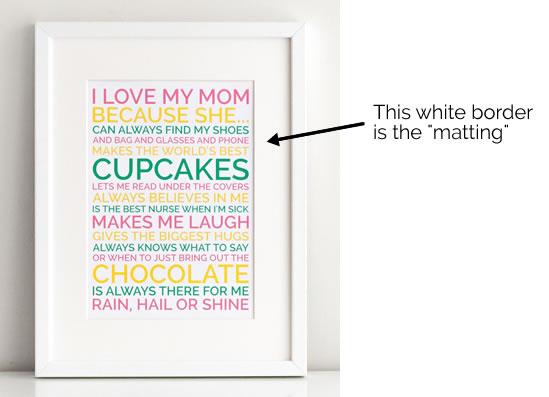 Where to buy a frame
In the USA, you can get a great-looking frame for about $14. I recommend
8 x 10" photo frames from Amazon
8 x 10" photo frame from Walmart
In the UK, the best place I've found to get frames is Hobbycraft. You can get a 30 x 40 cm frame (to hold an A4 poster) for about £10.
Posters for Other Occasions
Related Pages
Other personalised gift ideas:
Comments
Have your say about what you just read! Leave me a comment in the box below.