A Personalized Retirement Gift That's Funny and They'll Love
(and you can make in 15 min)
Looking for a personalized retirement gift that's funny but not tacky?
Our retirement poster generator helps you make a humorous yet beautiful poster gift. Say goodbye to tacky plastic retirement gifts and hello to a gift that they'll actually like.
I made a poster for my Mom's retirement party - everyone thought it was really cool and asked me how I made it!" Rachel, Idaho
I made one for my boss who was retiring... it came out looking wonderful and my boss thought it was brilliant!" Beverly, England
How it works
Choose a color scheme
Personalize the message
Download your poster to print at home
Make My Poster Now
Please wait while generator loads...

Questions and Answers
I have no idea what to write in my poster. Can you help?
Sure - check out my poster examples for inspiration.
How do I print and frame my poster so that it looks as nice as in your photos?
It's actually pretty easy. See my specific printing and framing tips. Here's what a past customer had to say:
I hate it when things don't turn out as good as what they look like in the photo, but this actually turned out better than I expected and my husband loved it! Vicki, Missouri
Is my printer good enough?
Almost certainly. The trick is to use good quality paper. See my printing tips.
What if I buy it but then it looks bad when I print it?
I'll give you 100% of your money back immediately, no questions asked. Just email me.
What are the print size options?
8 × 10 inches is a popular size for photo prints, so it's a good choice if you want to print your poster at a photo print shop. Also it's usually easy to find 8 x 10" photo frames.
8.5 × 11 is a common printer paper size in the USA, so it's a good choice if you live in the USA and you want to print your poster at home.
A4 is 210 × 297 millimeters or 8.27 × 11.69 inches. It's a popular printer paper size in most countries other than the USA.
After you purchase you can download your poster in all 3 sizes for no extra cost.
Can I print a different size other than the ones you offer?
Sure! Take your downloaded file to a print shop and they'll be able to print it in whatever size you ask them to.
What if I give it to them but they don't like it?
I'll give you 100% of your money back immediately, no questions asked. Just email me. Seriously.
What's your guarantee or returns policy?
Our "love it" guarantee: If the recipient doesn't LOVE their poster, email me and I'll refund every penny immediately, no questions asked, no matter how long it was since you purchased.
Why should I pay for this when I could just make it myself?
If you've got the skills, go for it! Just don't underestimate how many hours it will take (hint: probably 2 hrs, and even then it might not look quite right). Just to give you an idea: when I created this poster-maker it took me 2 hours just to find the perfect font, and then about 1hr to create each of the color palettes. But then again maybe I'm just a perfectionist.
Example Poster Wordings
Copy an example wording as a starting point for creating your personalized retirement gift, then paste it into the poster maker.
Career statistics...
Celebrate their career "batting average" and other notable numbers.
Michelle Jones
Retired 2023
Thirty five years
of employment
7900+ days in the office
6 companies
Dozens of projects
Hundreds of meetings
Thousands of phone calls
Unforgettable memories
Brilliant friends
1 happy retiree
Plenty of good times
Still to come
Retirement Rules
You don't want the retiree to be lost and wondering what to do with themselves now that they don't have to work. Give them some rules so they know what to do...
Greg's retirement rules
No getting up
before 9am
Worrying is not permitted
No more staff meetings
Put your feet up
Every day is a Saturday
Every night is Friday night
Follow your dreams
Reading is for leisure only
Do whatever the heck you want
When in doubt, it's time to go
Fishing or golfing
Having a good time is your only 'job'
Afternoon naps
are compulsory
Goodbye tension hello pension
Happy Days...
Write them a little poem about what they've got to look forward to.
Happy Days
Are here at last
The days of
nine to five
are past
I've worked
all my life and
paid my dues
Now I'll do just what
I choose!
You know you're a retired ____ when...
Celebrate the quirks of their profession. Are they a doctor? Just google "doctor jokes" or "you know you're a doctor when". Same for any other profession. As an example, here's a wording you could use to make a funny retirement gift for a teacher:
You know you're a retired teacher when...
You still get a secret thrill from
laminating things
Your husband tells you to
'please stop talking to me like I'm a first grader'
Mispelled words reely anoy yoo
You appreciate the
true beauty
of perfectly sharpened pencils
You compulsively correct people's
grammar
You can eat a full lunch in 10 minutes or less
You can read the word
"wunsaponatim"
You think plaid jumpers are the height of fashion
You have 'that voice' that people
instantly obey
You have ten times the patience of a normal human being
You can go 8 hours without peeing
You know the difference between its and it's
You enjoy the familiar smell of blue tack
You give your husband
stickers for good behavior
Likes...
Remind them of all the things they love. Don't forget to mention being retired as one of them! Thanks to Rachel from Idaho for sharing her poster wording below.
Mom loves...
Scrapbooking
Time with grandkids
Shopping, shopping, shopping
Her family
Making crafts
Taking stunning photos
Her daily nap
Writing
Personal quiet time
The gospel
Finally being retired
Dates with dad
Remember when...
Everyone loves blooper reels - so why not give them a blooper reel of their career? If you worked with them then I'm sure you'll remember plenty of funny or embarrassing incidents, so this is a fun and easy way to make them a personalized retirement gift.
Remember when...
The boss caught you
napping under your desk
You called Mr Peterson Mr Penis-son
David photocopied his bum
and broke the machine
Michelle got locked in the toilets
David stapled his hand
Wendy accidentally invoiced a client
three million dollars
Claire's fish curry
exploded
in the microwave
Greg farted at that client meeting
The fire sprinklers soaked the office
Gerald "sexy" dancing
at the office Christmas party
Charlotte put cat food in the fridge and
Dave ate it
The boss blew a fuse
when you parked in his spot one day
Ahh, the thing's you'll miss!
Click here to go to poster maker
Printing Your Poster
Is my printer good enough?
Most home inkjet printers these days are excellent quality, even the cheaper ones. The key to getting really good quality prints is to use the right paper...
What kind of paper should I use?
I recommend using matte photo paper. The vibrancy of the colors and crispness of text you get when using photo paper are leagues ahead of what you get using regular office paper. Ideally you should use the same brand of photo paper as your printer, or else stick to a well-known brand like Canon, HP, or Epson.
If you're giving an unframed print as a gift, then it's important for the paper to feel thick and high quality. It's worth getting the best quality matte paper that you can afford, like "Canon Luster Photo Paper" or "Canon Semi Gloss".
If you're giving a framed print as a gift, then the thickness of the paper is less important so long as the colors are vibrant. In that case a thinner photo paper like "Canon Matte Photo Paper" would be a good option - that's the paper I personally use most of the time.
Can I just print it at Kinkos instead?
Yes! That's a good option too, and many of our customer choose to do this.
Framing Your Poster
What type of frame
Personally I like "matted" frames, which are ones that have a white border around the poster. I think they look great, and they also make your gift feel bigger and more substantial. If you ever visit an high-end photography gallery you'll notice that this is the type of frame that they use, simply because they look fantastic.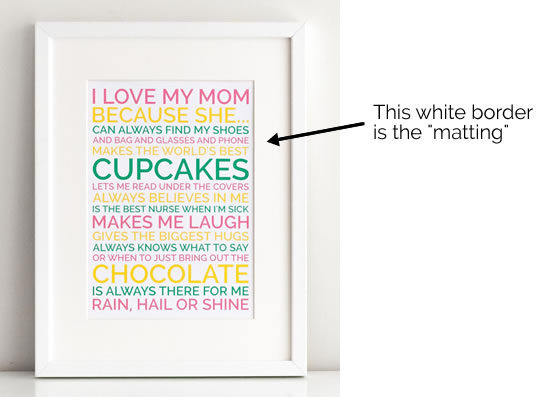 Where to buy a frame
In the USA, you can get a great-looking frame for about $14. I recommend
8 x 10" photo frames from Amazon
8 x 10" photo frame from Walmart
In the UK, the best place I've found to get frames is Hobbycraft. You can get a 30 x 40 cm frame (to hold an A4 poster) for about £10.
Posters for Other Occasions