Over The Hill Birthday Ideas
Funny Over The Hill birthday gag gift ideas for *that* significant birthday! With lots of funny gift ideas and also messages for putting in the birthday card too.
But, what age is "Over the Hill"?
I guess there isn't one correct answer. Generally it has been used to describe the age when you're past your physical prime, but that's going to vary hugely depending on the person.
So is your 40th birthday "over the hill" already? Or is it your 50th birthday? I think you can choose either. I mean, we might live past 80 but very few of us will live past 100. Perhaps we should be saying your 45th birthday is the pivotal one?
Which one you choose to be *the* over the hill birthday really depends on the person you're celebrating with and if they'd think it was amusing... and not too terrifying!
And I would definitely say that you're "over the hill" already if you're over 50...sorry!
Over the Hill birthday Gag gifts
On this page you'll find lots of ideas to help you celebrate this significant birthday. Scroll down the page to see all the ideas, or use the quick-links to go to specific areas:
Personalized "Year Born" Poster Funny Definition poster Survival kit Gift basket Anti-aging pills Emergency tag Printable certificate Caution sign Funny Newspaper Card Sayings Cake Ideas

Personalized "Year Born" Poster
Make a personalized poster to celebrate the momentous occasion of their 40th or 50th birthday! And reminisce over how times have changed since their youth.
Click here to personalize and print a 40th birthday poster
Click here to personalize and print a 50th birthday poster
Here is an example of a 50th birthday poster:
I made this for my Mom - everyone thought it was really cool and asked me how I made it!" Rachel, Idaho
We've researched all the interesting and funny facts from the year they were born, and our poster maker formats it all beautifully for you. You can personalize the poster with their name, choose your color palette, and add anything else you want about them. It's a fun party decoration too and gets everyone talking about the good 'ol days.
"Definition of 50" Funny Poster
Give the birthday boy or gal a good chuckle with a funny definition poster. Customize with their name and your definitions of what it might mean to be fifty (or forty... it's fully editable so you can choose).
Click here to personalize and print your poster
Here's a close-up of the wording (which you can customise as much as you like):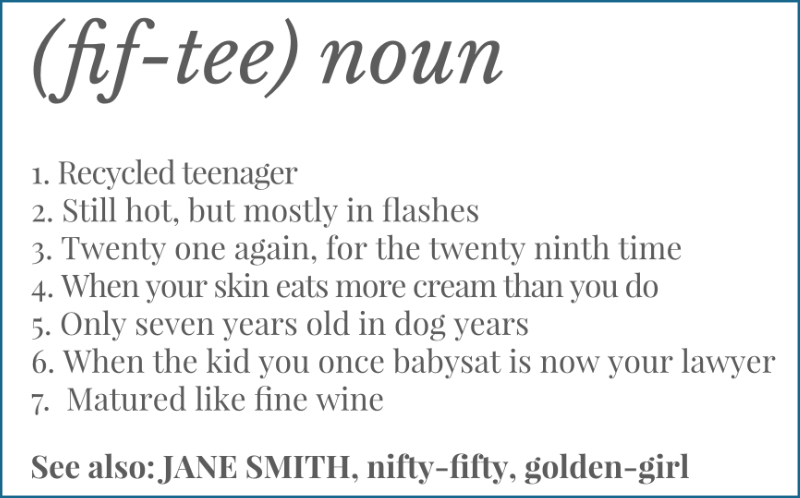 I love this definition poster, the colors are beautiful and it formats so nicely. You can choose different colors and change the wording to be as silly or endearing as you like.
Over the Hill Birthday Hot Flash Survival Kit
For a woman approaching over the hill, hot flashes could be imminent! Put together this handy hot flash survival kit:
Hand held fan
Ice packs
Pocket handkerchief (for wiping your brow)
Change of t-shirt
Warning sign (download full-size image file to print). "Warning. Menopausal woman. May hot flash or spontaneously combust at any moment."
Emergency medication (chocolate or M&Ms)
Over the Hill Birthday Gift Basket
If you know someone who is complaining about getting older, why not put together a gift basket will all those essential items for old age :
Prune juice (why not also pop in an accompanying sherry or champagne glass?)
Arthritis rub
Paracetamol
Depends undergarments
Denture cleaning products
A hand-held fan (for all the hot flushes)
Magnifying glass
Crossword puzzle book
A bag of marbles...for when you lose yours!
Paperclips...because sometimes it's hard to hold it all together as you get older!
"anti-wrinkle cream"...you could buy some crack filler from the hardware store and re-label it as an anti-wrinkle remedy
These ideas are just the start....I am sure there are many more funny items you can add to your basket, just so they're really prepared for what awaits them over the hill!
Over the Hill Birthday Gag - Anti-Aging Pills
We all know that the clock can't be turned back, but it's fun to pretend. And let's be honest, if there was a pill we could take then most of us would take it!
To make your anti-aging pills, put some jelly beans or other sweets in a pill-jar and add a label with these instructions.
Instructions: "Under normal circumstances, take one tablet per day. In emergencies like yours, eat them all at once."
Over the Hill birthday gag - In Case of Emergency (I.C.E.) Tag
As you know, people can become forgetful as they age. So, you might like to give the birthday boy/girl an emergency tag in case they get lost. They'll be sure to appreciate your thoughtful gesture.
The message might be something like "In Case of Emergency: If you find me looking lost and confused, please return me to Greenfields Nursing Home, 21 Woodgrow St, Springvale, Ph 850-316-6681"
(Thanks to Kathy Brady for this excellent idea!)
Over the Hill Printable Certificates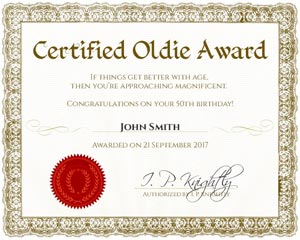 "If things get better with age, then you're approaching magnificent! Congratulations on your 50th Birthday"
Make them a "Certified Oldie" or "Over the Hill" certificate and award it to them on their birthday!
Making the certificate is easy using our free online certificate generator. Just type in their name, edit the message to your liking, and download it to print from your home printer!
Funny Over the Hill Printable Warning Signs
"Caution. 40. It's all downhill from here"
"Warning. Over the hill and picking up speed"
Looking for fun decor for a 40th or 50th party? One of our silly warning signs could be just the thing. Click any of the thumbnails download.
Click here for more funny safety signs
Funny Newspaper Generator
Imagine your friend's surprise when they see themselves featured in a realistic-looking newspaper article!
Creating the spoof article is easy - just upload a photo into our newspaper generator and write some text about them being "Over the Hill"! Or, choose from some example articles and slot your friend's name in.
Click here to make a funny newspaper.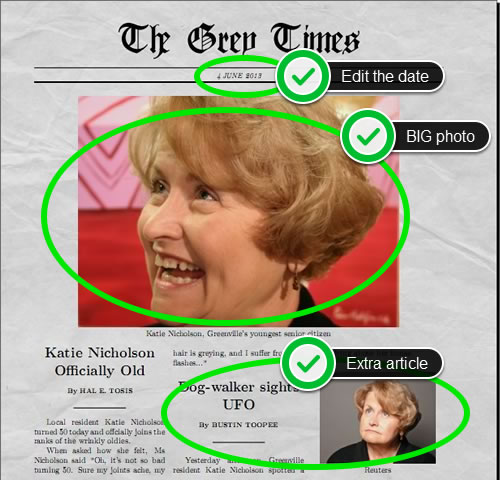 Funny Over the Hill Birthday Sayings
A collection of funny sayings for that person venturing over the hill! You could include these in a card message or birthday speech, or make a sign to hang around the person's neck at their party, just so everyone knows how special they are!
Over the hill birthday sayings:
Better Over the Hill than Under It
Sign: "Welcome to Over the HillVille. Land of Milk of Magnesia"
I'm not over the hill. I'm simply too old to climb it.
You're over the hill and far away, but we still love you anyway
When you're over the hill, you pick up speed.
I'm not old. I'm just chronologically gifted.
I don't have hot flashes. I have power surges.
Hot Flash Party Zone
Recycled Teenager
In dog years, I'd be dead.
And here are some age-specific sayings to choose from:
I'm 40 and I feel great. Here, feel for yourself!
I'm 50 and I feel great. Here, feel for yourself!
40? No, 39, and holding on for dear life.
50? No, 49, and holding on for dear life.
40: Old enough to know better. Young enough to do it anyway.
50: Old enough to know better. Young enough to do it anyway.
It took me 40 years to look this good.
It took me 50 years to look this good.
I'm not 40. I'm only $39.95 plus tax.
I'm not 50. I'm only $49.95 plus tax.
I'm not 40, I'm 18, with 22 years of experience.
I'm not 50, I'm 18, with 32 years of experience.
Looks 21
Feels 18
Acts 11
-----------------
That makes me 50!

(Note: This one doesn't work as well for a 40th birthday as the numbers don't look as funny.)
More funny sayings and quotes...
If you're looking for more over the hill birthday quotes, sayings, and messages, we have written several collections that are great for middle-age birthdays.
50th birthday wishes and messages
Happy Birthday Quotes, Wishes, Videos, and Printables
Over the Hill Cake Ideas
If you're planning a special party for this momentous occasion, then one of the main features will be the cake! The best advice is to do a google image search and get inspiration from all the amazing cakes other people have made. I've summarised some of the ideas below.
A popular design is a hill-shaped cake with a sign saying "Over the Hill". You might include a figure of the person climbing the hill, or standing proudly at the top.
Some people have put a road going over the hill, with "Caution" road signs, and their age as the speed-limit signs (eg 40 or 50). You could use a motorbike or sports car on the road, placed at the top or over the hill if you want to make it seem like a fun age to be! And caution road signs such as "Memory Detour", "Stiff Joints Ahead", and "Failing Body Parts".
Another creative over the hill birthday cake idea is a road-map cake with "Welcome to Oldsville", and then road signs including "Baldy Boulevard", "Arthritis Avenue", "Wrinkle Way", "Old Fart Freeway", "Droopy Drive", "Prune juice junction", "Crabby Corner", and "Backache Blvd". With "Caution: Stiff Joints Ahead" and an "Over the Hill Crossing" sign.
Other ideas include tombstone-shaped cakes with "RIP to (Insert Name)'s' Youth", or "In memory of (insert name)'s youth". Or make a cake with a tombstone/grave decoration on the top. I've seen "Your age is a grave issue" written on a tombstone cake too, which seems a bit mean to me!
You could decorate a cake with items associated with aging, such as walking aids, reading glasses, dentures (out of fondant icing!) and a tube of denture-fixture, Depends (brand of incontinence diapers for adults), pill boxes, a magnifying glass, wheel-chair disabilitiy sign etc. All the things to look forward to as you go over the hill!
You could write a nice message piped on top like "Just reaching your peak", "Over the hill - fishing on the other side". Or teasing messages such as "Caution - Old Geezer", "Officially Antique", "I demand a recount", "Over the hill", "It's all downhill from here", "Older than dirt" etc.
If you were feeling really mischievous, you could make a "diaper cake" out of depends adult diapers, and decorate with useful items for old age including reading glasses, arthritis cream, a handy pill organizer box, magnifying glass, bag of marbles (for when they lose theirs), crossword book etc.
The possibilities are really endless!
Looking for more ideas?
I hope this collection of gag gift ideas and birthday sayings was the inspiration you needed! If you're still looking for more funny over the hill birthday ideas, check out our homemade gag gifts page, with lots of ideas for 40th and 50th birthday celebrations, quotes, messages and more!