Personalized Romantic Coupons
Instant download to print at home
$9.70
---
Set your partner's heart on fire!
Imagine all the fun things you could write on these coupons! Sexy or chaste, naughty or nice, it's up to you, because you can customise the text however you like.
I made these for my girlfriend and she absolutely loved them!" Tyler, Utah
The coupons come with a beautiful match-book style cover, so you'll have a beautifully-presented gift to give your sweetheart.
Ready to design your coupons?
The coupons print 6 per page. Once you purchase you can make as many as you'd like. I recommend 12 as a good number to fit in a booklet.
Stuck for ideas? See our message ideas for inspiration.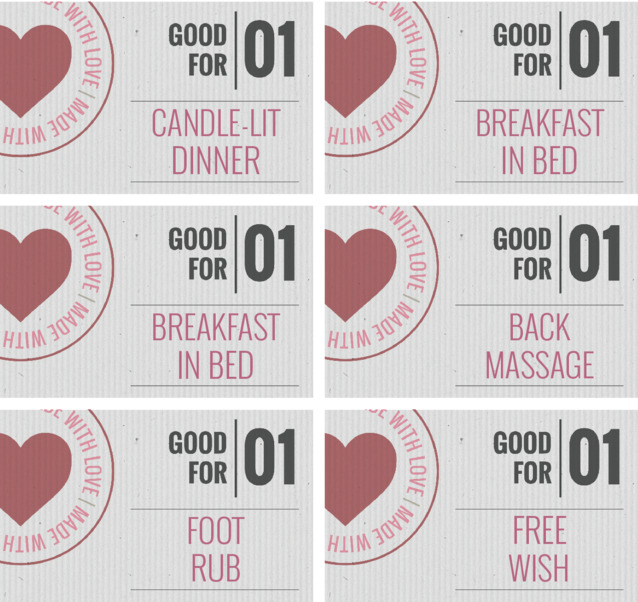 Loading...

Questions and Answers
Can I make more than 6 coupons?
Yes, you can make as many as you like. You could even make 365 coupons all with different messages, one for each day of the year.
Is the coupon booklet hard to assemble?
It's really easy. You just need scissors and a stapler. See the assembly instructions for more details.
What size are the coupons?
Each coupon is 4.2 inches × 2.2 inches (10.7 cm × 5.6 cm). The completed booklet is 4.5 inches × 2.7 inches (11.5 cm × 6.8 cm), which just "feels right" in your hand.
Can I make the coupons bigger or smaller?
No, sorry.
What if I buy it but then it looks bad when I print it?
I'll give you 100% of your money back immediately, no questions asked. Just email me.
What if I give it to them but they don't like it?
I'll give you 100% of your money back immediately, no questions asked. Just email me. Seriously.
What's your guarantee or returns policy?
If your partner doesn't LOVE their coupon book, email me and I'll refund every penny immediately, no questions asked, no matter how long it was since you purchased.
Romantic coupon message ideas
The best thing about being able to personalize your coupons is that you can make a set that are perfect for your boyfriend or husband (or girlfriend or wife), and write coupons that you know he'll love to "cash-in". Maybe he's into the classic romantic "breakfast in bed" or "candlelit dinner", or maybe you're looking to personalize coupons to include his favorite places and hobbies, or perhaps you're looking to offer something a little more daring. Here are some ideas to get you started...
Watch sunset at (insert favorite location)
Moon-lit walk
Dinner at (insert favorite restaurant)
Foot massage
One free compliment
Bubbly bath for two
Evening of being treated like royalty
Romantic night in
Movie of your choice
Champagne in bed
Fully body massage
I'll wash your car... in a bikini
3 kisses... at location of your choice
Slave for a day
5 minute passionate kiss
Chocolate body paint session
Skinny dip
Let's play doctors and nurses
Kama Sutra random page
Turn up the heat
If you're looking for some properly sizzling, salacious and x-rated love coupon ideas then take a peak at the erotic coupon ideas on yahoo answers and take your pick of racy coupon messages.
Assembly Instructions
The photos in these instructions are of our original romantic coupons but the same instructions apply to our modern romantic coupons.
Step 1: Print and Cut Out
Print out the matchbook cover onto card or photo paper if you have it, and be sure to print it out double-sided. I like to use "Canon Matte Photo Paper". Cut out around the border of the matchbook cover.
If your printer doesn't print double-sided automatically, select to print page 1 and then turn over the printed sheet and print side 2 on the other side.
Print out the coupon sheet and cut out each individual coupon. I like to use a cutting board, ruler and sharp blade, but scissors are just fine too!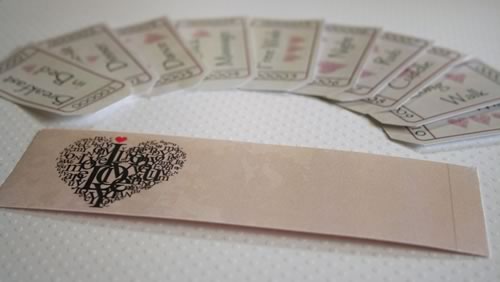 Step 2: Fold and Staple
You'll notice a faint dashed line at the far end of the matchbook cover, furthest from the cover picture. Crease along this line, and fold the shorter bit underneath the cover.

Turn the cover over and place your coupons under the little flap. Staple to secure the coupons in place.

Now take the other end of the cover and tuck it in under the flap too, pressing down to flatten it in place.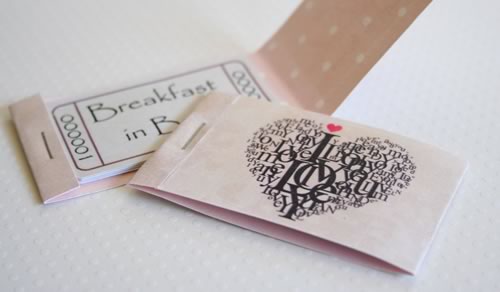 Voila! Finished coupon booklets
And here are some pictures of the finished designs.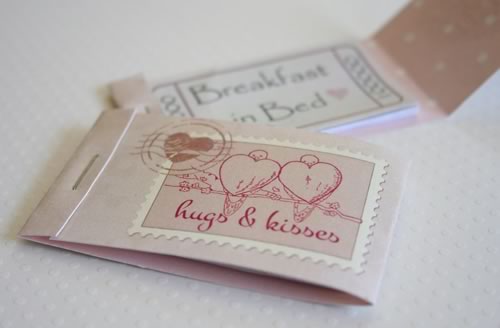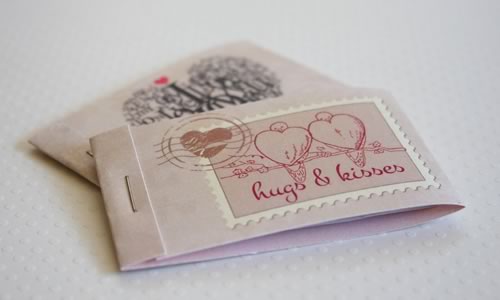 Related pages