Make a Personalized "Remember When" Poster For Your Partner
Finding or making a personalized gift for your parnter can be really hard! Will they like it? What if they think it's boring?
Our "Remember When" poster maker helps you create a fun and unique personalized poster gift for your partner. I promise you it's going to look awesome and they'll love it!
All you've got to do is...
Think up a list of memories that you've shared together
Pick a color scheme that's perfect for them
Print it at home and frame it to create a gorgeous gift
He loved it! I loved it. The framer loved it. Everyone I showed it to loved it!" Jane, Montana
Here's one I made for my husband Tobias to remember some of the amazing times we've shared together in our relationship.
It's mostly listing places that we've travelled. Before we had our children we loved backpacking around the world - it seems so long ago now and it's nice to remember those amazing times!
One thing: the line at the end about "we finally realized that we were meant for each other" made sense for Tobias and I, but obviously don't use it if your partner is a commitment-phobe and you think it's going to frighten the heck out of him ;-)
I was blown away by how easy it was to make my poster! It would have taken me hours messing around on the computer to make it myself." Vicki, Missouri
Make My Poster Now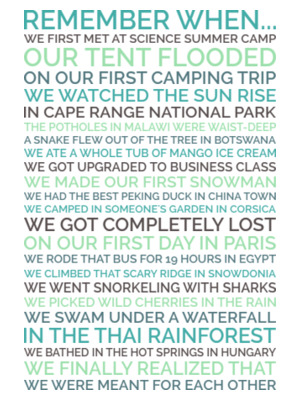 Please wait while generator loads...

Questions and Answers
I have no idea what to write in my poster. Can you help?
Sure - check out my poster examples for inspiration.
How do I print and frame my poster so that it looks as nice as in your photos?
It's actually pretty easy. See my specific printing and framing tips. Here's what a past customer had to say:
I hate it when things don't turn out as good as what they look like in the photo, but this actually turned out better than I expected and my husband loved it! Vicki, Missouri
Is my printer good enough?
Almost certainly. The trick is to use good quality paper. See my printing tips.
What if I buy it but then it looks bad when I print it?
I'll give you 100% of your money back immediately, no questions asked. Just email me.
What are the print size options?
8 × 10 inches is a popular size for photo prints, so it's a good choice if you want to print your poster at a photo print shop. Also it's usually easy to find 8 x 10" photo frames.
8.5 × 11 is a common printer paper size in the USA, so it's a good choice if you live in the USA and you want to print your poster at home.
A4 is 210 × 297 millimeters or 8.27 × 11.69 inches. It's a popular printer paper size in most countries other than the USA.
After you purchase you can download your poster in all 3 sizes for no extra cost.
Can I print a different size other than the ones you offer?
Sure! Take your downloaded file to a print shop and they'll be able to print it in whatever size you ask them to.
What if I give it to them but they don't like it?
I'll give you 100% of your money back immediately, no questions asked. Just email me. Seriously.
What's your guarantee or returns policy?
Our "love it" guarantee: If the recipient doesn't LOVE their poster, email me and I'll refund every penny immediately, no questions asked, no matter how long it was since you purchased.
Why should I pay for this when I could just make it myself?
If you've got the skills, go for it! Just don't underestimate how many hours it will take (hint: probably 2 hrs, and even then it might not look quite right). Just to give you an idea: when I created this poster-maker it took me 2 hours just to find the perfect font, and then about 1hr to create each of the color palettes. But then again maybe I'm just a perfectionist.
Example Poster Wording
Not sure what to write on your poster? Don't panic! From reminiscing over times you've shared, to thinking about all the things you like doing together, to thinking about all the perfect pairs in life, including you guys, we've got lots of ideas to get you started!
"Remember When..."
Think about all the lovely things you've done together with your boyfriend and fun times you've shared. I'm sure once you start writing the first few down the memories will flow!
Here are some questions that might help you start to write your list:
Where did you first meet?
Where did you go for your first date?
Any memorable holidays? Any special events or funny moments?
Any silly things that you have done or watched together? When you just couldn't stop laughing and were so happy?
Any really fun or adventurous outings you've been on together?
Really romantic moments?
Competitive moments? Playing sport together?
Amazing, romantic or funny meals you've shared together? Eg, "when you realized I put chilli in my bolognese..."
Your theme song?
The poster looks best with between 10-20 lines. You can split memories over several lines too. Just play with the formatting and have fun! Your boyfriend is going to love the time and thought you've put into his gift.
"We love..."
As an alternative, you could write a "We love" poster, listing all the things that you guys love.
"Perfect Pairs"
A list of pairs of things that just go together well, including you guys! From fiction characters to food, there's so much you could use. Just copy and paste the text into the poster maker.
Here is a list of food pairs we used. Just copy and paste into poster maker and edit your names.
Coffee and cake
Peanut butter and jelly
peaches and cream
Wine and cheese
Bacon and eggs
Macaroni and cheese
Fish and chips
Salt and pepper
Bread and butter
Milk and cookies
Spaghetti and meatballs
Mac and cheese
Ice-cream and sprinkles
You and Me

Here is a list of fiction character pairs we used. Just copy and paste into poster maker and edit your names.
Gomez and Morticia
Antony and Cleopatra
Peter and Wendy
Tarzan and Jane
Buttercup and Wesley
Minnie and Mickey
Lady and the Tramp
Wall-E and Eve
Romeo and juliet
Lois and Clark
Marge and Homer
Simba and Nala
Beauty and the Beast
Ron and Hermione
You and Me

And here is a list of general "pairs" that we thought looked good too. Just copy and paste into poster maker and edit your names.
Wine and cheese
Bat and ball
Bread and butter
Bow and arrow
Thunder and lightening
Wind and waves
Leaps and Bounds
Hugs and kisses
Ice-cream and sprinkles
Yin and yang
Heart and soul
Bride and groom
Me and you

Printing Your Poster
Is my printer good enough?
Most home inkjet printers these days are excellent quality, even the cheaper ones. The key to getting really good quality prints is to use the right paper...
What kind of paper should I use?
I recommend using matte photo paper. The vibrancy of the colors and crispness of text you get when using photo paper are leagues ahead of what you get using regular office paper. Ideally you should use the same brand of photo paper as your printer, or else stick to a well-known brand like Canon, HP, or Epson.
If you're giving an unframed print as a gift, then it's important for the paper to feel thick and high quality. It's worth getting the best quality matte paper that you can afford, like "Canon Luster Photo Paper" or "Canon Semi Gloss".
If you're giving a framed print as a gift, then the thickness of the paper is less important so long as the colors are vibrant. In that case a thinner photo paper like "Canon Matte Photo Paper" would be a good option - that's the paper I personally use most of the time.
Can I just print it at Kinkos instead?
Yes! That's a good option too, and many of our customer choose to do this.
Framing Your Poster
What type of frame
Personally I like "matted" frames, which are ones that have a white border around the poster. I think they look great, and they also make your gift feel bigger and more substantial. If you ever visit an high-end photography gallery you'll notice that this is the type of frame that they use, simply because they look fantastic.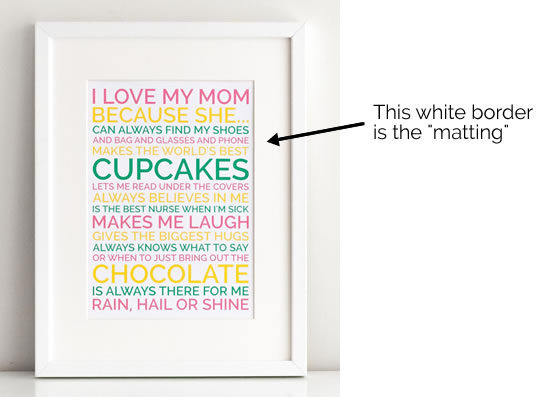 Where to buy a frame
In the USA, you can get a great-looking frame for about $14. I recommend
8 x 10" photo frames from Amazon
8 x 10" photo frame from Walmart
In the UK, the best place I've found to get frames is Hobbycraft. You can get a 30 x 40 cm frame (to hold an A4 poster) for about £10.
More Personalized Boyfriend Gifts
Posters for Other Occasions