Free Printable Love Coupons
Download our free printable love coupons - they're perfect to make love coupons for Valentine's day or anniversaries! Plus learn how to assemble your coupons into a sweet match-book style booklet that can be carried around in a wallet or pocket.
Free Printable Love Coupon Templates
We've made four downloadable PDFs for you to play with, either with a parchment-style paper background (for a funky vintage feel), or on a white background, in case you'd like to print them out on your own patterned papers. Here's an example of what the page of coupons looks like:
For each of these styles, we've included a set of pre-filled love coupons with sweet intentions (breakfast in bed, movie night, big cuddle...), and a page of blank coupons which you can personalise by hand to suit you and your special one. If you're stuck for ideas, check out this list of 101 coupon book ideas.
Just click on the links below to download each PDF...
How do I personalize the text?
Want to personalize your coupons before you print? Our editable coupons give you full control over the message text and ticket number. Sexy or chaste, naughty or nice, you can write the perfect coupon for your boyfriend, husband, girlfriend, or wife.
Personalizable text
Gorgeous matching covers
Larger coupons
Choose a design...
Free Printable Love Coupons: Booklet Assembly
If you'd like to assemble your coupons into a homemade match-book style booklet, you will need:
printed out coupons (see above)
scissors
stapler
coloured card/paper
glue
Step 1: Print and Cut Out
Print out the coupon sheet and cut out each individual coupon. I like to use a cutting board, ruler and sharp blade, but scissors are just fine too!
Cut out a long narrow strip of coloured card that is just a bit wider than your coupons, and over double the length. It should measure approximately 6 inches (15.5cm) long by 1¾ inches (4.5cm) wide.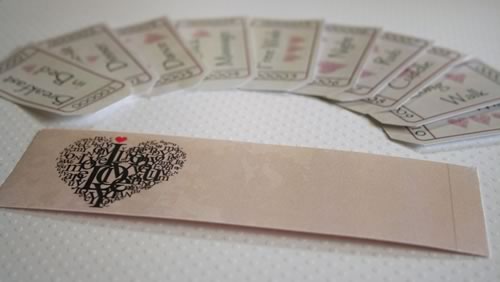 Here instead of using colored card I'm using our word-art heart cover.
Step 2: Fold and Staple
Turn the card over the left edge of your coupons ⅜ inch (1cm). Staple to secure the coupons in place.

Now take the other end of the cover and tuck it in under the flap too, pressing down to flatten it in place.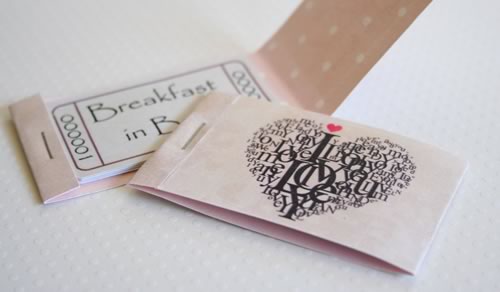 If you'd like to edit the messages on the coupons on your own computer, then check out our personalizable romantic coupons .
More romantic gift ideas
If you're looking for more valentine craft projects, take a peek at these other easy tutorials: