Best Free Printable Easter Word Search Puzzles for Kids
Last updated: August 2, 2023
Easter word search puzzles are a fantastic way to celebrate this time of new beginnings, family, and CHOCOLATE! With plenty of family time during Easter, an egg-citing word search can keep the kids entertained. The spring flowers are blooming, the Easter bunny is making special deliveries, and the aroma of hot cross buns fills the air. If you have children at home on Easter Break, this activity is a great indoor option for kids.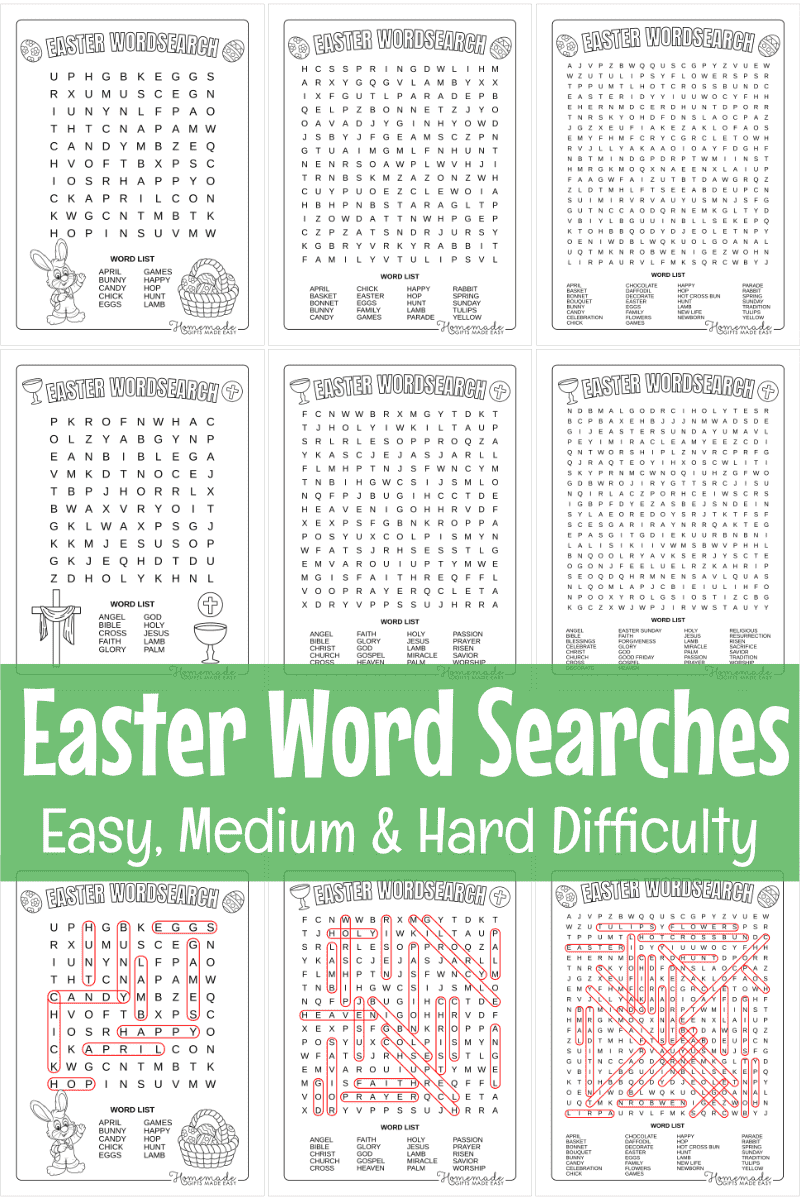 We've got a bunch of free printable Easter word search puzzles for both kids and adults, with easy, medium, and hard levels to choose from. If you've got little ones, starting with the simpler puzzles is a great idea, and you can work your way up to the trickier ones. Adults, don't worry - we've got you covered with some challenging puzzles too. They're a fun, laid-back way to keep your brain active, and the kiddos won't even realize they're learning something in the process.
You'll find two themed Easter word searches on this page, religious and non-religious. Each theme has three difficulty levels.
Easy - 10 words; down & right directions only
Medium - 20 words; up, down, down-right diagonal
Hard - 30 words; up, down, left, right, & diagonals (including backward)
Each puzzle has a different word list, so there's plenty to keep the whole family busy searching! Why not even make it a race to finish?
If you get stuck, at the bottom of this page, you'll find all of the solutions for each word search puzzle.
Let's get started! All you need to do is print off the spring word search PDF then search for the words on the list within the jumbled puzzle.
Jump to a section or scroll down the page to see all of our spring word search puzzles and solutions. These printables are for personal, non-commercial use only.
Easy | Medium | Hard | Solutions
Easy Easter Word Search Puzzles
Little ones will love an easy Easter word search puzzle. It's like an Easter egg hunt for your brain! Each of these easy word searches has 10 hidden words, and the word direction is either right or down. There are no backward or diagonal words.
Medium-Difficulty Easter Word Search Puzzles
Warm up your brain with an Easter word search. Each of these medium-difficulty Easter word searches has 20 hidden words, and the word direction is horizontal, vertical, or diagonal down-right.
Hard Easter Word Search Puzzles
If you really want to challenge yourself, or older kids, these hard Easter word searches will get your brain cells working! These challenging word search puzzles have 30 hidden words each. Just to make it extra tricky, the words can be horizontal, vertical, or diagonal, and they can also be spelled backward! Your family can be very proud if you find all of these difficult words.
Solutions for Easter Word Searches
Tearing your hair out over that last hidden word? If you are going crazy trying to complete the Easter word search, we have the answers! If you've had a good try, trying to complete the word search puzzle, but are waving the white flag, we have the solution. Here are the solutions to each Easter word search.
More Easter Printables for Kids
I hope you had a blast with our Easter word search puzzles! If you're on the hunt for more Easter fun, be sure to check out our awesome assortment of free coloring pages and templates! They're all totally free to download and guaranteed to keep your little ones engaged and entertained. Happy Easter!
And hey, if your kiddo is absolutely wild about word searches, don't miss our amazing selection of Printable Word Searches on All Topics and Hard Word Searches. There's something for everyone, so dive in and have fun!