Food Gifts in a Jar
Gourmet Choc-Almond Dates Recipe
Want to make food gifts in a jar? Layer the ingredients for this choc-almond date recipe in a jar to make a delicious homemade gourmet gift.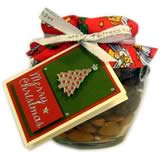 Ingredients
8 1/2 oz. (250g) dried dates
3 1/2 oz. (100g) almonds, skin on
7 oz. (200g) high quality chocolate
Method
Layer ingredients into a glass jar (I put almonds at the bottom, then dates, then chocolate squares. Do what ever you think looks prettiest!). Decorate your homemade gift in a jar with a nice fabric circle and some ribbon. I traced around a breakfast bowl onto my fabric to help cut out a nice big circle.
Include a gift tag or card with instructions on how to make chocolate-coated almond dates.
Instructions For Making Chocolate-coated Almond Dates
Place almonds on tray and roast for 5 min at 400°F (200°C). Allow to cool.
Press almond into centre of each date.
Melt chocolate. You can do this on low in the microwave, or melt in a double saucepan. Stir frequently to be sure not to burn the chocolate.
Coat almond-filled dates with a layer of chocolate. Once first layer has set, coat for a second time in chocolate.
Place onto baking-paper covered tray and set in fridge.
Hide chocolates from (insert their partner's name here) !
What next?
I hope you liked this food gift in a jar recipe! If you have any comments or suggestions or just want to say hi, please contact me with this handy form .
For other quick and easy gift ideas, why not take a look at my food gifts for more inspiration.