Homemade Christmas Tree Decorations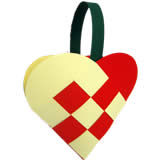 Looking for homemade Christmas tree decorations to make?
On this page you'll find step by step photo instructions for how to make beautiful woven heart baskets. Perfect for filling with sweets and hanging on your tree!
And don't forget to check out the links to many more simple Christmas ornament instructions at the bottom of the page.
Homemade Christmas Tree Decorations:
Woven Heart Baskets
Woven heart baskets are a Scandinavian tradition, and are perfect for filling with nuts or candies. These easy to make Christmas decorations are effectively little gift bags that you can hang on the Christmas tree :-)
Gather your materials...
To weave your own heart baskets, you'll need:
Card, in two or more colours. I'll use white and red for this example.
A pencil
A ruler
Scissors
Some glue or double sided tape
Woven Heart Basket Instructions
Step 1
Cut two long rectangles of card from different colours. Each rectangle should be about three times as long as it is wide. 12 inches by 4 inches (30cm by 10 cm) is a good size.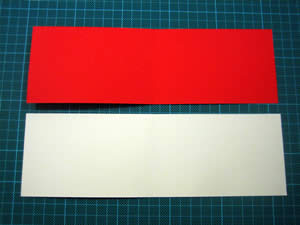 Step 2
Pick one of the rectangle and fold it in half, with the cut ends facing away from you. Draw a square with a semi-circle on top. Then draw two vertical lines, evenly spaced, that divide the square into three strips.
Important: Extend the vertical lines about 3/16 of an inch (0.5cm) beyond the top edge of the square
Cut out along the semi-circle, and cut along the vertical lines. Repeat for the other piece of card.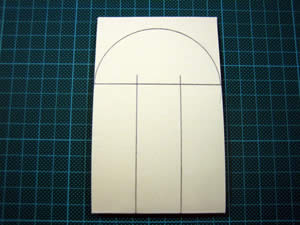 Step 3
Weave the bottom strip of the red half into the white half. The red strip should alternate between going inside and outside the white strips.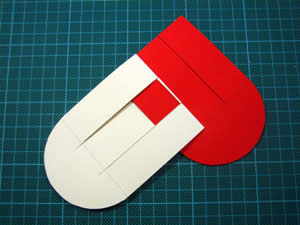 Here's a video (not mine) to make things clearer:
Step 4
Continue with the remaining red strips. It's a bit fiddly the first time, but you'll get the hang of it. The second one you make will be much easier, I promise! You can attach a handle by gluing an extra strip of card onto the inside of the basket. Here's mine finished:
Fill it with sweeties and give it as a Christmas gift!
Once you've mastered the 3-strip basket, you can also try making baskets with more strips, wavy strips, diagonal strips, etc. Experiment and have fun with it!
More Christmas Decorations to Make...
Are you looking for more easy to make Christmas decorations? Check out some of my other projects...
Or see my complete collection of homemade Christmas ornament tutorials.