Make a Miniature Christmas Tree
by Helen Clubb
(Cambridge, UK)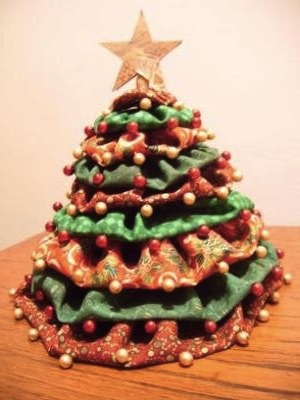 The finished Christmas tree
I was inspired to make a Christmas tree for my desk at work by my lovely colleague Pammy G, who has been telling us all how many more sleeps we have until Christmas since September :)

My Christmas tree is made using fabric "yoyos" (I think that is what they are called) which are stacked up on a stand made from an old wire coat-hanger. I used large beads to be baubles and gold wrapping paper and some card to make a star to go on the top. You do need to so some sewing but it is very easy I promise!

You will need:

Christmas coloured fabric (I used four pieces, each about 50cm by 50cm - these are often sold in fabric shops as "fat quarters").
Scissors
A compass and pencil
Paper to draw out your circle templates
Strong thread and a needle
Coloured beads to make baubles
Wooden beads with wide holes
An old wire coat hanger

To make a yoyo:

I drew out a circle on a piece of paper using a compass. I cut that out and used it as a template to draw a circle on the fabric. Cut out the circle of fabric. You will need to cut a small slit in the centre of each yoyo. To stop the fabric from fraying iron on a small square of fusible interfacing in the centre of the circle. Turn it upside down so that the pattern is facing down. Turn in about 1cm all around the edge and then sew using a running stitch all the way around. Use strong thread and keep your stitches quite long.



Running stitch to make yoyos
Gently pull the thread to gather up the edge tightly. Make a couple of small stitches to secure your thread and you have your yoyo.
Make a small slit in the centre of each yoyo after you have made it so that you can thread it onto the stand.
Decorate your yoyo by sewing beads on around the edge to look like baubles.
To make the Christmas tree:
I used nine yoyos to make my Christmas tree. The diameters of the fabric circles were 38cm, 31cm, 28cm, 25cm, 22cm, 19cm, 16cm, 13cm and 10cm. The final diameter of the tree was about 16cm.
I made a stand for my tree using an old coat hanger. First I cut off the hook and then I bent the bottom into a circle to make the stand. I wasn't sure how tall to make the stand so I made the stand very tall at first (about 25cm) and then trimmed it when I had stacked on the yoyos.
I used wooden beads to act as spacers on the stand between each of the yoyos.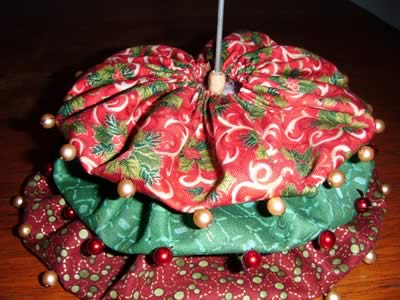 Beads as spacers between yoyos
On my stand I started off with two wooden beads. Then I stacked on my biggest yoyo followed by another bead. I alternated the yoyos and the beads like this until I had stacked on all of my yoyos, finishing with a bead. You might want to glue the top bead onto the wire with a little superglue to stop everything from sliding off.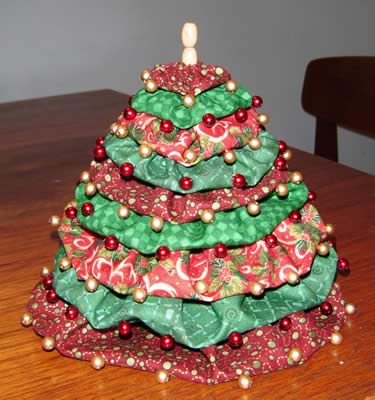 The top bead is glued on
Finally you need to put a topper onto your tree. I made a star by glueing together two stars made from gold wrapping paper. You could use anything you like though - maybe a giant sequin or a small christmas bauble.
I hope you like it!
~ Helen