Mini Muffin Recipe: Delicious Raspberry and Almond Friands
by Marion
(Australia)
This mini muffin recipe is one of my favourites - so quick and easy to make and tastes delicious! And as you know mini muffins have zero calories compared to full-size muffins so you can eat them without guilt. I swear I read that somewhere!

Ingredients to make about 24 mini muffins:
125g (4.5 oz) butter, melted
1 cup almond meal
4 egg whites, beaten lightly
1 and 1/4 cups icing sugar (make sure you sift it to break up the clumps)
1/2 cup plain flour
100g (3.5 oz) raspberries and/or blackberries (I use frozen)

Method:
1. Preheat oven to 190 Celsius (375 Fahrenheit)
2. Grease two 12 hole mini muffin tins
3. Combine butter, almond meal, egg whites, sugar and flour in a medium bowl; stir until just combined.
4. Divide mixture into patty pans and top each with one or two berries.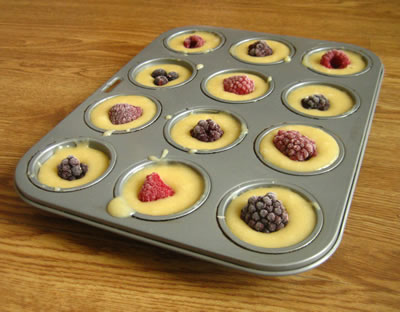 5. Bake for about 15 minutes (maybe more, maybe less - just until they start to brown slightly). Stand in the tray for 5 minutes, then turn onto a wire rack to cool.
6. Serve dusted with a little extra sifted icing sugar.
I hope you like them as much as my friends and I do!