Easy Chocolate Brittle Recipe
Follow the chocolate brittle recipe on this page to make a batch of delicious gifts in a flash! Such a quick and easy gift idea and perfect for the Christmas season, especially for popping in a homemade Christmas gift basket!
Chocolate Brittle Recipe
There are SO many possibilities when making chocolate brittle. Here I suggest three different recipes using white, milk or dark chocolate. But don't stop there, make your own recipes using other dried fruits and nuts from your pantry!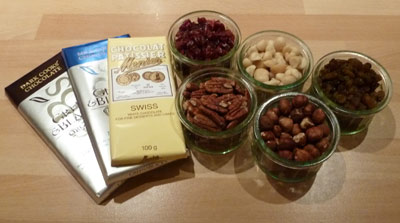 Macadamia and Cranberry Brittle
300g (10½ oz) of good quality white chocolate
100g (3½ oz) macadamia nuts
100g (3½ oz) dried cranberries
Hazelnut and Raisin Brittle
300g (10½ oz) of good quality milk chocolate
100g (3½ oz) hazelnuts
100g (3½ oz) raisins
Pecan and Cranberry Brittle
300g (10½ oz) of good quality dark or plain chocolate
100g (3½ oz) pecans
100g (3½ oz) dried cranberries
The quality of your brittle will be as good as the quality of your chocolate, so make sure you use good quality chocolate! Use eating chocolate, not cooking chocolate.
Chocolate Brittle Recipe Instructions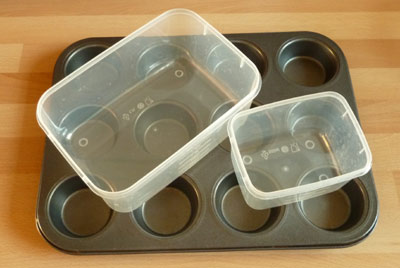 Prepare your containers first. You can line a baking tray or other container (get creative here!) with parchment or plastic wrap (cling film). Here I've used a muffin tray to make small brittle rounds, and also some tupperware containers of different sizes to make rectangular slabs of brittle.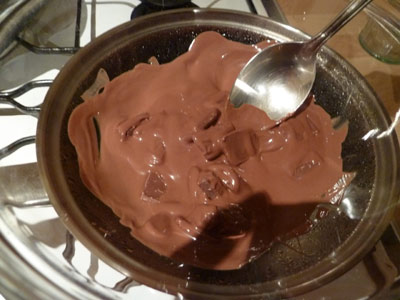 Break up the chocolate into small squares and melt the chocolate in a bain-marie. If you don't own a bain-marie, improvise by resting a bowl over a small saucepan of gently simmering water. Be sure that the water does not touch the bottom of the bowl.
Stir the chocolate squares until they melt. I usually remove the bowl from the heat when about 2/3 of the chocolate has melted, and then continue stirring until the rest of the chocolate melts in its own heat. When you remove the bowl from the top of the saucepan make sure you use a cloth or oven mit as there will be a gush of steam you'll want to avoid.
When melting chocolate, it is really important that start with a completely dry bowl and spoon, and that you don't get any water in the bowl! Getting water on the chocolate can make it "seize" up and take on a grainy consistency.
Stir the fruit and nuts into the melted chocolate.
Spoon or pour the chocolate mixture into your prepared containers. You only need a thin layer of the chocolate mix at the base of each container.
Cover and allow to set in the fridge. Once set, remove plastic wrap (be careful peeling it off so you don't leave any behind in the chocolate!).
How to gift wrap your Chocolate Brittle
Using sheets of clear cellophane or cellophane bags , wrap up a mixture of brittle pieces and secure with raffia or other nice ribbons.

Do you have a choco-holic friend? Why not put together a chocolate Christmas gift basket for them, with chocolate brittle, chocolate brownies , and chocolate truffles . They might fall into a chocolate coma but they'll love you for it!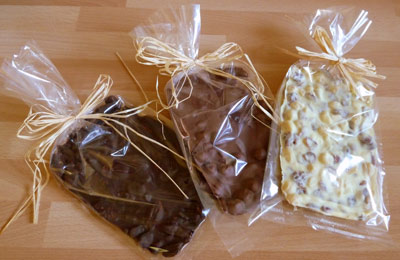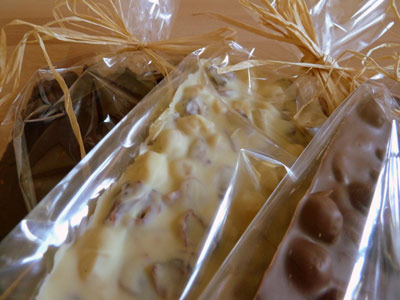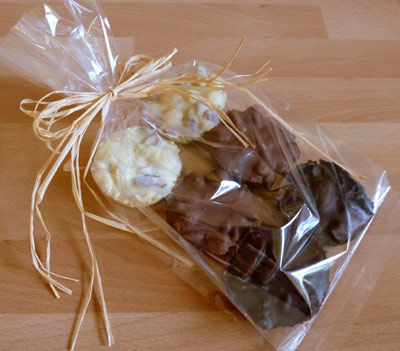 Storage and serving: Chocolate brittle is best consumed within a week once prepared, so don't make it too far in advance. Store in an airtight container in the fridge. It is best served straight from the fridge and freshly broken in to chunks, perfect for sharing!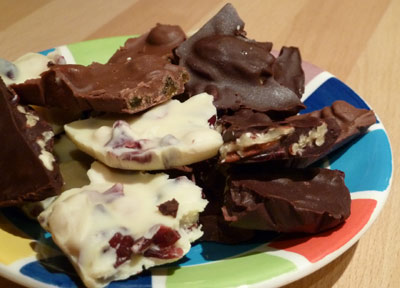 What next?
Enjoyed this chocolate brittle recipe? Then you might like to check out these other quick and easy chocolate gift ideas:
And if you have any questions of comments, or just want to say hi, then please contact me with this handy form .