Snowman Soup Recipe & Craft Project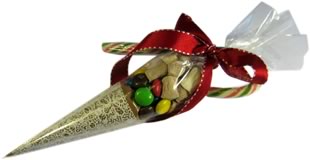 This snowman soup recipe is fantastic for those cold winter nights and makes a wonderful Christmas gift for children and friends.
The snowman soup craft project involves wrapping up hot chocolate mix and marshmallows and chocolates into a lovely gift with a poem.
There are lots of different ways of doing the wrapping, like in a clear bag, gift box, or a jar. But my favorite way is to use clear cone bags. It just looks so pretty!
Scroll down and I'll show you the snowman soup recipe and instructions. Click here to go to our Snowman Soup Poem page and print out some super cute labels for your gifts too!
Ready to get started? First up, you'll need to gather some supplies...
Snowman Soup Recipe Ingredients
Food ingredients
1 cup hot chocolate mix
¾ cup mini marshmallows
¼ cup M&Ms, Smarties, or other colorful chocolate candy
1 candy cane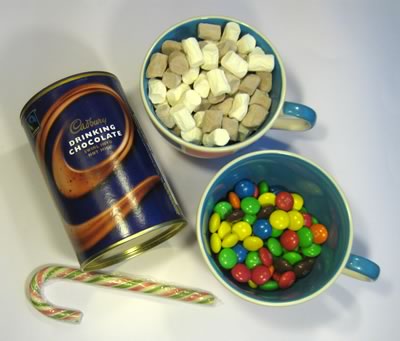 Craft Stuff
Clear cellophane cone bags (6" by 12", or 7" by 15")
Ribbon
Wire ties or rubber bands
The trickiest thing to get hold of is the cone bags. I found mine on eBay - I seem to remember that I paid a few dollars for 20 or 50 bags. You'll use 2 bags per package, because there's actually one bag inside another.
An alternative to cone bags is disposable pastry bags (used for piping icing), which you can find in cookware stores. Thanks to reader Courtenay for writing in with that tip!
If you can't find the cone bags or pastry bags, you can use a jar instead. The layers of hot chocolate, sweets, and marshmallows still look really pretty :-)
Snowman Soup recipe Instructions
Step 1
Put 1 cup hot chocolate mix into a cone bag.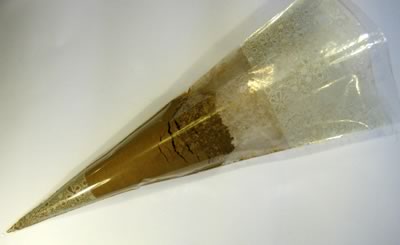 Step 2
Twist the plastic to bunch it up, wrap a rubber band or wire tie around it to seal it, and cut off the excess plastic with some scissors. It should now look like this: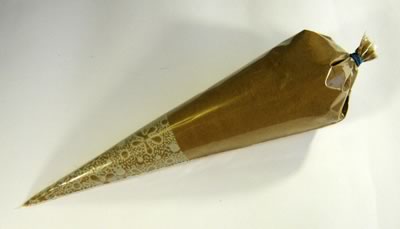 Step 3
Put the chocolate-filled cone into another cone. Using a cone-in-a-cone like this means that the hot chocolate won't mix up with the sweets, and keeps the layers looking separate and nice. It's also more practical for whoever you give it too... they won't be fishing M&Ms out of their hot chocolate!
Step 4
Add in the M&Ms (or other choc sweets) and mini-marshmallows. Twist the plastic and seal it with a rubber band or wire tie.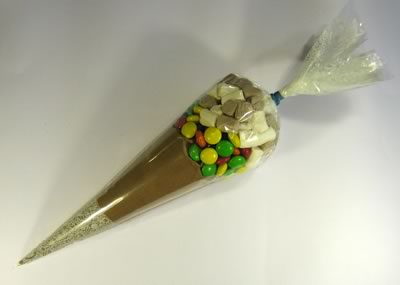 Step 5
Tie around a ribbon to decorate!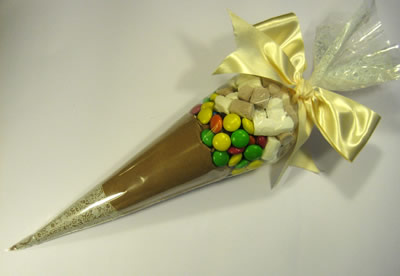 Step 6
You can either include the candy cane on the outside of the package, or stick it in the top of the cone in step 4 before your seal the plastic with the wire tie.
The pic below shows what it looks like if you have the candy cane sticking out the top. Doing it this way is kind of neat because you can then hang the snowman soup on a Christmas tree like a decoration.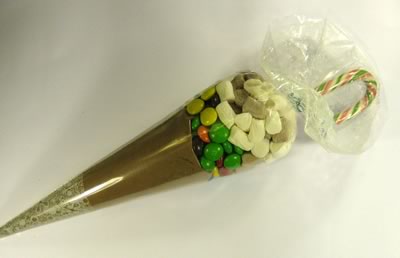 Here's what it looks like with the candy cane tied on the outside with the ribbon. This snowman soup cone is actually a single serve one I made with just 4 tsp of hot chocolate mix and a small handful each of M&Ms and mini-marshmallows.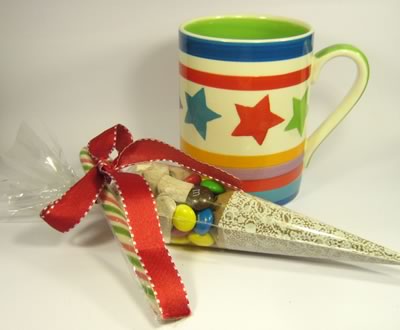 I hope you liked my snowman soup recipe & craft tutorial. How did yours turn out? If you have any questions or comments, or just want to say high, then please contact me with this handy form .
Left Right Christmas Game Instructions, Stories, & Free Printables
Unwrap the festive fun this December with the Left Right Christmas Game! The exciting way to open presents is to play this popular gift exchange game. Whether you're a seasoned pro or a newcomer to this holiday activity, our blog will guide you through this beloved tradition that can make your Christmas celebrations even more memorable. We've even got two great printable LEFT RIGHT stories for you.