Spiced Dried Apricot Jam Recipe

This dried apricot jam recipe is a gem. It can be made all year around, and its subtle spiced flavour is delicious. A perfect gift idea, but make sure you keep a jar for yourself too!
Dried Apricot Jam Recipe
This recipe yields approximately 6 cups (So good for making six 1/2 pint jars).
Ingredients
500 g (approx. 1 lb) dried apricots
1.5 L (approx. 1 1/2 quarts) water
2 cinnamon sticks
1 tsp ground cinnamon
500g (approx. 1 lb, or 2 1/2 cups) sugar. I use castor sugar, but brown sugar is fine too.
30ml (2 tbsp, or 1 oz) lemon juice
Optional extra: 2 cloves and 4 cardamom pods, to be added along with the cinnamon.
Method
Soak the apricots in water overnight.
Put the apricots and soaking water into a large heavy-based saucepan, and bring to the boil. Reduce the heat, stir in the ground cinnamon and cinnamon sticks, and simmer gently for 15 minutes until the apricots are nice and softened. Stir occasionally.
Meanwhile, put a small plate in the freezer to chill, as you will need this later to check the setting point of your jam.
Add the sugar and lemon juice. Stir frequently until mixture comes to the boil. Leave to simmer gently, stirring occasionally for 40 minutes.
Check if the jam has reached set. To do this, put a tsp of jam onto the cooled plate. Allow jam to cool, and then draw a line through the jam with your finger. If the jam stays separated, it is ready. If not, continue to simmer the jam for another 10 minutes and then re-check. Continue this method until you are happy with the consistency of your jam.
Meanwhile, prepare your jars. The best way is a nice hot wash in the dishwasher. Or you can wash out some jars with hot soapy water and allow to dry upside-down on a rack. Before use, pour some boiling water inside the jars to sterilise them.
Ladel the jam into your jars, up to 1/2 inch from the top. I like to keep the cinnamon sticks - I think they look pretty in the jar. Remove the cloves and cardamom pods though, if you added them. Put on the lid, and turn jars upside-down for 5 minutes to seal and sterilise the lids. Then turn upright and allow to cool.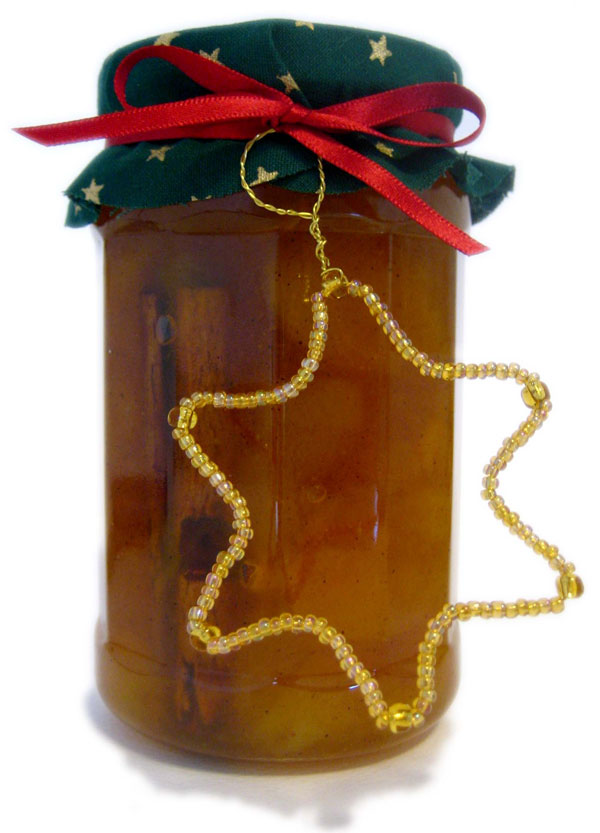 To make your jam look pretty, tie some coloured fabric over the lid with a piece of ribbon. The photo at the top of the page is of some dried apricot jam I made as a Christmas present. I have added a small beaded Christmas-tree decoration.
What next?
I hope you like this dried apricot preserve as much as I do!
If you are looking for other delicious jam and preserve recipes, check them out on my Homemade Gifts in a Jar page. There you will also find other quick and easy gift ideas. Enjoy!
And here are some other gift ideas you might enjoy...