Easy Scone Recipe

This easy scone recipe is so simple and makes delicious scones in a flash. This basic scone recipe uses only 4 ingredients and makes scones with a lovely light yet moist texture.
Easy Scone Recipe
Ingredients:
3 cups self-raising flour
1/2 tsp salt
1 cup cream
1 cup lemonade
Makes 12 big scones.
Mix in half a cup of chopped dried fruit to the scone mix for delicious fruit scones.
Method:
1. Preheat oven to 220°C/430°F, and grease and flour a baking tray.
2. Sift flour and salt into a large mixing bowl. Make a well in the centre.
3. Pour cream and lemonade into the well.
4. Mix ingredients together using a butter knife. Stop mixing as soon as there is no more dry flour in the bowl. The mixture will look quite sticky at this point.
5. Tip the scone mixture onto a well-floured surface. Do not knead the dough heavily, but using floured hands, knead once or twice while shaping the dough so that it is about an inch (2.5cm) high and roughly round in shape.
6. Cut out round scones using a cookie cutter or even with a knife. Using your hands, re-shape the left-over bits of dough and then finish cutting out the rest of your scones.
Note: The dough will be sticky, but this is the secret for lovely, moist and light scones. Mix in a little extra flour with your hands if you find it too sticky.
7. Place scones on baking tray and bake for 15 minutes. The tops will have browned nicely, and an inserted knife should come out clean.
Handy hint: I normally separate the scones from each other on the tray and pop them back in the oven for an extra minute or two to make sure the joining edges are properly cooked.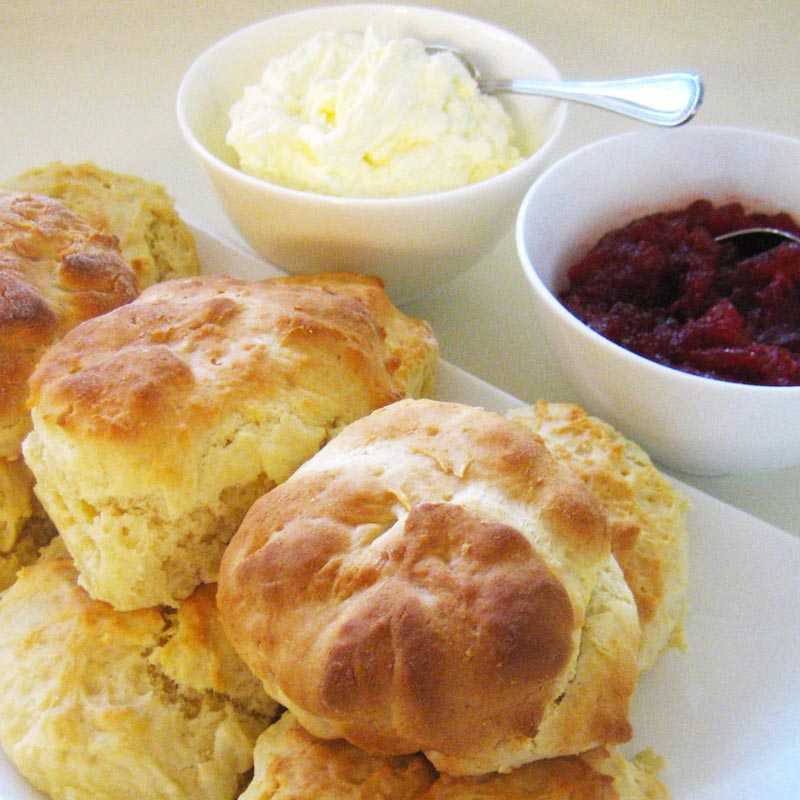 These delicious scones are best served warm with jam and cream or butter. You can wrap the scones in a clean tea towel or cloth to keep fresh.
What's Next
Use our quick-and-easy microwave method to make some strawberry jam , the perfect accompaniment to your freshly baked scones!
And here are some other gift ideas you might enjoy...