Elf Goodbye Letters - Print a Farewell from Your Elf On The Shelf
Last updated: October 27, 2023
An Elf Goodbye Letter is the perfect way to say goodbye to your Elf on the Shelf. Your children have just enjoyed a month of fun and hilarious moments with the Elf, and it can be hard to let go. A letter from the Elf will help them reflect on all the joy that they've had together.
Every year on Christmas Eve, it's tradition to say goodbye to the Elf on the Shelf. At this time most Elves will say farewell to their families and fly back to the North Pole. Elves need to return back to the North Pole so they can start helping Santa prepare all the presents for next year's Christmas.
A free printable Elf goodbye letter gives you a touching way to help your children say goodbye. Before your children wake up on Christmas Eve morning, place this letter somewhere for them to find. The Elf will probably leave the letter somewhere obvious, like the mantle or near the Christmas tree so that your children will easily find it.
Or you could have your Elf appear with the letter. That will allow your children to spend their whole day with the Elf before he leaves for the North Pole that night after they have gone to bed.
Below you can find 3 different Elf goodbye letters that can be printed and left from the Elf. An Elf goodbye letter gives your children something they can cherish throughout the year. They can remember all the good times they had with the Elf while they await next year's Christmas.
Elf Goodbye Letter Wording
Here's the wording which is on the letters. This wording is copyrighted so please do not reproduce it without permission!
Goodbye

What a blast, we've had such fun
But sadly now, I've got to run
The day has come to say goodbye
To the North Pole I must now fly

While I know you might feel sad
I won't forget the times we've had
Our memories, I'll keep forever
Of all our special time together.

Now you be good while I'm away
Do the best you can each day
You might miss me, but never fear
I'll be back with you next year!

Love from Your Elf
Elf Goodbye Letter: Classic Christmas
This free printable Classic Christmas Goodbye Elf Letter is the perfect choice for saying goodbye to the Elf. Print and leave the letter somewhere obvious for your children to find, like on the mantle with Christmas decorations, or near the Christmas tree.
Elf Goodbye Letter: North Pole Official Mail
Your children will be excited to receive this official mail straight from the North Pole! It reminds us that the Elf does have a home elsewhere, and sadly cannot stay with us forever. Print and leave this free printable goodbye letter from Elf for your children and they will cherish it until next Christmas.
Elf Goodbye Letter: Head Back to Santa
This Elf goodbye letter will remind your children that the Elf is needed by Santa to help get ready for next year's Christmas. The Elf needs to start a very long journey back to the North Pole to rejoin Santa and start preparing presents for all the boys and girls next year.
Free Personalized Letter From Santa Templates
With our Personalized Santa letter template, you can bring some North Pole magic right to your living room! Getting started couldn't be simpler! Just type your child's name into the form, and you'll get a downloadable PDF ready to print. Your very own letter from Santa will be in your hands faster than you can say "Rudolph the Red-Nosed Reindeer!"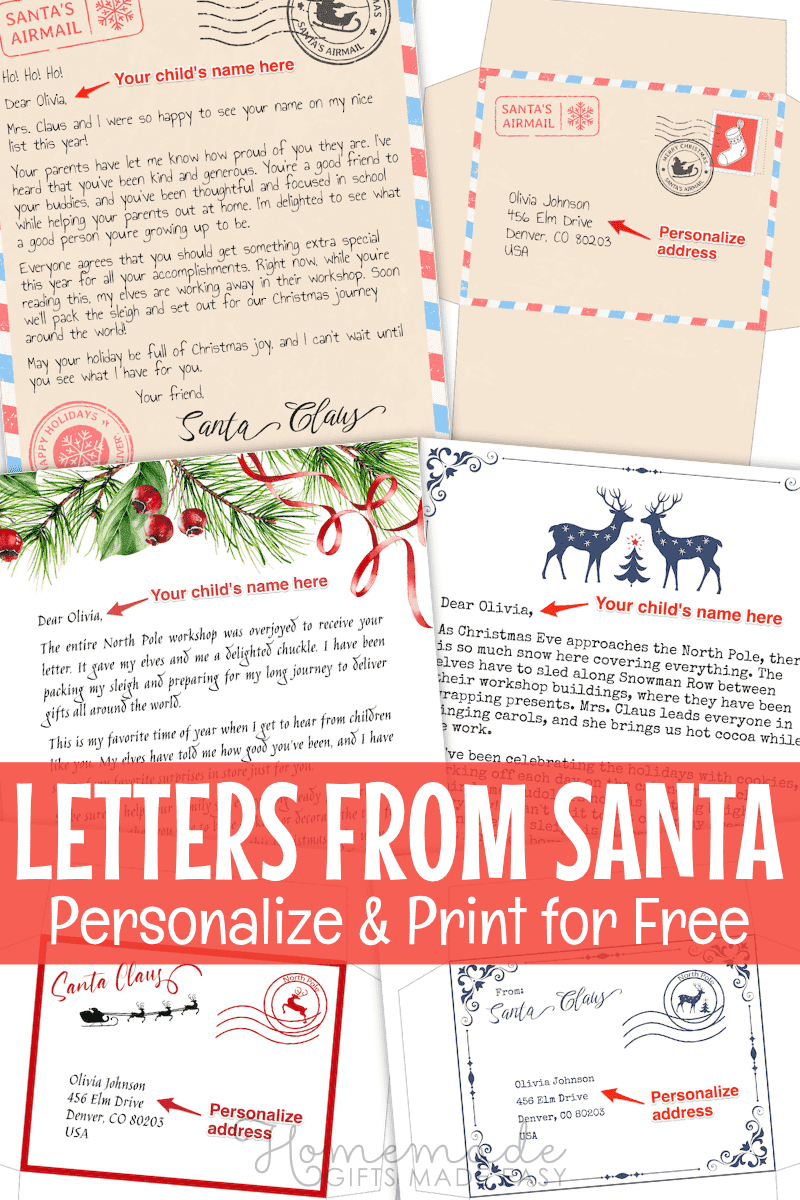 Free Printable Elf Coloring Pages for Kids
Looking for more Elf-themed holiday activities? Take a look at our cute collection of Elf coloring pages! From pictures of Santa's helpers wrapping Christmas gifts, to not-so-helpful elves getting up to mischief, there are lots of fun Elf pictures to color in!
"Twas The Night Before Christmas" Poem & Activity Sheets
Getting in the mood for Christmas eve? Click here to go to our collection of "Twas the Night Before Christmas" by Clement Clarke Moore printable activity sheets! Whether you're reading, coloring, or solving, let the spirit of this popular Christmas poem ignite the festive flame in your heart.
Free Printable Letter To Santa Templates
We're spreading yuletide joy like Santa spreads gifts with our bundle of festive free printable letters to Santa! 🎅📜 Whether you're looking for a fill-in-the-blanks Santa letter template for the little ones or a beautifully designed "Dear Santa" letterhead to compose your own message, you'll find lots of festive Letter to Santa freebies here!
More Christmas Printables for Kids
Saying Goodbye to the Elf doesn't need to be a painful time. We hope these Elf goodbye letters have helped you make it easier for your children to let go and say farewell. Now Christmas is almost upon us, there is so much for them to be excited about! And then next year they can look forward to many great times with the Elf once more.
If you're looking for more fun free Christmas printables, you might also enjoy these other coloring pages and activity sheets:
×
This printable is for personal, non-commercial use only.