Free Printable Christmas Posters
Add some Christmas cheer to your home with our beautiful typographic Christmas posters. These high quality PDF downloads are simple to print and frame at home, and they add a lovely festive touch to any living room, nursery room, or hall.
On this page you'll find three free Christmas word-art posters for you to download and print out.
Reindeer Free Printable Poster
The eight reindeer of traditional lore are celebrated in this Christmas typographic artwork. The names of the reindeer originate in the 1823 poem by Clement C. Moore, "A Visit from St Nicholas", popularly known as "Twas the Night Before Christmas".
More rapid than eagles his coursers they came,
And he whistled, and shouted, and call'd them by name:
"Now, Dasher! Now, Dancer! Now, Prancer, and Vixen!
"On, Comet! On, Cupid! On, Donner and Blitzen!

Twas the Night Before Christmas Free Poster
This poster features an excerpt from Clement C Moore's 1823 Poem "A Visit from St Nicholas", popularly known as "Twas the Night Before Christmas".
A lovely print for a baby's nursery or child's bedroom, this piece captures the joyful anticipation and excitement of Christmas eve. Children will love you reading the poem to them all snuggled up before bed, and together sharing the magic of Christmas-tide.
Christmas Lyrics Free Printable Poster
"It's beginning to look a lot like Christmas..."
This free poster features lines from popular Christmas carols and is a delightful display piece for your home throughout the holiday season. Including lines from traditional and modern carols, one glance will have you humming your favourite tune.
Customizable Christmas Traditions Printable Poster
Want to customize your poster? Try out our Christmas Poster Generator .
Our easy to use online poster generator allows you to make a completely unique piece of artwork for your home or as a gift. There are beautiful festive color palettes to choose from and you get a high quality PDF download to print out.
Printing Your Poster
Is my printer good enough?
Most home inkjet printers these days are excellent quality, even the cheaper ones. The key to getting really good quality prints is to use the right paper...
What kind of paper should I use?
I recommend using matte photo paper. The vibrancy of the colors and crispness of text you get when using photo paper are leagues ahead of what you get using regular office paper. Ideally you should use the same brand of photo paper as your printer, or else stick to a well-known brand like Canon, HP, or Epson.
If you're giving an unframed print as a gift, then it's important for the paper to feel thick and high quality. It's worth getting the best quality matte paper that you can afford, like "Canon Luster Photo Paper" or "Canon Semi Gloss".
If you're giving a framed print as a gift, then the thickness of the paper is less important so long as the colors are vibrant. In that case a thinner photo paper like "Canon Matte Photo Paper" would be a good option - that's the paper I personally use most of the time.
Can I just print it at Kinkos instead?
Yes! That's a good option too, and many of our customer choose to do this.
Framing Your Poster
What type of frame
Personally I like "matted" frames, which are ones that have a white border around the poster. I think they look great, and they also make your gift feel bigger and more substantial. If you ever visit an high-end photography gallery you'll notice that this is the type of frame that they use, simply because they look fantastic.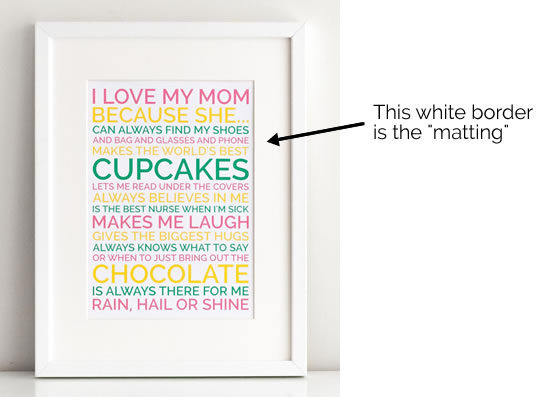 Where to buy a frame
In the USA, you can get a great-looking frame for about $14. I recommend
8 x 10" photo frames from Amazon
8 x 10" photo frame from Walmart
In the UK, the best place I've found to get frames is Hobbycraft. You can get a 30 x 40 cm frame (to hold an A4 poster) for about £10.