Subway Art Poster Personalized Christmas Gift
Looking for a personalized Christmas gift for your mom or dad? Why not make them a poster celebrating all of your family's special Christmas traditions. Here's an example of what your poster could look like.
I was blown away by how easy it was to make my poster! It would have taken me hours messing around on the computer to make it myself." Vicki, Missouri
You could also make a poster with lyrics from your favourite Christmas carols, or using words from your favourite Christmas poems or stories. The possibilities are endless!
Make My Poster Now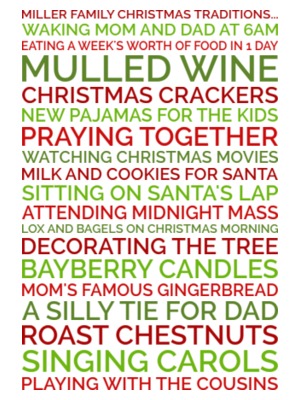 Please wait while generator loads...

Questions and Answers
I have no idea what to write in my poster. Can you help?
Sure - check out my poster examples for inspiration.
How do I print and frame my poster so that it looks as nice as in your photos?
It's actually pretty easy. See my specific printing and framing tips. Here's what a past customer had to say:
I hate it when things don't turn out as good as what they look like in the photo, but this actually turned out better than I expected and my husband loved it! Vicki, Missouri
Is my printer good enough?
Almost certainly. The trick is to use good quality paper. See my printing tips.
What if I buy it but then it looks bad when I print it?
I'll give you 100% of your money back immediately, no questions asked. Just email me.
What are the print size options?
8 × 10 inches is a popular size for photo prints, so it's a good choice if you want to print your poster at a photo print shop. Also it's usually easy to find 8 x 10" photo frames.
8.5 × 11 is a common printer paper size in the USA, so it's a good choice if you live in the USA and you want to print your poster at home.
A4 is 210 × 297 millimeters or 8.27 × 11.69 inches. It's a popular printer paper size in most countries other than the USA.
After you purchase you can download your poster in all 3 sizes for no extra cost.
Can I print a different size other than the ones you offer?
Sure! Take your downloaded file to a print shop and they'll be able to print it in whatever size you ask them to.
What if I give it to them but they don't like it?
I'll give you 100% of your money back immediately, no questions asked. Just email me. Seriously.
What's your guarantee or returns policy?
Our "love it" guarantee: If the recipient doesn't LOVE their poster, email me and I'll refund every penny immediately, no questions asked, no matter how long it was since you purchased.
Why should I pay for this when I could just make it myself?
If you've got the skills, go for it! Just don't underestimate how many hours it will take (hint: probably 2 hrs, and even then it might not look quite right). Just to give you an idea: when I created this poster-maker it took me 2 hours just to find the perfect font, and then about 1hr to create each of the color palettes. But then again maybe I'm just a perfectionist.
Example Poster Wordings
Not sure what to write on your poster? Here are some example wordings that you can adapt for your poster. Copy and paste one into the poster maker , then customize it as much or as little as you like.
Family traditions poster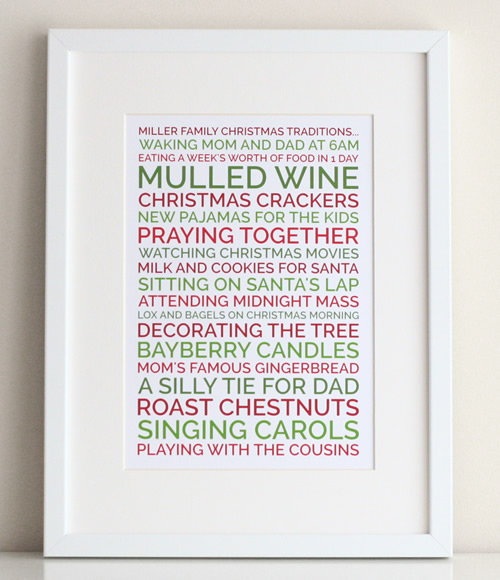 Miller family Christmas traditions...
Waking Mom and Dad at 6am
Eating a week's worth of food in 1 day
Mulled wine
Christmas crackers
New pajamas for the kids
Praying together
Watching Christmas movies
Milk and cookies for Santa
Sitting on Santa's lap
Attending midnight mass
Lox and bagels on Christmas morning
Decorating the tree
Bayberry candles
Mom's famous gingerbread
A silly tie for dad
Roast chestnuts
Singing carols
Playing with the cousins
'Twas the Night Before Christmas Poster
An excerpt from Clement C Moore's 1823 Poem "A Visit from St Nicholas", popularly known as "Twas the Night Before Christmas".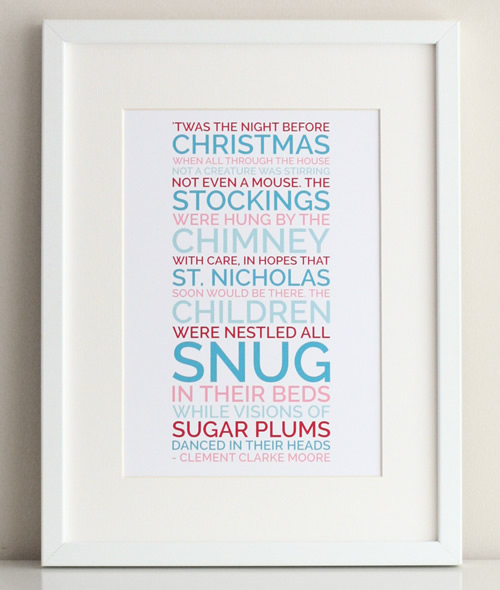 'Twas the night before
Christmas
when all through the house
Not a creature was stirring
Not even a mouse. The
Stockings
were hung by the
chimney
with care, In hopes that
St. Nicholas
soon would be there. The
Children
were nestled all
snug
in their beds
While visions of
sugar plums
danced in their heads
- Clement Clarke Moore
Christmas Carols Poster
Create a gorgeous typographic artwork with lines from popular Christmas carols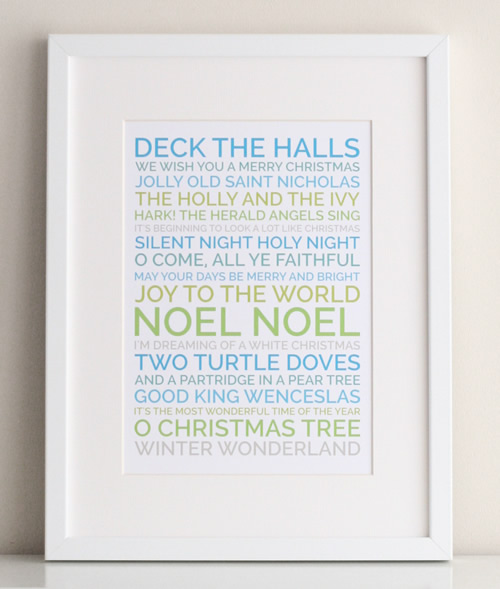 Deck the halls
We wish you a Merry Christmas
Jolly old Saint Nicholas
The holly and the ivy
Hark! The Herald Angels Sing
It's beginning to look a lot like Christmas
Silent Night Holy Night
O come, all ye faithful
May your days be merry and bright
Joy to the world
Noel Noel
I'm dreaming of a white Christmas
Two turtle doves
and a partridge in a pear tree
Good King Wenceslas
It's the most wonderful time of the year
O Christmas Tree
Winter Wonderland
Reindeer Names Poster
The eight reindeer of traditional lore. The names of the reindeer originate in the 1823 poem by Clement C. Moore, "A Visit from St Nicholas", popularly known as "Twas the Night Before Christmas".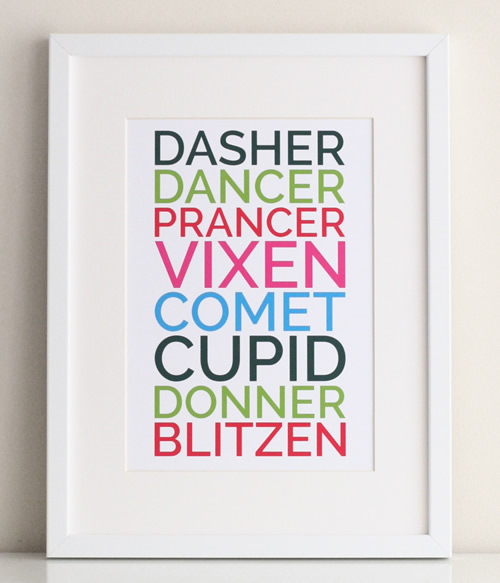 Dasher
Dancer
Prancer
Vixen
Comet
Cupid
Donner
Blitzen
Printing Your Poster
Is my printer good enough?
Most home inkjet printers these days are excellent quality, even the cheaper ones. The key to getting really good quality prints is to use the right paper...
What kind of paper should I use?
I recommend using matte photo paper. The vibrancy of the colors and crispness of text you get when using photo paper are leagues ahead of what you get using regular office paper. Ideally you should use the same brand of photo paper as your printer, or else stick to a well-known brand like Canon, HP, or Epson.
If you're giving an unframed print as a gift, then it's important for the paper to feel thick and high quality. It's worth getting the best quality matte paper that you can afford, like "Canon Luster Photo Paper" or "Canon Semi Gloss".
If you're giving a framed print as a gift, then the thickness of the paper is less important so long as the colors are vibrant. In that case a thinner photo paper like "Canon Matte Photo Paper" would be a good option - that's the paper I personally use most of the time.
Can I just print it at Kinkos instead?
Yes! That's a good option too, and many of our customer choose to do this.
Framing Your Poster
What type of frame
Personally I like "matted" frames, which are ones that have a white border around the poster. I think they look great, and they also make your gift feel bigger and more substantial. If you ever visit an high-end photography gallery you'll notice that this is the type of frame that they use, simply because they look fantastic.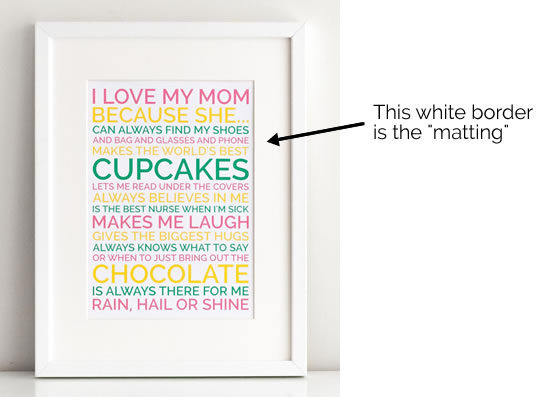 Where to buy a frame
In the USA, you can get a great-looking frame for about $14. I recommend
8 x 10" photo frames from Amazon
8 x 10" photo frame from Walmart
In the UK, the best place I've found to get frames is Hobbycraft. You can get a 30 x 40 cm frame (to hold an A4 poster) for about £10.
Posters for Other Occasions
Related Pages
Other personalised gift ideas: