110 "Happy Birthday Dad" Wishes, Quotes & Messages
Last updated: October 1, 2022
Say "Happy Birthday Dad" with our collection of birthday wishes, quotes, poems, and image quotes for your dad or father-in-law.
So it's time to celebrate your father's birthday, and somehow a simple "Happy Birthday Dad" doesn't feel like enough. After all, this is his special day, and your opportunity to wish him well with all your love and gratitude.
For many, fathers offer an indispensable guiding force throughout our lives. They cheer us up when we're blue and help us conquer our problems. Maybe your dad tucked you into bed and shooed away the bad dreams. Or, maybe he's always protected you and offered support through the aches and pains of growing up. Perhaps he's a comedian, full of dad jokes to brighten your tough days. And let's not forget the thoughtful and serious dads who are always ready with good advice and wisdom.
You know better than we do what makes your dad unique. So, on his birthday celebration, while you're preparing to indulge in all his favorite things, wish him well in a way that appreciates just how special he is.
Short & Simple Birthday Wishes for Dad
Let your dad know you're thinking about him on his special day with one of these simple birthday wishes for fathers. They're short and sweet "Happy Birthday Dad" messages and are perfect for a greeting card or SMS.
Happy Birthday to the World's Best Dad!
Dad, you're an oldie but goodie. Happy Birthday from one of your greatest hits!
I wish you the best birthday for the most wonderful dad!
Happy Birthday to the man who fought all the monsters under the bed and in the closet. Thank you for always making me feel safe!
It's not easy being a father, but you do it with class and style. Happy Birthday to the dad who can do it all.
All your life, you've worked towards making our wishes come true. Today, it's your turn to make some wishes. Happy Birthday, Dad!
Happy Birthday, Dad! You've given me so many great gifts in life, particularly these excellent genetics. Here's a little something I found for you.
It's your birthday, and I wish we could spend more time together. I look forward to the next chance I get to see you. Until then, keep on that smile of yours and enjoy your day!
With your elbow grease and worn-out boots, you never failed to put us first. Happy Birthday to the best father in the world! Step aside and let us do some of the work today.
Hey Dad, It's your birthday! Time to grab a beer, blow out some candles, and let your family shower you with gifts!
Dad, if you got a trophy for every one of your great accomplishments, you'd be out of space! I'm always proud to call you my father. Happy Birthday!
All my life, I've been lucky to have the best dad. Now, I count myself doubly lucky, since my child gets to have the best granddad. Happy Birthday, Dad, we love you!
Dear Dad, I hope you know how much you really mean to me. Thank you so much for everything. Happy Birthday!
Dad, you may be growing another year older, but remember that you are only as old as you feel. Today's your special day, so party it up like you're 21!
Happy Birthday Dad! May all your fish be big, your beers stay cold, and your sports teams have a winning season!
How old are you today? No way! You wear your years well! Someday, I hope to age half as well as you, Dad. Happy Birthday!
Heartfelt Birthday Wishes for Dad
Let your dad know just how much you love and appreciate him with one of these beautiful and heartfelt birthday wishes.
To my dearest Dad: You are my compass. Thanks for always showing me the right path and for guiding me in the right direction. Happy Birthday, I love you.
Dad, you mean the world to me. There's no one else on earth like you. You care so completely, give so quietly, and love so deeply. As the years pass, I realize more and more just how lucky I am to have a dad as wonderful as you. Happy Birthday.
Whenever I would fall, you were there to pick me up and put me back on the right path. Without you, I wouldn't be where I am today. Happy Birthday Dad, with all my love.
As trees grow older, their limbs and branches spread out in all directions. Just like a tree, every year you live means there are more and more people whose lives you've touched. I'm always proud to see your strong influence on the world around you. Thank you for being a wonderful father and a good man
Dear Dad, on your birthday, I want you to know that you are truly an inspiration, friend, and teacher to all of us. Thank you for giving the kind of love that makes all the difference.
Happiest Birthday Daddy! Thank you for everything that you have given me. You've always been there for me as a dad and best friend as well. There is no other bond like ours. I love you Dad!
Dear Dad, I always wanted to grow up to be just like you. And even now, years later, I still haven't changed my mind. Your strength and love are amazing to see, and I aspire to live up to your example with my own kids. Happy Birthday!
I miss the days when your strong shoulders seemed like the highest place on earth. But, Dad, no matter how much time passes or how old I become, you will always be my Superman! Happy Birthday.
Your belief in me and your love help me to feel stronger and braver every day. Thank you for the blessings you have given me throughout my life. Today, on your birthday, I hope you get the chance to be surrounded by those who love you. Happy Birthday Dad.
Dad, your light guides this family and holds us together. As you get older, I want you to know that I am there for you too, through thick and thin. On your special day, relax and forget your worries.
When people say, 'the apple doesn't fall far from the tree,' I tell them that's the best compliment I could ever get. Someday, I hope to grow as strong and wise as you. I hope your birthday is filled with happiness!
Birthday Wishes for Dad from Daughter
The relationship between a father and his daughter is precious and special. A birthday is a great time to thank your dad for all he does for you while letting him know just how much you love and care about him.
To the best taxi driver, the most effective spider hunter, the cheapest handyman, and the most generous bank I know. Happy Birthday Dad!
Dad, thank you for teaching me how to be a man, even though I'm your daughter. Happy Birthday!
Dad, we're both getting older, but I will always be your little girl. Happy Birthday!
Thanks for always treating me like a princess, Pops! Happy Birthday with many more to come! I love you.
Dad [noun].
1. The one who is there for you no matter what and who wants his little girl to grow up happy.
2. The one who conspires with you to hide broken stuff from Mom.
3. The one who gives great advice.
4. He protects you, calls you ridiculous nicknames, and makes you laugh.
5. The most amazing person in the world.
See also: Superman, Best Friend
As the author John Sinor once said, "It is admirable for a man to take his son fishing, but there is a special place in heaven for the father who takes his daughter shopping." Happy Birthday, Dad, and thanks for being that rare man for me!
Thanks for putting up with me through my terrible toddler years, my angst-filled teenage years, and all the dumb things I did in my twenties. The best gift I can give you is to live my best life, just as you taught me. Happy Birthday, Dad!
It doesn't matter how many years go by. In my mind, you'll always be that same amazing person who taught me how to ride a bike, helped me with my homework, and scared away the monsters in my room. Happy Birthday to a dad who's young at heart!
They say that from the instant he lays eyes on her, a father adores his daughter. Whoever she grows up to be, she is always to him that little girl in pigtails. Dad, today I want to return the favor. To me, you will always be young, strong, and wise. Happy Birthday, Daddy.
Birthday Wishes for Dad from Son
Let your dad know just how great you think he is with one of these birthday message ideas. From heartfelt to funny, they capture some of the magic of the relationship between a son and his dad.
Some people call their fathers superheroes. But superheroes tend to disappear, and you've always been there for me. If you ask me, my dad isn't a superhero, he is a Super Dad! Happy Birthday.
Dad, your birthday seems like the perfect time to thank you for all those times you didn't tell Mom... Just know you've got a lot of favors you can call in.
You always told me that I could do the impossible, if only I tried hard enough. That's why I can live the amazing life I do. You inspire me to be brave enough to achieve my goals. Happy Birthday Dad, and thank you for everything you do!
I'm looking forward to cooking out with you on your birthday. There's no one else I'd rather share a beer around the grill with than you. Happy Birthday Dad!
You always taught me to appreciate the outdoors, not knowing just how important this would become to me. Thanks, Dad, for being such an important part of my life. May we celebrate many more birthdays together!
Though I'm still little, I'm learning about all the love you've given me. Thank you for taking my hand and teaching me the things that I need to know. You're my hero and my guide. Happy Birthday Dad!
Another year older? You don't look a day over 30, Pops. I hope we can celebrate many more birthdays together!
Dear Dad, we haven't always seen eye-to-eye, but that's what makes our relationship even more special. Today for your birthday I wish you all the best!
Hey Dad, I got a present for you. I stole your To-Do list from Mom. All you need to do is rip it up. Just don't tell Mom, okay? Happy Birthday!
Thanks, Dad, for putting up with me through the hard times. If it wasn't for you, I wouldn't have made it through. You taught me what it means to be a man, a father, and a good person. I'll always be thankful for your example and advice. Happy Birthday.
Happy Birthday Wishes for Father In Law
Wish your dad-in-law a fabulous birthday with one of these sweet and simple Happy Birthday wishes for fathers-in-law.
I'm wishing the best birthday to the coolest dad-in-law! Today, take your time to relax and enjoy the rest of the day. Do what you love and have a great day!
Great guys deserve to have great birthdays. Hope today's the best.
If I had known how great a father-in-law you would be, I would have married your son earlier than I did. That would have given me more time with an extraordinary and amazing father-in-law like you. Happy Birthday!
A lot of things have changed over the years, but you're still the same amazing and compassionate person you've always been. I'm glad to have a father-in-law like you. I wish you all the best on your special day and may God bless you with more birthdays to come.
You're the best father-in-law I could hope for. Our children love having you as their grandpa. Have a wonderful birthday and many more!
Thank you for being a second father to me. It's comforting to know that I can always run to you whenever I'm in need. Happy Birthday Papa 2.0!
You've cared for me so much that people mistake you for my own father. Now that it's your big day, it's my turn to do the same for you. Have a wonderful birthday Daddy-in-law!
Thanks for being an awesome father-in-law. May God bless you more with good health, joy, love, and good fortune. Happy Birthday!
Today is a good day to express how grateful I am to have a wonderful Father-in-law who's much cooler than I am. You set a great example for me to measure up to. Happy Birthday Father-in-law!
Have an amazing birthday, from your son/daughter-in-law. I hope your day is as wonderful and special as you are!
It's no wonder my wife/husband turned out so awesome. With a father like you, how could s/he not? Cheers on your birthday!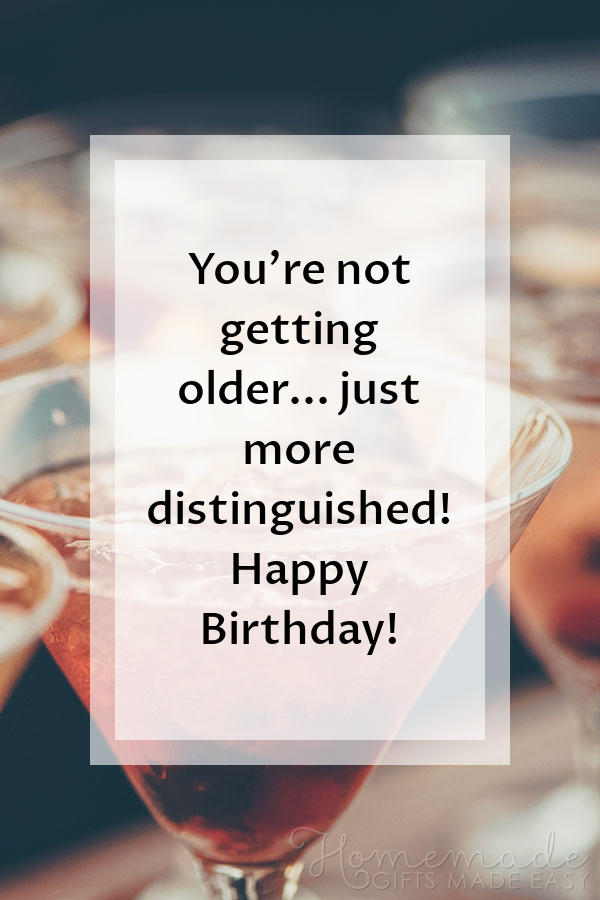 Funny Birthday Wishes for Dad
Give your father a good laugh on his birthday with a funny happy birthday card message! These wishes poke fun at the father-child relationship and celebrate the joys and trials of raising children.
Dad, I don't think a lighter will do the job this birthday. You need a flamethrower to light all these candles. Happy Birthday, Old Man!
You're like scotch, always getting better with age. Wait, no, I didn't get you aged scotch. It was just a metaphor. Well, anyway, Happy Birthday!
You know what they say: Real heroes don't wear capes, they make bad puns. Thank you for being a real hero, Dad. Happy Birthday!
Dad, you've always been the coolest. Like all those times you said "yes" when mom said "no." Happy Birthday, Cool Dad!
Fact: Dads are notoriously difficult to buy gifts for. Instead, just enjoy this card I made for you, and feel the joy of having me as your child. Happy Birthday Dad!
Wear your gray hairs proudly, Dad. They are memories of how terrible I was as a child, and you earned them! Happy Birthday.
Don't worry dad, you're not going bald, you're just becoming more aerodynamic! Happy Birthday!
I remember all the sage advice you've given me throughout the years. Like the fact that we can pick our friends and we can pick our nose. But we can't pick our dad or his nose. Happy Birthday Dad, never change!
Happy Birthday Dad! If you want, I'll make a distraction so you can sneak off and get some gaming in. Cheers!
Dad, I know you have the heart of a child. But stop trying to steal a bite of the cake before we sing Happy Birthday.
You always say that 'back in your day' everything was so much better. Unfortunately, we couldn't get you a time machine for your birthday. Hopefully we can make your birthday at least half as enjoyable as your younger days!
It takes an amazing dad to raise such a ridiculously great kid. Happy Birthday Dad, I couldn't have grown up to be so humble without you!
Thank you for all the piggyback rides, all the times you pretended to be a horse, and all the times you threw me into the air and caught me. Your body might be regretting it now, but it made for a wonderful childhood. Happy Birthday Dad!
Happy Birthday to the raddest, most tubular, least square, ummm hippest... Hey Dad, are any of these from your generation? Happy Birthday Dad. Great fathers are timeless!
You're not getting older... just more distinguished! Happy Birthday!
Better "over the hill" than under it. Happy Birthday!
Birthdays are good for you. The more you have, the longer you live. Happy Birthday!
Don't count your candles. Just enjoy the glow. Happy Birthday Dad!
Long Distance Birthday Wishes for Dad
As much as you might wish to be there for your dad's birthday, sometimes things get in the way. The right "happy birthday dad!" card and message can help to bridge the distance.
Wish I could be there to hang out with you on your birthday. But, on the bright side, you finally get some peace and quiet! Miss you and love you, Dad.
Distance is the one enemy I've never learned from you how to conquer. Happy Birthday Dad, you're only getting better with age.
If I knew how to teleport, I'd be at your side right now wishing you a happy birthday. Whenever you have a quiet moment today, know that I'm thinking of you.
Dad, even though I'm far away now, I'm always thinking of you. It's impossible to express in one card the incredible influence you've had on my life. Thanks for being my rock and support. Hoping you have a very special day!
Another year older and your wit never gets old. I don't have to see you in person to appreciate your fun sense of humor. Cheers on your birthday, Dad! Miss you.
Distance can prevent me from seeing you on your birthday, but it can't stop me from celebrating! Let's stay connected today, whether it's with a fun video call or a phone call. Happy Birthday, Dad! Have a wonderful day and we'll speak soon.
Papa, just because I'm not there to eat cake with you right now doesn't mean I'm not here for you. You've always been there to guide me throughout the years. Have an amazing celebration today! I can't wait to see you again.
I know that you're off doing all sorts of brilliant things. Maybe it's selfish, but I still wish you were home to celebrate your birthday with us. It's going to be a party when you come home!
We may be miles apart, but we're always connected. Dad, you've always been one of the most important people in my life! Have an incredible day!
Happy Birthday Dad Wishes for a Difficult Relationship
Many people have complicated relationships with their father. Reaching out on your father's birthday can be a step toward patching up a difficult relationship. A kind message can let him know that you're thinking of him despite the tough times.
We may have not seen each other in a while, Dad, and even though we've grown apart, I'll never forget where I came from. I hope you have a wonderful birthday surrounded by friends and loved ones.
Dad, even though we've never been close before, I'm very glad that we're making the effort to get to know each other. Have some extra cake and ice cream for me!
I know that a lot has come between us, but I'm still hoping you have the best birthday. Maybe someday we can get together and catch up on things. Until then, Happy Birthday, Dad!
Our relationship is complicated, but that's nothing new. I do love you, and I'm thinking of you as you celebrate another year. Hope you are well!
Let's be honest, Dad, we've had a difficult relationship up until now. Today I want to set that aside. I won't forget all that we've been through, but I'd like to start anew and build a fresh relationship moving forward. Happy Birthday, wishing you the best.
Dear Dad, even though we haven't talked in a while, I'm still hoping that you have a wonderful birthday filled with happiness and love.
It's days like today that make me regret how we no longer speak. I still think of you often. Hope you enjoy your birthday.
Dear Dad, I know that we don't know each other that well. This year, I am hoping that we can change that. Maybe this year we can find a way to connect.
Birthday Poems for Dad
These funny, sweet, and sentimental poems make great additions to a greeting card message for your dad. Use them to express gratitude and appreciation for all your dad does.
Dad, your days are full of loving deeds,
As you satisfy your family's needs,
Today, tomorrow, and my whole life through,
I'll always love and cherish you.
Daddy, I love you more than the stars in the sky
More than the fish in the sea,
More than the trees in the forest.
Daddy, you mean the world to me.
Beer and brawn,
Always mowing the lawn,
Dad you can never do any wrong!
I hope you have a wonderful birthday today.
Your footsteps plot my favorite trail,
Without you, life would be dull and pale,
With your guidance, I'm not afraid to fail,
You make life awesome, like a fairy tale.
Happy Birthday Dad!
On your birthday today,
We have memories to make.
Because every other day
You live for others' sake.
May your birthday be bright
From all these candles we light.
Happy Birthday, my dear Dad!
Quotations about Fathers
These beautiful and inspirational quotations about fathers capture how special dads truly are! Use them as part of a greeting card message to say Happy Birthday Dad or as part of a post on social media.
When you're young, you think your dad is Superman. Then you grow up, and you realize he's just a regular guy who wears a cape.
~ Unknown
You could add: Stay weird, Dad. Happy Birthday!
Dad. He can play like a kid, give advice like a friend, and protect like a bodyguard.
~ Unknown
A father is neither an anchor to hold us back, nor a sail to take us there, but a guiding light whose love shows us the way.
~ Unknown
Any man can be a father, but it takes someone special to be a dad.
~ Anne Geddes
A good father is one of the most unsung, unpraised, unnoticed, and yet one of the most valuable assets in our society.
~ Billy Graham
There's no shame in fear, my father told me, what matters is how we face it.
~ George R. R. Martin
You could add: Thanks for always encouraging me to be braver and stronger. Happy Birthday, Dad.
He adopted a role called being a father so that his child would have something mythical and infinitely important: a protector.
~ Tom Wolfe
I believe that what we become depends on what our fathers teach us at odd moments, when they aren't trying to teach us. We are formed by the little scraps of wisdom.
~ Umberto Eco
You could add: Happy Birthday to the wisest person I know.
The quality of a father can be seen in the goals, dreams and aspirations he sets not only for himself, but for his family.
~ Reed Markham
Dads are most ordinary men, turned by love into heroes, adventurers, storytellers, and singers of song.
~ Pam Brown
My dad is my best friend, my father, and my boss. When I do something that is exciting and he likes it, it feels three times as good as you can imagine.
~ David Lauren
I love my father as the stars - he's a bright shining example and a happy twinkling in my heart.
~ Terri Guillemets
My father gave me the greatest gift anyone could give another person, he believed in me.
~ Jim Valvano
How pleasant it is for a father to sit at his child's board. It is like an aged man reclining under the shadow of an oak which he has planted.
~ Voltaire
You could add: Dad, you've helped me grow. Now, it's your turn to grab some shade and relax on your birthday!
Every father should remember one day his son will follow his example, not his advice.
~ Charles Kettering
More Ways To Say Happy Birthday Dad
Still looking for the perfect way to say Happy Birthday Dad? Maybe you want a message for a particular birthday year, or an extra funny message?
Free Printable Birthday Cards
Take a look at our fun collection of free printable birthday cards and find something great for your Dad! There are also some color-in printable cards, perfect for kids who want to create a unique birthday card for family and friends.