Moist Carrot Cake Recipe

People always ask for my moist carrot cake recipe - it is one of those reliable recipes that never fails and really tastes great!
I can wholly recommend this moist carrot cake recipe as a delicious homemade gift idea for friends and family - my Mom loves it!
The mix can also be used for making carrot cake cupcakes or muffins , perfect for when you next drop into a friend's house for a cup of tea...they are sure to be appreciated!
I really think this is a world best carrot cake recipe - I love baking it, and I hope you do too :-)
Moist Carrot Cake Recipe
Ingredients:
I find it easiest to prepare the ingredients in three separate bowls first.
Bowl 1:
2 eggs
1 cup caster sugar
3/4 cup canola oil
Bowl 2:
1 1/3 cups plain flour (white or wholemeal, or a mix of both, unsifted)
pinch of salt
1 tsp baking soda (bicarbonate of soda)
1 tbsp ground cinnamon
Bowl 3:
2 carrots, grated (to make 1 1/2 - 2 cups)
1/2 cup chopped walnuts
1/2 cup raisins
2 tsp finely chopped orange peel
Method:
1. Preheat the oven to 180°C/350°F. Grease and flour an 8 or 10 inch round cake tin.
2. Beat (or hand whisk) the ingredients in bowl 1 together until creamy (2-3 minutes).
3. Mix the dry ingredients in bowl 2 together, and add these to bowl 1. Beat the mixture until well combined (for 1 minute or so).
4. Add the ingredients in bowl 3 to the mix, and stir to combine.
5. Transfer this mixture to your cake tin and bake for 40-50 minutes.
6. While the cake is baking, prepare your icing mixture (below).
7. The cake is ready when an inserted skewer comes out clean, and when the cake springs back when lightly touched on its center.
8. Cool cake on a rack. Once cooled, spread cream cheese icing over cake, and decorate with walnuts, ground cinnamon or grated orange (or all three!).


Cream Cheese Icing
Ingredients:
125g cream cheese
30g butter
100g icing sugar (roughly 1 cup)
2-3 tsp lemon juice OR a few drops of vanilla extract (to taste)
Method:
1. Allow your ingredients to warm to room temperature.
2. Roughly cut up butter and cream cheese into chunks and add to a mixing bowl. Beat together until well combined and smooth.
3. Sift icing sugar over the cream cheese/butter in stages, mixing well to combine after each addition to get a lump-free, smooth icing.
4. Once all the icing sugar has been well combined, stir through lemon juice or vanilla extract to taste.
5. This icing can be stored in the fridge until the cake is ready to decorate. Remove from the fridge 5 minutes or so before icing the cake to allow for easy spreading.
And here is the end result....delicious!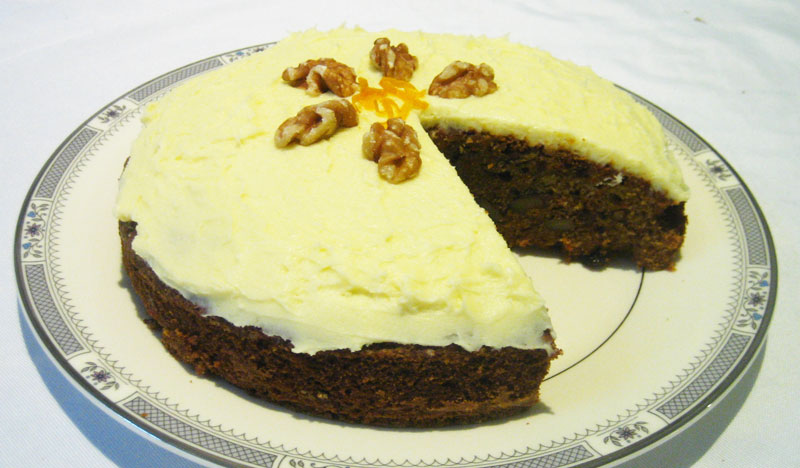 What's Next
Here are some more gift ideas you might enjoy...