Free Printable Mothers Day Coupons
Download these free printable mothers day coupons to make a sweet homemade gift for your mom! I'll also show you how to make the coupons into a cute "matchbook" style booklet that your mom can keep in her purse.
You can download the coupons in a couple of different versions. Some of them have messages already on them, and some are blank in case you want to write your own messages by hand. Also, some of them have a vintage parchment-look background, while others have a plain white background.
For the coupons that come with messages, the messages are:
Breakfast in Bed
One Big HUG
Coffee & Cake
Help with Gardening
Help with Laundry
Free Car Wash
Vacuum the House
Movie Night
Night off Cooking
One Big HUG... again :-)
Want to write your own messages on the coupons using your computer? Get yourself a copy of the free Foxit PDF reader, which lets you annotate pdf files. Then you can use the Foxit "comment tool" to write your own messages on the blank coupons.
Mothers Day Coupons to Download
The coupons are in pdf format for easy printing. Here's an example of what the page of coupons looks like:
Choose the style of mothers day coupon you want - just click to download:
Pre-filled Coupons on "parchment" background
Blank Coupons on "parchment" background
Pre-filled Coupons on white background
Blank Coupons on white background
NEW

Personalizable Mothers Day Coupons

Want to write your own messages on the coupons using your computer?

Try our personalizable Mothers Day Coupons
Type your messages
Printable cover
New larger size
Choose from two beautiful cover designs:
Make beautiful coupons... just type and print:
How to Make a Booklet of Mothers Day Coupons
Materials
First up, gather your materials. You'll need:
coupons printed out (see above)
colored card or thick paper
scissors
stapler
glue stick
Step 1: Prepare the card
Print and cut out the coupons.
Cut out a strip of cardstock. You want it to be a little bit wider than a coupon, and a little bit longer than twice as long. The piece I've used here is 15.5 × 4.5 cm (about 6" × 1¾").
Lay your coupons on top of the strip of card like this:
Step 2: Fold & Staple
Fold over the left edge of the card over the coupons and staple in place, like this.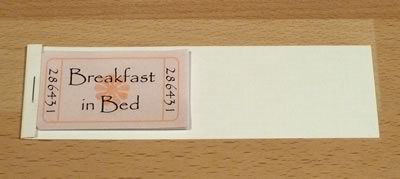 If you have trouble getting the staple to go all the way through the coupons and card, then you can sew them in place with a needle and thread instead. Poke a holes through each coupon individually first, then tie with needle and thread.
Step 3: Fold
Fold the right half of the card over to the left, and tuck it in under the little flap. Now your coupon book closes like a matchbook.
Step 4: Decorate!
Now you can decorate your coupon booklet however you like. I used a some different colored papers, a bit of ribbon, and a Mum sticker I found lying around in my craft box. If you're American, you probably think I spelled "Mum" wrong, but that's just how we spell it in England or Australia :-)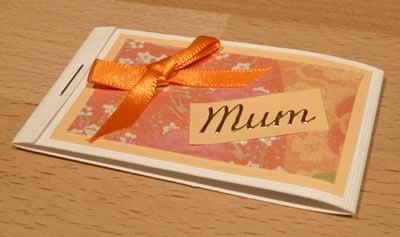 How did your mothers day coupons turn out? I hope you found my instructions and printables helpful! If you have any questions or comments, or just want to say hi, then please contact us with this handy form.
You might also like...
Looking for other DIY mothers day gifts and crafts? Check out these other projects:
And if you liked this project, you might want to check out our free printable love coupons page, perfect for when you're looking for an easy romantic gift idea.
Happy Gifting!