Romantic Coupons
Download... Personalize... Print!
Set your partner's heart on fire with personalized romantic coupons. Just download, edit, and print!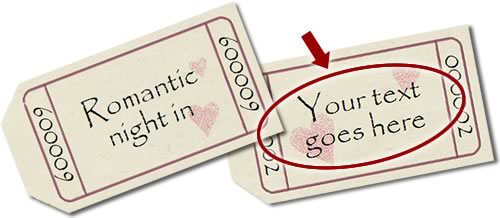 Edit coupon text and numbers
Imagine all the fun things you could write on these coupons! Sexy or chaste, naughty or nice, it's up to you, because you can customize the text however you like. You can even edit the ticket numbers to be the date of your anniversary or their birthday.
Print a cover for your coupon booklet
The coupons also come with a choice of vintage-style covers. You simply cut out your coupons and cover, and then staple them together into a booklet. One cover features two doves on a postage stamp, and the other is a word-art heart. Both are included in the download
Alternative cover design
How it works
Purchase and download the romantic coupon template and cover (pdf format)

Personalize your coupon messages

Print from your home printer

Staple into an attractive booklet
...then watch your partner's face light up when you give it to them :-)

Love Coupon & Cover Template: $4.70
Romantic coupon message ideas
The best thing about being able to personalize your coupons is that you can make a set that are perfect for your boyfriend or husband (or girlfriend or wife), and write coupons that you know he'll love to "cash-in". Maybe he's into the classic romantic "breakfast in bed" or "candlelit dinner", or maybe you're looking to personalize coupons to include his favorite places and hobbies, or perhaps you're looking to offer something a little more daring. Here are some ideas to get you started...
Turn up the heat
Looking for some properly sizzling, salacious and x-rated love coupon ideas?
Then take a peek at the erotic coupon ideas on yahoo answers and take your pick of racy coupon messages.
Watch sunset at (insert favorite location)
Moon-lit walk
Dinner at (insert favorite restaurant)
Foot massage
One free compliment
Bubbly bath for two
Evening of being treated like royalty
Romantic night in
Movie of your choice
Champagne in bed
Fully body massage
I'll wash your car... in a bikini
3 kisses... at location of your choice
Slave for a day
5 minute passionate kiss
Chocolate body paint session
Skinny dip
Let's play doctors and nurses
Kama Sutra random page
Make Your Romantic Coupons
Fully personalizable text
Change the ticket number to be the date of your anniversary, or make the message text smaller to fit in an extra-detailed description of a steamy activity. Text size, font and colour are editable, both for the message and the ticket number, so you can get them to look just like you want.
Prints beautifully
Our romantic coupons come in high quality PDF format, so they'll look even better printed out than they do on your screen. They have parchment-style paper background for a vintage chic look and feel.
Unlimited printouts
You can print as many copies of your coupons as you like. You can even save your changes to it so that you can print more of your boyfriend's favorite coupons when he's redeemed them all!
Inexpensive
For less than the price of a bunch of flowers or a bottle of wine you can make your husband or boyfriend's day (or more likely his month!) with a gift he'll never forget.
Try the sample below
Click here to download sample coupons
(Works best when opened with the free Adobe Reader)

Love Coupon & Cover Template: $4.70
Each coupon is 2.7" x 1.4". If you'd like to print them larger or smaller you can use the "custom scale" option in Adobe Reader (e.g. set the scale to 150% if you want really big coupons).
You can also download samples of the dove cover and heart cover.
Instructions for using Romantic Coupons template
Upon purchase, the romantic coupons template will be immediately emailed to you in high quality pdf format. To use it, you will need the free program Adobe Reader, which is already installed on most computers. Then...
Download the coupon template and open it in Adobe Reader.


Personalize any of the coupon text by clicking on it and typing. You can even change the ticket number. To change the font, select any portion of text and press the keys CTRL + E at the same time. This will bring up a menu that lets you change font, size, color, and style.


Print your coupon by choosing "Print" from the File menu in Adobe Reader.
Voila, perfect coupons, and very soon an excited boyfriend!
Assembly Instructions
In addition to the printable coupons you will also recieve two different cover designs that you can print out and use to assemble a matchbook-style booklet for your romantic coupons.
Once you've chosen which matchbook design you'd like to use, it is very simple to assemble your coupon booklet.
Step 1: Print and Cut Out
Print out the coupon sheet and cut out each individual coupon. I like to use a cutting board, ruler and sharp blade, but scissors are just fine too!
Print out the matchbook cover onto heavy-weight paper or card if you have it, and be sure to print it out double-sided. Cut out around the border of the matchbook cover.
If your printer doesn't print double-sided automatically, select to print page 1 and then turn over the printed sheet and print side 2 on the other side.
Step 2: Fold and Staple
You'll notice a faint dashed line at the far end of the matchbook cover, furthest from the cover picture. Crease along this line, and fold the shorter bit underneath the cover.

Turn the cover over and place your coupons under the little flap. Staple to secure the coupons in place.
Now take the other end of the cover and tuck it in under the flap too, pressing down to flatten it in place.
Voila! Finished coupon booklets
And here are some pictures of the finished designs.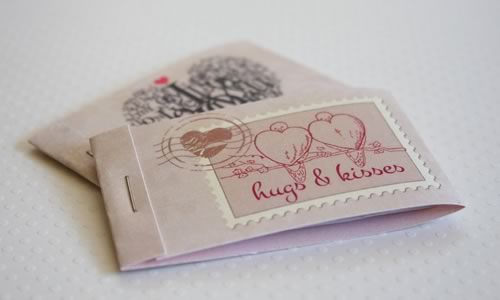 Feedback & Questions
I hope you and your other half enjoy these romantic coupons! If you have any questions, please don't hestitate to contact me.