Free Printable April 2024 Calendar
Free April calendars to help you organize and plan your commitments for the fourth month of the year. Spring is a time of new growth and renewed energy, and a perfect time of year to dust off any cobwebs and start new projects around your home and at work. Our printable April calendar will help you to plan and focus on projects which have gathered dust over the cooler months.
Our free calendar templates are here to help you keep track of all your appointments, deadlines, birthdays, projects and more! Countdown to that special event, or keep track of the whole family's commitments by filling out one of these calendars and putting it on your fridge. Whether you want a dedicated calendar to keep track of a project at work, or you're a home-schooling mom who wants to schedule events and activities, these printable calendars are for you!
Our calendars are formatted to print on US letter-size (8.5" x 11" paper). Each calendar on this page starts the week on a Sunday, and several include the major holidays and observances. When you find a calendar template you like, simply click on the image or download button underneath to download your free calendar template.
These printables are for personal, non-commercial use only.
Blank April Calendar Template
This simple black and white April calendar template is perfect for organizing projects around the home or at work.
Spring Flowers April Calendar Printable
Beautiful watercolor flowers adorn the top of this April calendar template in celebration of Spring.
April Calendar Template - Roses
Download this gorgeous floral April 2024 calendar featuring beautiful watercolor roses. Because we need a little bit of beauty every day!
April 2024 Calendar - Tropical Hibiscus
Download our tropical-themed April calendar featuring a vibrant red hibiscus border. Dream of tropical beaches and beautiful places as you plan out your month!
Printable April Calendar - Eucalyptus
This gorgeous April calendar trimmed with beautiful eucalyptus leaves and delicate flower buds is free for you to print at home.
April Holidays & Observances
April is the fourth month of the calendar year and marks the beginning of Q2. It falls in the middle of Spring in the Northern Hemisphere and is a time of new beginnings.
Easter Monday
Easter Monday is the day after Easter Sunday. It is not a federal holiday, but in some states and districts public schools and Universities are closed on Easter Monday as part of the spring break holidays.
Tax Day
Tax day is the day when individual tax returns are due to be filed with the Internal Revenue Services. It usually falls on April 15 but will be delayed until shortly after if that date falls on a weekend or public holiday.
Free Printable May Calendars
Looking to plan ahead for next month? Click here to go to our free printable May calendars.
Free Printable Weekly Calendar Templates
Feeling overwhelmed by everything you have to get done this week? Don't panic! Take a look at our fabulous free printable weekly calendar templates. Whether you're a list-maker, a time-tracker, or just someone who loves to stay organized, we've got a design that will help keep your week on track!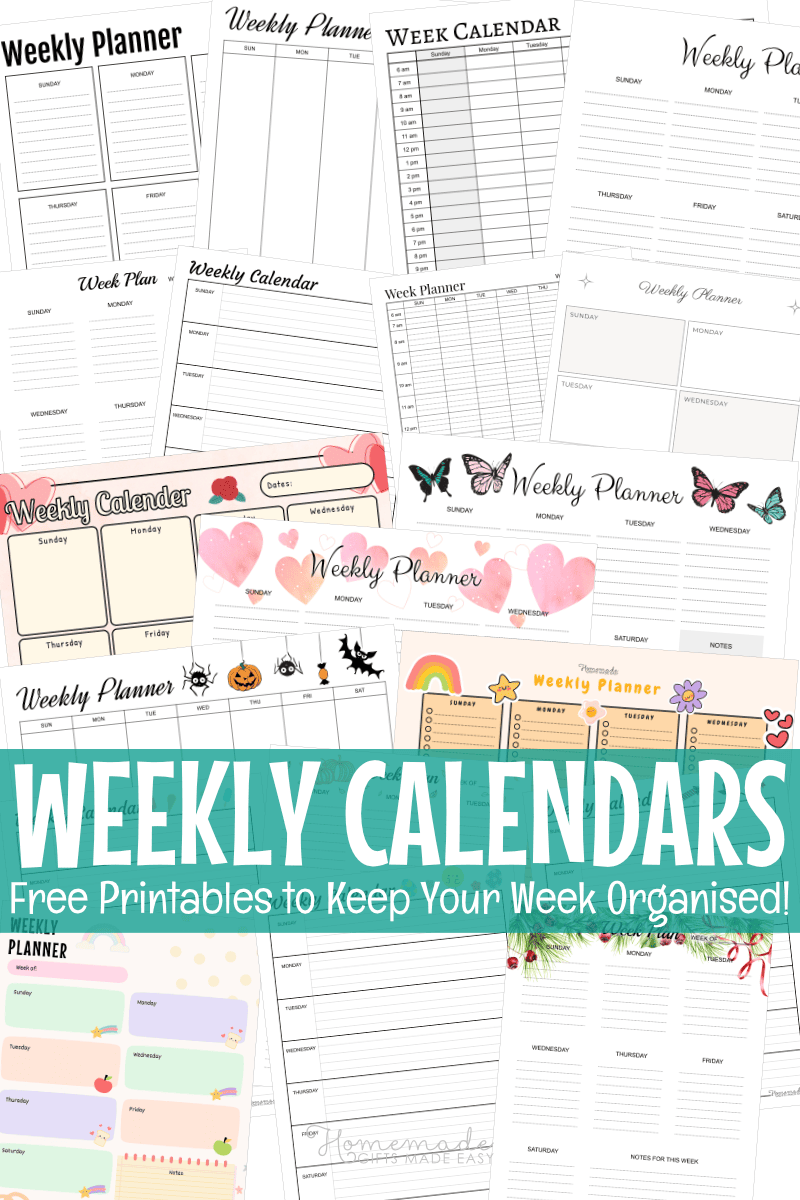 Year Calendars
Monthly printable calendars are great, but if you're craving a bigger picture, our year calendars are just what you need! Head on over to our special Printable Year Calendars page and get a bird's-eye view of your entire year. Say goodbye to missing important dates and hello to a year filled with organization and success!
More Free April Printables
We hope you found our free printable April calendars useful! If you're looking for more free printable resources, take a look at some of our Spring printables.
Flower Coloring Sheets
Earth Day Coloring Pages
Spring Coloring Pages
Spring Word Search
×
This printable is for personal, non-commercial use only.