Easy to Make Christmas Decorations

Of all the easy to make Christmas decorations, I love making clove oranges the best. They are so simple to make, and their spicy aroma will make your whole house smell of Christmas!
Take a look at my step-by-step photo instructions, and learn to make this lovely decoration in minutes...
And don't forget to check out the links to many more simple Christmas ornament instructions at the bottom of the page.
How to Make Clove Oranges
Gather your materials...
To make a clove orange decoration you'll need:
an orange
thin coloured ribbon (enough to wrap around your orange twice and a bit more)
cloves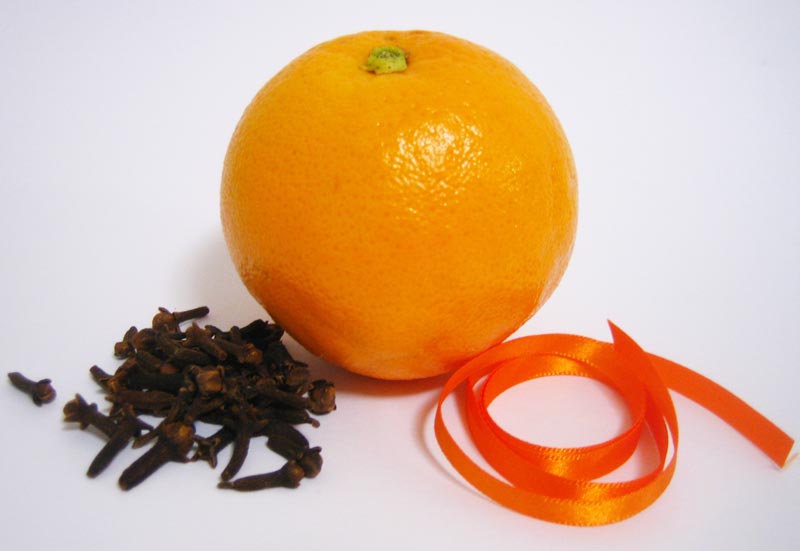 Clove Orange Instructions
Below I'll show you how to decorate an orange so that you can hang it up around the house using a ribbon.
Alternatively , decorate several oranges (or clementines, mandarins, etc) with cloves and display them in bowls around the house. This will add a beautiful aroma to your rooms at Christmas time, and looks great too!
Step 1.
Wrap the ribbon around the orange, twisting at the base, to divide the orange into quarters.
Step 2.
Feed the ends under the piece of ribbon at the top of the orange.
Step 3.
Tie a simple overhand knot to secure the ribbon in place.
Step 4, 5 & 6.
Now start pressing cloves into your orange. I like to outline the ribbon with cloves first, and then fill in the gaps.
You can also make pretty patterns on your orange with cloves. Try making stars, hearts and more!
Once you are finished, hang the clove orange on your tree by tying it on with the extra ribbon, and enjoy the spicy Christmas aroma!
More Christmas Decorations to Make...
Are you looking for more easy to make Christmas decorations? Click the link below to see our other DIY Christmas ornament instructions:

...or here are some other Christmas pages you might be interested in.