Free Gift Box Templates
To Download, Print, & Make
Make your own gift box in 5 minutes with one of my free gift box templates. Heart-shaped, cube-shaped, bag-shaped, and more.
Free Gift Box Templates - Blank
Make a box using your own craft paper and card stock. Print one of these templates onto the blank side.
Click the box you want to make for further instructions and free template:
Free Gift Box Template - Heart Box
This heart container looks really sweet and is great for Valentine's Day, anniversaries, or other romantic occasions. Imagine filling it with Hershey Kisses and an "I ♥ You" note and giving it to your boyfriend / girlfriend. I bet they'd love it, and be really touched! (Hint to my other half, if he's reading this ;-)
This design is seriously easy to make. In fact, you don't even need any glue! It just slots together and holds in place by itself.
Materials
All you need is
A printer
Cardstock or paper
Scissors
This design turns out best when you make it from card stock. Paper works okay too, but it's a little bit floppy. If card stock doesn't fit in your printer, then you can print the template onto paper, and then trace it onto some card stock.
Download
Download my heart box template .
Open the file and print it onto your nice paper.
If your paper is colored on one side only, then make sure you print onto the blank side .
Free Box Template Instructions
I'm sure you'll probably figure out the assembly just from looking at the template, but here are some pointers just in case.
Step 1
Cut along all the solid lines, then score along the dashed lines using a butter-knife and ruler. Scoring helps the paper fold more easily in the next steps.
Step 2
Fold up the sides of the box to make it into this shape:
Step 3
Slot the two heart-halves together like this: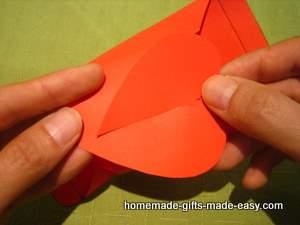 Step 4
Fold in the top and bottom flaps to close: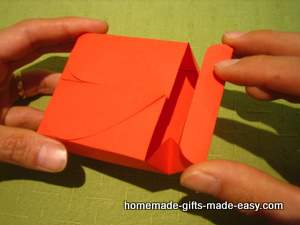 Finished!
Congratulations on finishing your box!
Looking for more free Gift Box Templates?
Click the box you want to make for further instructions and free template: