Homemade Advent Calendar Pattern

I love counting down the days to Christmas, and making my own homemade Advent calendar is part of the fun.
Use this origami homemade Advent calendar pattern to make your own calendar this year, or make one for a family member or friend.
Materials
24 small squares of patterned paper. Here I am using 3x3" (7.5x7.5cm) squares. Use up your spare papers left over from scrapbooking, or old wrapping papers, newspaper, magazine paper etc.
1 piece of card-stock. Here I am using a 12" (30cm) square piece of scrapbooking cardstock, but you can also use any type of cardboard. If you only have scrap cardboard (like off a cereal box or something), paint it a nice colour, or cover it with a piece of wrapping paper.
Paper Glue or double-sided tape.
Ribbons, Pens etc to decorate.
Optional: Adhesive magnets, or string.
Homemade Advent Calendar Pattern Instructions
Take one small square of patterned paper.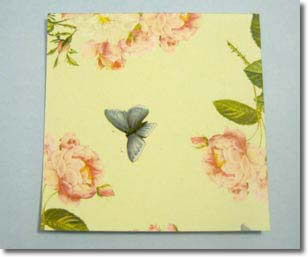 Turn over the piece of paper, so that the pattern faces downwards.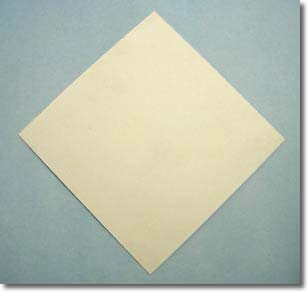 Fold the square in half, so that the bottom corner now touches the top corner.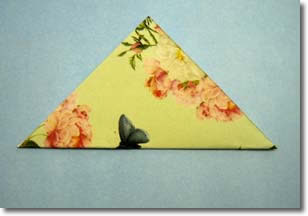 Now, fold the top corner down to meet the bottom edge, and make a crease. Unfold this flap.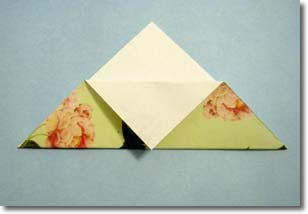 Fold the bottom right corner up to the crease made in the previous step. Line up the edge of the paper along the crease.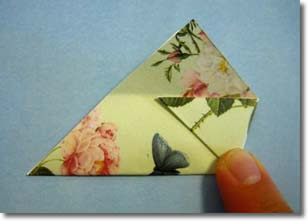 Repeat this fold for the left hand corner.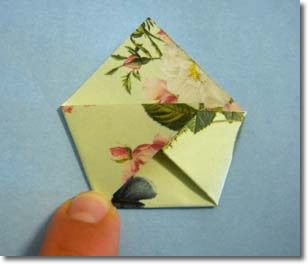 Secure these two flaps in place using glue or double-sided tape.
Remember to write a number on each pocket so that you can count down the days until Christmas.
Here I have cut out small flowers using a stamp and glued them onto the top section of each pocket.
You can write directly onto your pocket, or use numbered stickers. Whatever you like!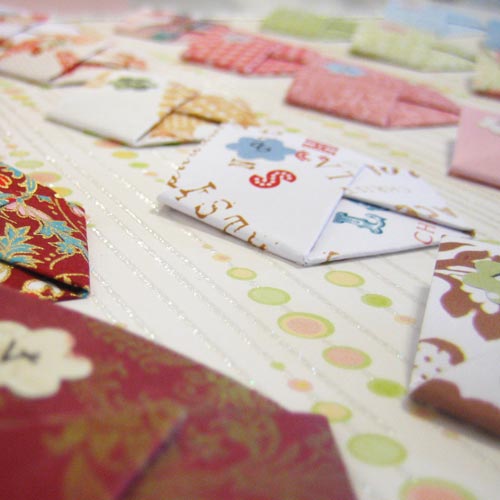 Now attach each pocket to the card base, add a decorative ribbon border, and make sure to fill each pocket with nice treats!
You can stick adhesive magnetic strips on the back to stick your calendar on the fridge. Or, punch holes in the top two corners, and hang up with string.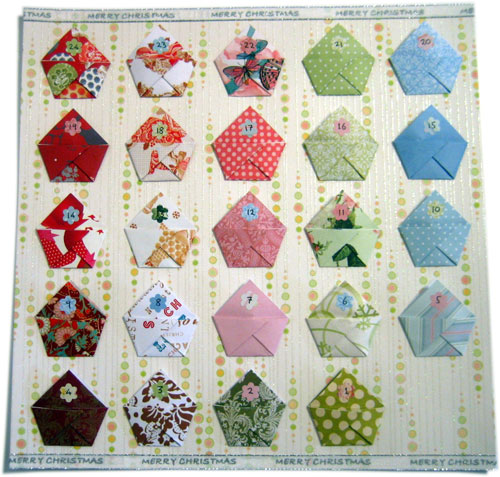 As each day passes, fold down the flap on that pocket.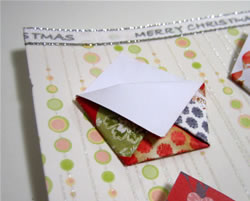 You can also add small messages on the inside of the flaps if you have special events planned throughout Advent (eg. Put up Christmas tree, Visit Christmas Lights Display...).
Especially if they are surprise excursions for the recipient of your advent calendar :-)
You might also like...
I hope you enjoyed making this homemade Advent calendar! Here are some other projects I think you might like...