How to Make Pom Poms Five Times Faster!
Sick of the cardboard circle method? I'll show you how to make pom poms much much faster!
Hat with pom pom (made using method on this page) by reader Judy Staicer
- thanks for sharing your photo Judy!
When I was about 10 years old we learned how to make pom poms at school using the traditional "cardboard circle" method . It was kind of fun, but it took forever , especially if you wanted to make a big pom pom. I wouldn't be surprised if this way of making pom poms was invented by teachers specifically to keep children occupied for an hour. It's just sooo slow!
Thankfully, as an adult, I realized there's an faster way. And I don't mean just buying cheap pom poms ready-made :-)
I'll show you how to make pom poms about five times faster than the old way. You see, the time-consuming aspect of the traditional way is poking the yarn through the center of the circle over and over. So, if you want to make pom poms faster, you need to speed up that step or avoid it.
You can actually buy plastic pom pom makers that are designed with this in mind. They come in two semi-circle halves that you snap together. The idea is that you simply wind the yarn around each half, then join the halves to make a circle. No poking yarn through a hole!
These commercial pom pom makers work great, and really do let you make pom poms about five times as fast. You can buy one if you like, but you can just as easily construct a pom pom maker that works just as well using bits from around your house. Read on and I'll show you how.
Free Pom Pom Maker Templates - Free Download
The trick to making pom poms quickly and easily is to use the right kind of pom pom maker. Download your pom pom maker template by clicking on one of the links below (they are in pdf format):
Large: 3½" diameter pom pom maker template (9 cm)
Medium: 2½" diameter pom pom maker template (6 cm)
Small: 1¾" and 1⅜" diameter pom pom maker templates (4.5 and 3.5 cm)
Materials to Make Pom Poms
You will need:


A ball of yarn
Cardboard*, e.g. from a breakfast cereal box
Scissors
Scotch tape
A printer, to print out the pom pom maker template
Glue stick
*Instead of using cardboard, you could plastic (e.g. margarine or ice-cream container) to make more durable pom pom makers. Thanks to reader Jackie for the tip!
How to Make Pom Poms - Step by Step
Step 1
Print out the pom pom maker template for the size of pom pom you want. The template consists of four horseshoe-shaped pieces. Cut them out roughly and glue them onto cardboard. Here I've just cut up an old tissue box: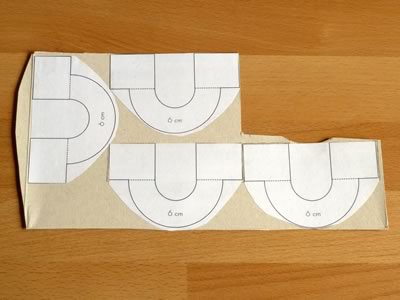 Once the glue is dry, cut out around the solid lines, then bend along the dotted lines, so that the pieces of your pom pom maker look like this: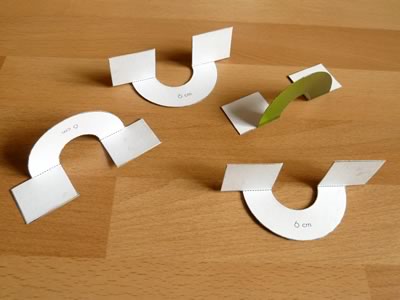 Step 2
Pick up two pieces of the pom pom maker and hold them together: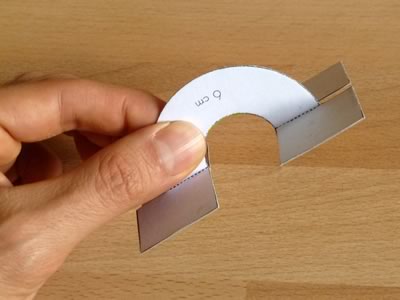 Start wrapping yarn around them: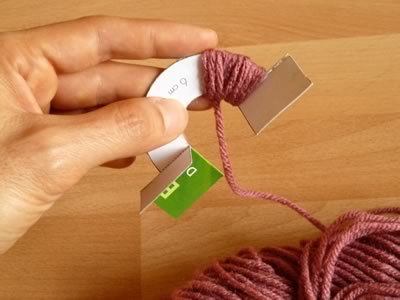 Keep winding back and forth until the semi-circle in the middle of the maker is mostly filled up with yarn, like the photo below, then snip the yarn.
Winding the yarn like this is sooo much faster than the "traditional" method of making a pom pom with circles of cardboard, where you need to keep poking the yarn through the hole in the center!
Step 3
Repeat step 2 with the two other pieces of the pom pom maker. You should now have two semi-circular bundles of yarn that look something like this: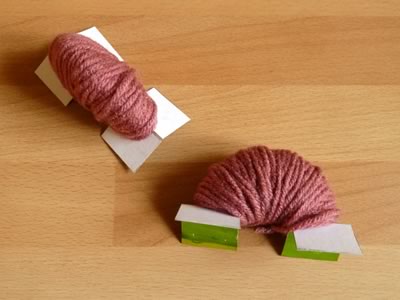 Step 4
Put the two bundles together so that they form a full circle, like the photo below. Use scotch tape on the rectangular tabs to hold the two halves together.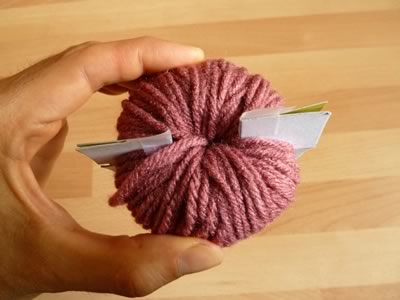 Here's a view from above showing where I've used adhesive tape to hold the two halves together: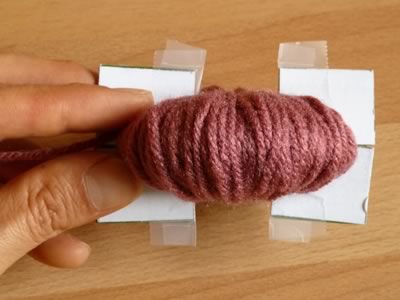 Step 5
Slide a pair of scissors between the two layers of cardboard and snip the yarn, as shown in the picture below. The smaller and sharper the scissors the easier it is! I only had this big pair of scissors at the time, which were hard to slide between the two layers of cardboard.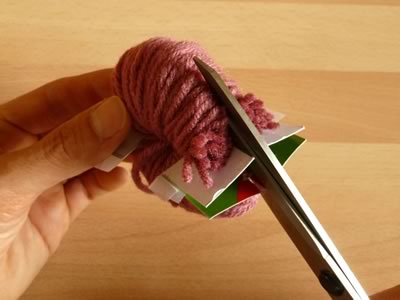 Continue going all the way around. It should look something like this once you've finished: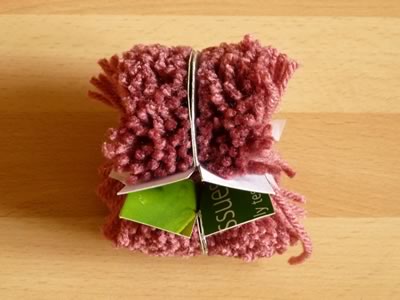 Step 6
Cut a length of yarn (about 1 foot should do), slide it between the layers of cardboard, and wrap it around the "waist" of the pom pom: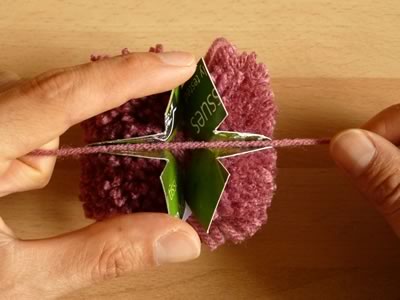 Pull the yarn tight, and tie it in a knot, then another knot to secure it: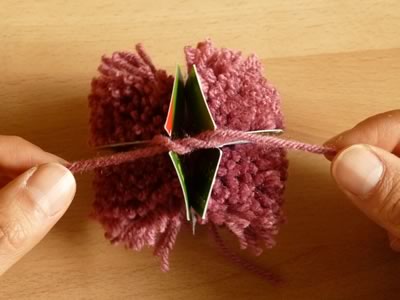 Step 7
Snip the pieces of scotch tape you used to hold the halves together, and gently remove all four pieces of the pom pom maker from the pom pom (if they aren't too cut up or bent, you can re-use them to make another pom pom):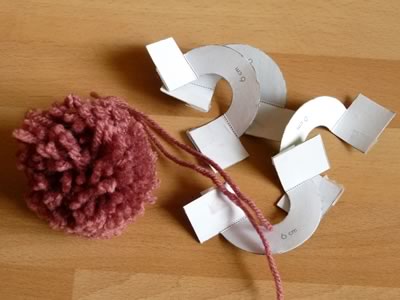 Your pom pom is probably roughly spherical (round), but a bit wonky and scruffy.
How to Make Pom Poms - Step 8
Now for the fun bit! Give your pom pom a "haircut" and trim it to get it really circular.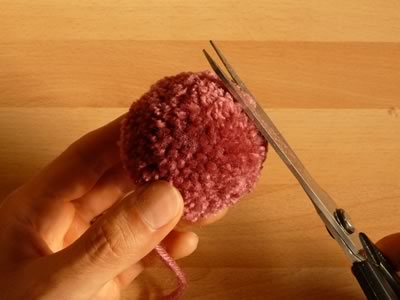 It helps to roll it gently between your hands first, to help spread out all the hairs. Then line up the scissors with the edge of the pom pom and cut off any bits that stick out. Keep turning the pom pom around and looking at it from different angles, and cut off any poking out bits. You'll be surprised how many you find! After a while though your pom pom will look really nice and round.

More pom pom crafts
Now that you know how to make pom poms, here's are a couple of pom pom crafts project I think you might enjoy: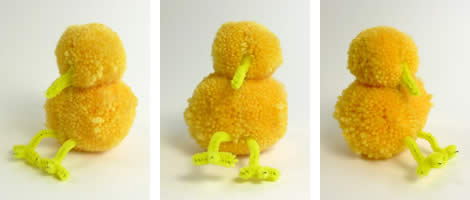 I hope you had fun learning how to make pom poms the quick and easy way! If you have any questions of comments, or just want to say hi, then please leave a comment .
Other People Also Like...
Looking for more unique homemade gift ideas? Check out our quick and easy printable gifts. So easy to personalize and print at home!
Printable coupons, "Likes" posters, "Year You Were Born" birthday posters, retirement posters, personalized newspapers... we have so many great ideas to help you celebrate most occasions.