Easy Snowman Craft Ideas

Spread some Christmas cheer with these cute Snowman crafts!
If you're looking for easy Christmas craft ideas, take a peek at this tutorial for how to make the cutest pom pom snowmen! It's a fun Christmas activity for all the family.
Pom Pom Snowman Craft Project
Materials
To make your pom pom snowman, you will need...
white or cream coloured yarn
scissors
Craft glue or a hot glue gun
twigs from your garden
beads, buttons, felt, ribbon, bling.... things to use to decorate your snowman with!
Make two pom poms
To make your snowman, you'll first need to make two pom poms of different sizes, one for the body and one for the head of the snowman. Here we've made a 9 cm (3.5") and a 6 cm (2.5") diameter pom pom.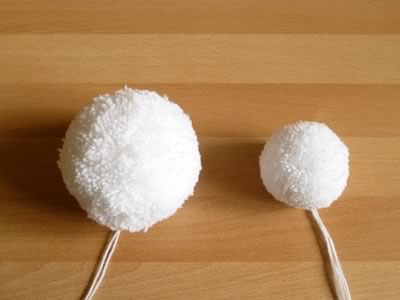 We've written a tutorial for how to make pom poms five times faster which is worth reading if you haven't made a pom pom before, or if you want to learn a new method. It includes a free printable template for you to download for various sizes of pom poms.
Assemble your Snowman
Take the two loose ends of each pom pom and tie them together using a simple overhand knot.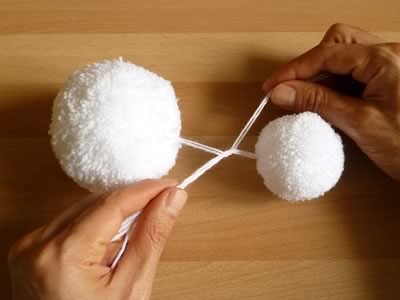 Tighten the knot so that the two pom poms come together firmly. Secure with a second overhand knot, and then trim off the spare yarn.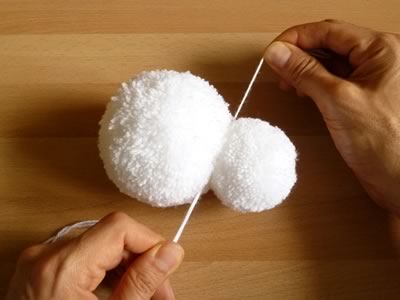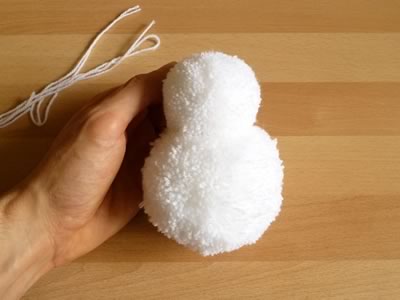 Decorate your Snowman
Make a cute pair of ear-muffs for your snowman by rolling up the ends of a pipe cleaner and bending it into a U-shape.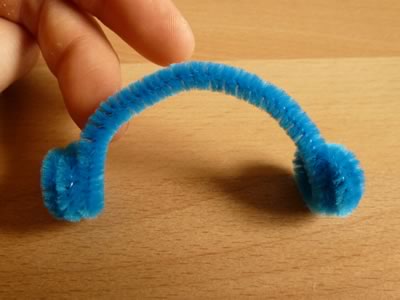 Using craft glue, attach a twig to either side of the body of the snowman as arms.
Glue on two eyes and a nose to make the face. Here we've used some beads, but goggly eyes or small circles of felt also work really well.
Tie a small piece of ribbon or felt around the neck of the snowman to make a scarf.
You can also glue on some buttons, sequins, or felt circles onto the front of the snowman.
The options for decorating your Snowman really are endless! Here are a few we decorated: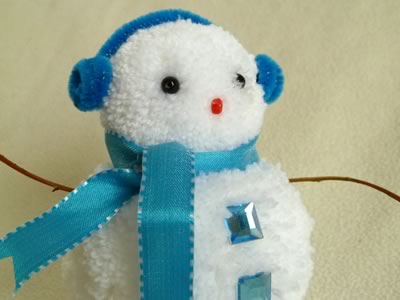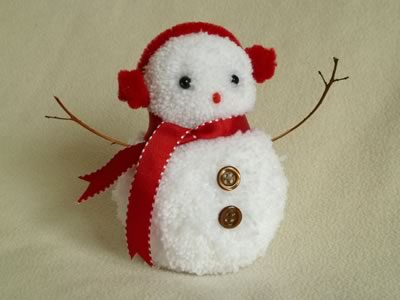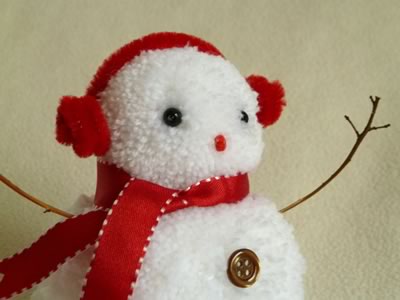 You can also shape a pipe cleaner into a hat for your snowman but coiling it up on itself.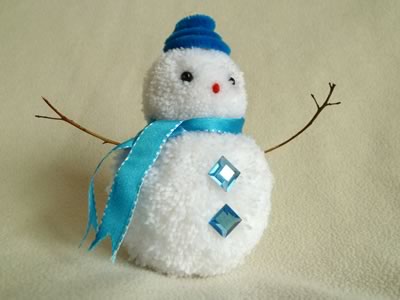 More Snowman Craft Ideas...
I hope you enjoyed our pom pom snowman craft project. If you're looking for more Snowman project ideas, do check out the links to other Snowman-related projects on our site:
Or see my complete collection of homemade Christmas ornament tutorials.
Merry Christmas!