Lavender Soap Recipe

This lavender soap recipe is quick and simple to assemble, and smells divine! A great homemade Christmas gift idea for the lovely ladies in your life.
I love little handmade soaps. Whenever I go to a local market I am drawn to the bars of gorgeously presented soaps topped with rose petals or lavender.
I always thought it was just too complicated to make them at home. But these days with melt-and-pour soap kits, anyone can make beautiful soaps at home (and they're much cheaper too!).
On this page I'll show you how to make lavender soap, and several different ways you can present your homemade soap bars so they look extra special!
Materials for Making Lavender Soap
The amount of materials you need will vary a lot depending upon the size of your mold. Here is a general list of materials you will need for making a simple lavender soap, and below you can find the precise measurements for the block and round soaps I made on this page.
For this project you will need:
Melt-and-pour soap base (I've used a white soap base, you can buy many others like Goat's milk, olive oil, clear soap etc).
Lavender essential oil
Dried lavender buds
Mortar and pestle or food processor (optional)
Various containers for molds (I used a plastic take-out container and a muffin tin lined with cases)
Cutting board and knife
Microwave safe jug, or glass bowl and saucepan
Brown paper, rafia, other decorative paper to package (optional)
Some people add extra ingredients like oatmeal or rosemary, but this recipe is a good starting point.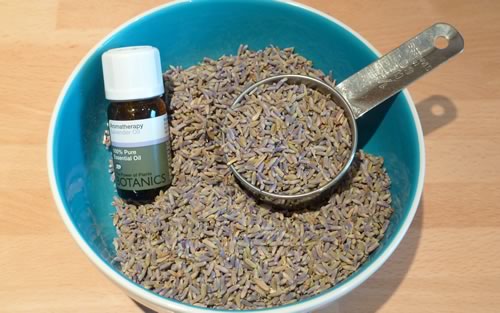 Lavender Soap Recipe: 6 small square hand soaps
This soap was made in a plastic tupperware container. It is a bit on the small side because I wanted to be able to cut it into 6 small hand soaps (you could also make 3 rectangular body bars).
To make this soap I used:
10.5oz/300g melt-and-pour soap base
1/4 cup ground lavender buds (for mixing into the soap)
1/4 cup lavender buds (for sprinkling on the top)
5 mL (100 drops) of lavender essential oil
Lavender Soap Recipe: 2 round hand soaps
The amounts below were used to make 2 small round soaps using a muffin-tin lined with paper cases as the mold.
To make two small round hand soaps I used:
3.5oz/100g melt-and-pour soap base
1/4 cup dried lavender buds (for sprinkling on top)
2 mL (30-50 drops) of lavender essential oil
Preparing your materials
To determine how much melt-and-pour soap base you will need, the easiest method is to weigh out how much water fills your chosen mold to the desired height you would like your soap to be.
So for my block soap I need approximately 300g (10.5 oz) of the soap base.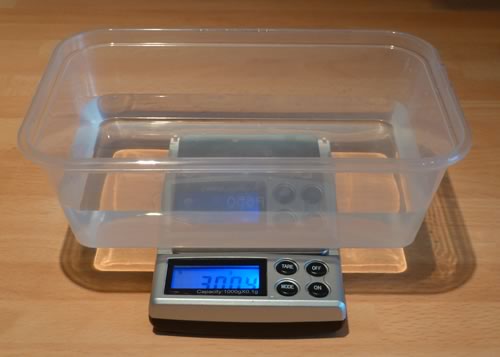 Cut off your required amount of soap from the block. Chop it into small pieces so it will melt evenly.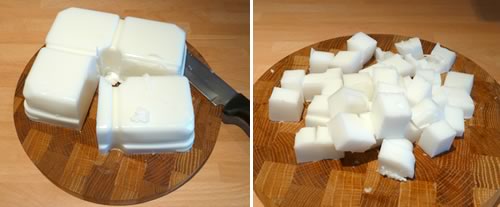 Meanwhile, grind some lavender for mixing into the soap . (This step is optional, I only used it in the lavender soap recipe 1 above.) I mixed ground lavender into the soap block but not the round soaps.
Grinding the buds releases the essential oils so it becomes more fragrant, and has additional exfoliating properties. But can make your bars look more rustic than you may like!
Measure out a small quantity of dried lavender buds. Grind them using a mortar and pestle or in a food processor until they have broken down into pieces (this step smells amazing!!).

I ground my lavender buds just enough that they started to release their scent. I am sure you could grind them finer if you wanted to.

Making Lavender Soap
Assembling
Melt the soap base by following the instructions on the packaging.
This usually involves melting the soap in a bowl suspended over boiling water, or heating in short bursts in the microwave (fast and effective for small amounts of soap). Once all the chunks of solid soap have melted remove your mixture from the heat.

Stir in lavender essential oil, and ground lavender buds (if using).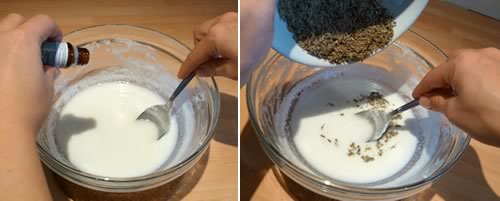 Pour your mixture into the mold.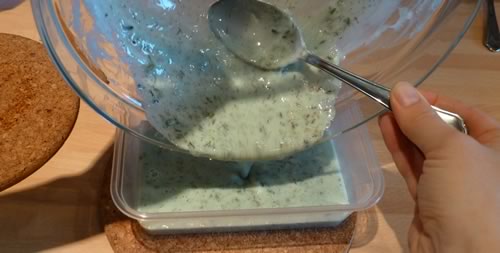 Working quickly, sprinkle your lavender buds over the surface of your soap and press down gently so that they secure in place.

For the round soaps I decided not to use ground lavender in the lavender soap recipe, but just sprinkle some lavender on the top of each cake. I like that the soap remains white with just the botanicals on the top.

Oh no, my soap has set too soon!
Don't panic! If you find that your soap mixture has set very quickly and before you've had a chance to sprinkle the lavender buds over the surface, all is not lost!
Tip off all the unstuck buds, and then put your mold in the microwave for a few seconds to re-melt the soap (if you mold is microwave safe). Stir if necessary. Working quickly, have another go at sprinkling the buds on top.
Removing from molds
Once your soaps have set (refer to melt-and-pour packaging for advice on this, mine took a few hours to be completely set), tip off any unstuck lavender from the surface of your soap.
Loosen the mold and gently remove soap block.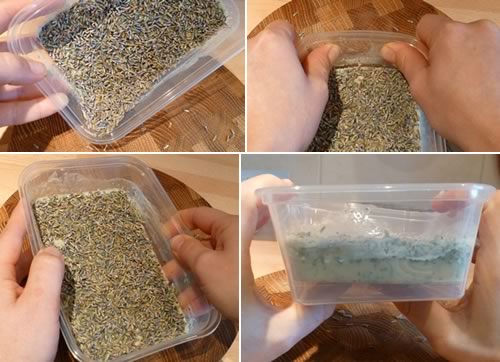 Cut your soap up into the desired size using a sharp knife.

For the round soaps, gently peel away the paper casing.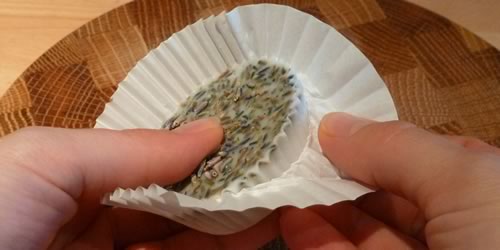 And here are the two round soaps.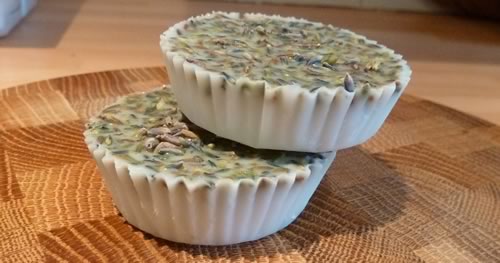 Finished soaps
To package my soaps, I used strips of brown paper, and printed off the little round labels which I attached with some double-sided tape.
You could also wrap your soaps individually or in a bundle with raffia or other natural string, and then wrap them in a clear cellophane bag.
Other lavender tutorials you might enjoy...
I hope you liked our lavender soap recipe and tutorial. Here are some other crafts we think you might enjoy, including printable gift boxes for all your bath and body creations: